Hello, fellow speculative fiction lovers! We have some exciting news to share with you.
As you may know, we are the editors of the 2013 edition of Speculative Fiction: The Best Online Reviews, Essays and Commentary – a collection that celebrates the best in online Science Fiction and Fantasy non-fiction.
After a year of submissions and countless hours combing over all the reviews, essays and commentary on the internets, we are very pleased to unveil the official cover, and announce our final list of contributors!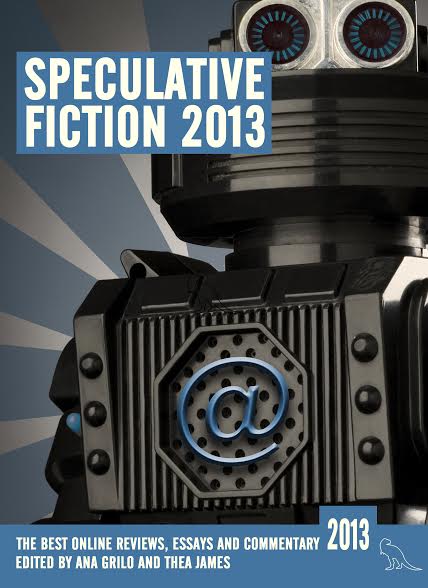 Cover art design by Sarah Anne Langton
Speculative Fiction 2013 collects over fifty truly awesome pieces from all corners of speculative fiction fandom – from book criticism to incisive commentary on important issues like sexual harassment at conventions; from feminist themes in summer blockbusters to life-changing video games; from the merits of grittiness and the downfalls of grimdark. The full list of contributors is outlined below!
Finally, we are thrilled to announce that this year's edition features a foreword from John W. Campbell award-winning writer Seanan McGuire. Seanan is the author of the Toby Daye urban fantasy series, and, under pseudonym Mira Grant, the Newsflesh trilogy and Parasite. She's also a Hugo Award-winning podcaster, and a prolific blogger – making her the perfect person to introduce this year's edition of SpecFic.
We hope you're as excited about SpecFic 13 as we are!
SpecFic '13 Contributors
SpecFic' 13 will be released in April 2014 and all profits from sales will be donated to Room to Read.
ISBN (ebook): 978-0-9928172-6-8
ISBN (POD): 978-0-9928172-7-5