As you probably know by now, Old School Wednesdays is a new weekly Book Smuggler feature. We came up with the idea towards the end of 2012, when we were feeling exhausted from the never-ending inundation of New and Shiny (and often over-hyped) books. What better way to snap out of a reading fugue than to take a mini-vacation into the past, right?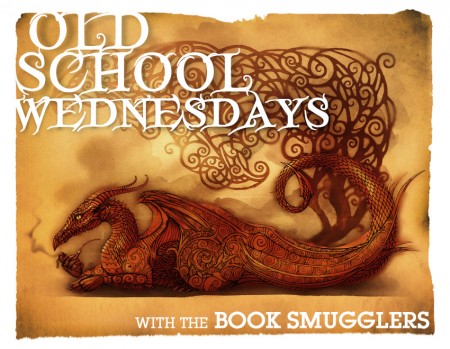 Logo designed by the wonderful KMont
We asked YOU for your favorite old school suggestions – and the response was so overwhelmingly awesome, we decided to compile a goodreads shelf, an ongoing database, AND a monthly readalong/book club. (Note that we've removed books that we have already read, or that we selfishly want to review as solos on Wednesday!)
February Readalong:
It is time for our February poll! The official January readalong happens next week on January 29 (The Book Thief by Markus Zusak), but we're gearing up for February now!
You can vote on which title you'd like to read by using the poll in our sidebar, or following the titles below. Without further ado, here are the new crop of 5 titles for voting! The February readalong will take place on February 26.
Survival by Julie Czerneda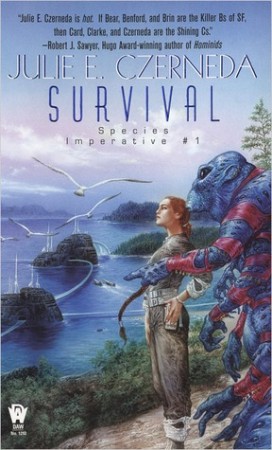 Herself a biologist, Julie E. Czerneda has earned a reputation in science fiction circles for her ability to create beautifully crafted, imaginative, yet believably realized alien races. In Survival, the first novel in her new series, Species Imperative, she draws upon this talent to build races, characters, and a universe which will draw readers into a magnificent tale of interstellar intrigue, as an Earth scientist is caught up in a terrifying interspecies conflict. Senior co-administrator of the Norcoast Salmon Research Facility, Dr. Mackenzie Connor, Mac to her friends and colleagues, was a trained biologist, whose work had definitely become her life. And working at Norcoast Base, set in an ideal location just where the Tannu River sped down the west side of the Rocky Mountains to the Pacific Coast was the perfect situation for Mac. She and fellow scientist Dr. Emily Mamani were just settling in to monitor this year's salmon runs when their research was interrupted by the unprecedented arrival of Brymn, the first member of the alien race known as the Ohryn to ever set foot on Earth.

Brymn was an archaeologist, and much of his research had focused on a region of space known as the Chasm, a part of the universe that was literally dead, all of its worlds empty of any life-forms, though traces existed of the civilizations that must once have flourished in the region. Brymn had sought out Mac because she was a biologist — a discipline strictly forbidden among his own people — and he felt that through her expertise she might be able to help him discover what had created the Chasm. But Mac had little interest in alien races and in studies that ranged beyond Earth, and as politely as she was capable of, she tried to make it clear that she was unwilling to abandon her own work.

However, the decision was soon taken out of her hands when a mysterious and devastating attack on the Base resulted in the abduction of Emily, and forced Mac to flee for her life with Brymn and the Earth special agents who were escorting him. Suddenly, it appeared that Earth itself might be under attack by the legendary race the Ohryn called the Ro, the beings they thought might be the destructive force behind the Chasm. Cut off from everything and everyone she knew, Mac found herself in grave danger and charged with the responsibility of learning everything she could that might possibly aid Earth in protecting the human race from extinction…
Foreigner by C.J. Cherryh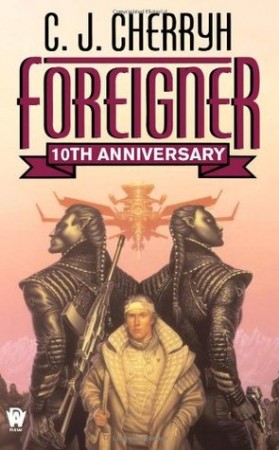 The first book in C.J.Cherryh's eponymous series, Foreigner begins an epic tale of the survivors of a lost spacecraft who crash-land on a planet inhabited by a hostile, sentient alien race.

From its beginnings as a human-alien story of first contact, the Foreigner series has become a true science fiction odyssey, following a civilization from the age of steam through early space flight to confrontations with other alien species in distant sectors of space. It is the masterwork of a truly remarkable author.
The House of the Scorpion by Nancy Farmer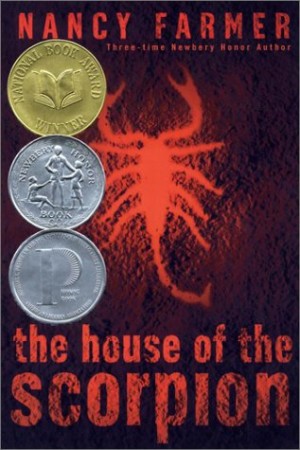 Matteo Alacran was not born; he was harvested. His DNA came from El Patron, lord of a country called Opium — a strip of poppy fields lying between the United States and what was once called Mexico. Matt's first cell split and divided inside a petri dish. Then he was placed in the womb of a cow, where he continued the miraculous journey from embryo to fetus to baby. He is a boy now, but most consider him a monster — except for El Patron. El Patron loves Matt as he loves himself, because Matt is himself.

As Matt struggles to understand his existence, he is threatened by a sinister cast of characters, including El Patron's power-hungry family, and he is surrounded by a dangerous army of bodyguards. Escape is the only chance Matt has to survive. But escape from the Alacran Estate is no guarantee of freedom, because Matt is marked by his difference in ways he doesn't even suspect.
Jaran by Kate Elliott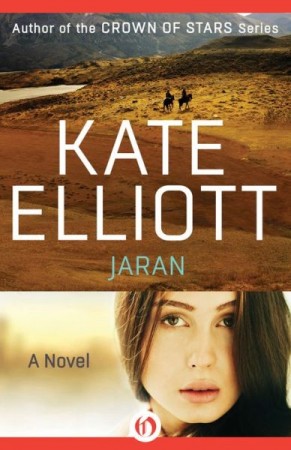 The first book of Kate Elliott's epic Novels of the Jaran, set in an alien-controlled galaxy where a young woman seeks to find her own life and love, but is tied to her brother's revolutionary fate

In the future, Earth is just one of the planets ruled by the vast Chapalii empire. The volatility of these alien overlords is something with which Tess Soerensen is all too familiar. Her brother, Charles, rebelled against them at one time and was rewarded by being elevated into their interstellar system—yet there is reason to believe they murdered his and Tess's parents.

Struggling to find her place in the world and still mending a broken heart, Tess sneaks aboard a shuttle bound for Rhui, one of her brother's planets. On the ground, she joins up with the native jaran people, becoming immersed in their nomadic society and customs while also attempting to get to the bottom of a smuggling scheme she encountered on her journey there. As she grows ever closer to the charismatic jaran ruler, Ilya—who is inflamed by an urgent mission of his own—Tess must choose between her feelings for him and her loyalty to her brother.

Jaran is the first volume of the Novels of the Jaran, which continues with An Earthly Crown, His Conquering Sword, and The Law of Becoming.
Singer from the Sea by Sheri S. Tepper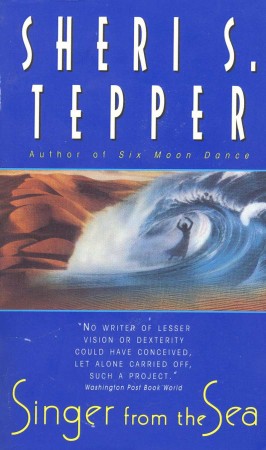 A good and proper aristocrat on the isolated, seemingly backward planet of Haven, Genevieve has been carefully instructed in the Covenants — the ancient, inflexible laws governing the women of her class. She knows what is expected of her: marriage in her mid-twenties to a groom of her father's choosing, childbirth at age thirty. And then soon afterwards — as has been the lot of so many noblewomen before her — perhaps death.

But there is another Genevieve within who longs to heed the call of the sea — though she has never once seen the vast waters that cover most of her homeworld's surface. For an unheard voice is crying out to her across the centuries, drawing her ever-closer to a terrible truth hidden beneath a smoke screen of rules, tradition, and propriety. And it is Genevieve who must fulfill a forgotten destiny — something inborn passed for untold generations from daughter to daughter — or she and the entire civilization of Haven will be swept away on a cosmic wave of oblivion.
[poll id="11″]
Get voting, and we hope to see you on February 26.
Ongoing Suggestions:
Got a suggestion? Have an amazing book, published at least five years ago, that you would love to nominate for the OSW monthly readalong? Speak up and submit your favorites! (If you have problems with the form below, you can also access it HERE.)