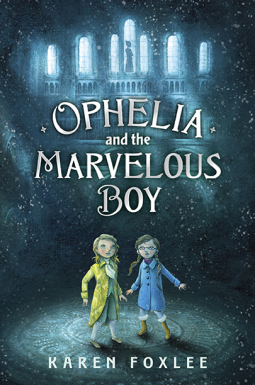 Title: Ophelia and the Marvelous Boy
Author: Karen Foxlee
Genre: Fantasy, Middle Grade
Publisher: Knopf Books for Young Readers
Publication Date: January 28 2014
Hardcover: 240 Pages
A modern-day fairy tale set in a mysterious museum that is perfect for readers of Roald Dahl and Blue Balliett.

Unlikely heroine Ophelia Jane Worthington-Whittard doesn't believe in anything that can't be proven by science. She and her sister Alice are still grieving for their dead mother when their father takes a job in a strange museum in a city where it always snows. On her very first day in the museum Ophelia discovers a boy locked away in a long forgotten room. He is a prisoner of Her Majesty the Snow Queen. And he has been waiting for Ophelia's help.

As Ophelia embarks on an incredible journey to rescue the boy everything that she believes will be tested. Along the way she learns more and more about the boy's own remarkable journey to reach her and save the world.

A story within a story, this a modern day fairytale is about the power of friendship, courage and love, and never ever giving up.
Stand alone or series: Stand alone
How did I get this book: Review copy via Netgalley
Format (e- or p-): eARC
Why did I read this book: I am a fan of Middle Grade Fantasy novels and this one sounded like it could be good?
Review:
Ophelia Jane Worthington-Whittard's family is in the process of grieving for her dead mother when her father accepts a job in a peculiar little museum in a city where it always seems to snow. On their first day in the museum, Ophelia's investigating takes her to a hidden room where a strange boy has been locked away.
He tells her he is the prisoner of the Snow Queen; he tells her he is the Marvelous Boy, and that he is over 300 years old; he tells her that he has been tasked by magicians to find the One Other and hand over a sword entrusted to his care, the sword that will defeat the Snow Queen once and for all. He tells her he needs her to find the key to free him – before it is too late and the world is trapped in a forever winter.
There are two things you need to know about Ophelia Jane Worthington-Whittard: she loves science and she misses her mother. And here are the things Ophelia Jane Worthington-Whittard is not: brave or heroic or a believer in magic. Surely the Marvelous Boy is telling tall tales…but how can Ophelia explain the wondrous things she encounters inside the museum as she sets about trying to free him?
One thing to be said about Ophelia and the Marvelous Boy is that it is beautifully written: a wistful and atmospheric retelling of The Snow Queen that addresses grief, self-worth, heroism and friendship in meaningful ways. It's an interesting take on the original fairy tale too, one that is reminiscent of Disney's latest movie Frozen in the way that it centres part of the story in the relationship between Ophelia and her sister. I also really appreciated the different tasks that Ophelia underwent to free the Marvelous Boy, all the while learning more things about herself and about being brave. I loved the way she used the scientific method to try to explain the fantastic things she encountered.
One the downside, Ophelia and the Marvelous Boy is really short and even though its length fits the fairy tale treatment really well, it also allows for its shortcomings to become really clear. As such, this is a book that relies a lot on us being familiar with predictable fairy tale tropes: the Dead Mother, the Absentminded Father (Who Is Just Hiding How Sad He Really Is) and the Incredibly Beautiful Yet Evil Queen are all accounted for and displayed just because. Unfortunately these are exactly the types of tropes that deserve more subversion or at very least, a lot more depth than they are given here. It doesn't help that the eventual denouement and big face-off against the Snow Queen is anticlimactic, rushed and almost nonsensical in its simplistic approach.
That simplistic outlook is equally present when Ophelia's penchant for science clashed with the magic world around her. While she did continuously try to be scientific about those discoveries, I couldn't help but to notice this underlying assumption that what she really needed was more imagination. I am always and forever incredibly frustrated by this kind of false dichotomy between magic (Fantasy! Imagination! Creativity!) versus science (Reality! Boredom! Seriousness!).
In the end, in spite of praiseworthy aspects, Ophelia and the Marvelous Boy fell short of being a solid, rounded novel. Karen Foxlee does have a beautiful writing style though and I will be checking out her 2013 release The Midnight Dress. As for recent retellings of The Snow Queen? I recommend Anne Ursu's absolutely fantastic Breadcrumbs.
Notable Quotes/Parts:
"Wizards, she thought, when she gained her composure. What good were they if they couldn't tell you how to do stuff, if they were always talking in riddles and saying they knew everything before it even happened? It wasn't very helpful.

If she were a wizard, she'd write reports for people. She'd make sure everything was very clear. She'd write, Looking for a magical sword? No problem. Go to the fifth floor, turn left, open a large wooden chest, et cetera, et cetera. She'd have check boxes. Found your magical sword? Place X here."
Rating: 5
Reading Next: The Book Thief by Markus Zusak
Buy the Book:
(click on the links to purchase)