The Feats of Strength are an integral part of our annual Smugglivus Tradition. In previous years, the Feats of Strength were a challenge in which we dared each other to read a book that we knew was so far beyond the other's comfort zone as to put it in another galaxy altogether. This year, we changed the rules: we each get to read and review 5 books (including one Dare book, one What She Said book and now one Joint) and with the following TWIST: each review can contain no more than 50 words. For people like us whose reviews are generally written with no less than 800 words and often with more than 1000, this is a true Feat of Strength!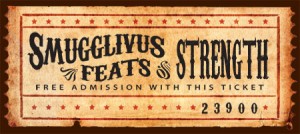 This is Ana's turn! Wish us luck.

THE DARE:. Thea's original review HERE.
Author: Gordon Dahlquist
Genre: Science Fiction, Dystopia, Young Adult
Publisher: Dutton Juvenile
Publication date: February 2013
Hardcover: 240 pages
How did I get this book: Thea gave me her review copy
Four nearly identical girls on a desert island. An unexpected new arrival. A gently warped near future where nothing is quite as it seems.

Veronika. Caroline. Isobel. Eleanor. One blond, one brunette, one redhead, one with hair black as tar. Four otherwise identical girls who spend their days in sync, tasked to learn. But when May, a very different kind of girl—the lone survivor of a recent shipwreck—suddenly and mysteriously arrives on the island, an unsettling mirror is about to be held up to the life the girls have never before questioned.

Sly and unsettling, Gordon Dahlquist's timeless and evocative storytelling blurs the lines between contemporary and sci-fi with a story that is sure to linger in readers' minds long after the final page has been turned.
50-word Review: Veronika, whose routine is one day suddenly interrupted, tells her story with a fittingly stilted, restrained voice that's all the more beautiful for that. Quiet, subtle and thought-provoking Scifi that doesn't answer all the questions it raises because the importance lies with the asking itself and who does the asking.
Rating: 8 – Excellent

WHAT SHE SAID: Thea's review
Author: Cinda Williams Garcia
Genre: Fantasy, Young Adult
Publisher: Hyperion
Publication date: October 2009
Paperback: 512 pages
How did I get this book: Bought (kindle)
Times are hard in the mountain city of Fellsmarch. Reformed thief Han Alister will do almost anything to eke out a living for himself, his mother, and his sister Mari. Ironically, the only thing of value he has is something he can't sell. For as long as Han can remember, he's worn thick silver cuffs engraved with runes. They're clearly magicked-as he grows, they grow, and he's never been able to get them off.

While out hunting one day, Han and his Clan friend, Dancer catch three young wizards setting fire to the sacred mountain of Hanalea. After a confrontation, Han takes an amulet from Micah Bayar, son of the High Wizard, to ensure the boy won't use it against them. Han soon learns that the amulet has an evil history-it once belonged to the Demon King, the wizard who nearly destroyed the world a millennium ago. With a magical piece that powerful at stake, Han knows that the Bayars will stop at nothing to get it back.

Meanwhile, Raisa ana'Marianna, Princess Heir of the Fells, has her own battles to fight. She's just returned to court after three years of relative freedom with her father's family at Demonai camp – riding, hunting, and working the famous Clan markets. Although Raisa will become eligible for marriage after her sixteenth name-day, she isn't looking forward to trading in her common sense and new skills for etiquette tutors and stuffy parties.

Raisa wants to be more than an ornament in a glittering cage. She aspires to be like Hanalea-the legendary warrior queen who killed the Demon King and saved the world. But it seems like her mother has other plans for her–plans that include a suitor who goes against everything the Queendom stands for.

The Seven Realms will tremble when the lives of Han and Raisa collide in this stunning new page-turner from bestselling author Cinda Williams Chima.
50-word Review: Epic Fantasy with a very traditional feel following two interesting characters on different sides of the track – each coming to grips with expected roles they must play in a feud lasting 1000 years. Gripping if familiar but with an awesome female protagonist that makes up for it. Book 2, please.
Rating: 7 – Very Good

THE JOINT:
Author: Brian K. Vaughan (Writer), Fiona Staples (Illustrator)
Genre: Fantasy, Graphic Novel
Publisher: Image Comics
Publication date: October 2012
Paperback: 160 pages
How did we get this book: Bought
When two soldiers from opposite sides of a never-ending galactic war fall in love, they risk everything to bring a fragile new life into a dangerous old universe.

From New York Times bestselling writer Brian K. Vaughan (Y: The Last Man, Ex Machina) and critically acclaimed artist Fiona Staples (Mystery Society, North 40), Saga is the sweeping tale of one young family fighting to find their place in the worlds. Fantasy and science fiction are wed like never before in this sexy, subversive drama for adults.

This specially priced volume collects the first six issues of the smash-hit series The Onion A.V. Club calls "the emotional epic Hollywood wishes it could make."

Collects Saga issues #1-6.
50-word Review: Two households
In the middle of a bloody galactic war, two soldiers from opposite sides fall in love and fight to raise their baby. Narrated from the future by their child, Saga is a beautiful tale of family and peace against unthinkable odds. Fantastic art (at times too male-gazey) complements the story.
Rating: 7 – Very Good (want to read the next one!)

Author: Garth Nix
Genre: Historical Fantasy
Publisher: Kindle First
Publication date: November 29 2013
Paperback: 200 pages
How did I get this book: Bought (Kindle)
After the Newington Emerald is stolen at the height of a conjured storm, eighteen year-old Lady Truthful Newington goes to London to search for the magical heirloom of her house. But as no well-bred young lady can hunt the metropolis for a stolen jewel, she has to disguise herself as a man, and is soon caught up in a dangerous adventure where she must risk her life, her reputation… and her heart.

Balancing twin roles as a young lady coming out in her first season and as an intrepid young man up against an evil sorceress isn't easy, but Truthful has to manage it. Her father's life and even the fate of England may depend upon her recovering the Newington Emerald!
50-word Review: WTF is this shit? Typos, sentences with repeated words and a lacklustre story lacking character or story development in any shape or form combine to produce one of the most charmless books I have ever read the displeasure of reading. Was this even edited professionally? Completely disappointing considering the author.
Rating: DNF at 50%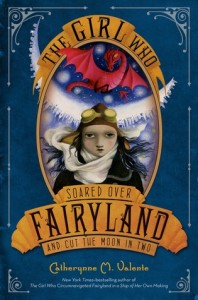 Title: The Girl Who Soared Over Fairyland and Cut the Moon in Two (Fairyland # 3)
Author: Catherynne M Valente
Genre: Fantasy, Childrens
Publisher: Feiwel & Friends
Publication date: October 2013
Hardcover: 248 pages
How did I get this book: Bought
September misses Fairyland and her friends Ell, the Wyverary, and the boy Saturday. She longs to leave the routines of home, and embark on a new adventure. Little does she know that this time, she will be spirited away to the moon, reunited with her friends, and find herself faced with saving Fairyland from a moon-Yeti with great and mysterious powers.
50-word Review: OMG, break my heart, Fairyland, why don't you? September is no longer a Heartless Child and growing up is not easy especially when your future seems laid out ahead of you. This third book has all the Important Questions about growing up, self-awareness, free-will and making one's own destiny. Fabulous.
Rating: 8 – Excellent

Final Thoughts:
You know what? I do love writing these shorter reviews. I feel I can ditch most things in order to keep what is most important. Overall, despite the DNF Fail with Newt's Emerald, this was a brilliant round-up of books. The third Fairyland broke my heart into a gazillion pieces and I need the next one NOW. I didn't know what to expect from The Different Girl but I am so happy I read it – it is easily a highly recommended Scifi book. Given the rave reviews of Saga, I was expecting to be blown away by it but…wasn't. I still really liked it and want to read at least volume 2. The Demon King was pretty good and I hear the series only gets better so I am looking forward to reading the other books, soon.