Welcome to Smugglivus 2013! Throughout this month, we will have daily guests – authors and bloggers alike – looking back at their favorite reads of 2013, and looking forward to events and upcoming books in 2014.
Who: Niall Alexander is an extra-curricular English teacher who reads and writes about all things weird and wonderful for The Speculative Scotsman, Strange Horizons, and Tor.com. He's been known to tweet, too.

Please give him a warm welcome!

Good god! Has it really been another year? For serious?
Well, I'll take your word for it, but I have my suspicions. A temporal paradox, perhaps. If not that, then there must have been some funny business somewhere; there just must have been…
We've no time to spend wondering where or when 2013 went, though, because 2014 is very nearly here, and that means another year of exciting new books to get busy anticipating. Which is to say, what I thought we'd do today was survey some of the most promising genre novels we'll all be reading tomorrow.
Let's do the finest in forthcoming fantasy fiction first, beginning with Words of Radiance, book two of The Stormlight Archive by Brandon Sanderson. I can't wait to immerse myself in this wonderful world once more, though three years on from The Way of Kings I've probably forgotten more about Roshar than I remember.
The same could be said for Ringil of A Land Fit For Heroes, who has a reckoning ahead in The Dark Defiles, the long-delayed last part of Richard Morgan's brutal fantasy saga. A reread of the first two books in the series may be needed; an awesome prospect, if I'm honest.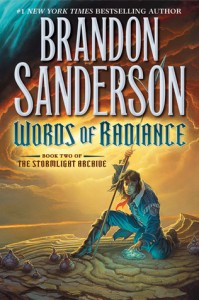 The characters and narrative of Mark Charan Newton's next Drakenfeld novel will be rather fresher in my recollection, I expect, as are Beth and Pen, the protagonists of Tom Pollock's fantastic Glass Republic saga, which wraps up this coming summer in Our Lady of the Streets:
Ever since Beth Bradley found her way into a hidden London, the presence of its ruthless goddess, Mater Viae, has lurked in the background. Now Mater Viae has returned with deadly consequences.

Streets are wracked by convulsions as muscles of wire and pipe go into spasm, bunching the city into a crippled new geography; pavements flare to thousand-degree fevers, incinerating pedestrians; and towers fall, their foundations decayed.

As the city sickens, so does Beth – her essence now part of this secret London. But when it is revealed that Mater Viae's plans for dominion stretch far beyond the borders of the city, Beth must make a choice: flee, or sacrifice her city in order to save it.
There are a few new series to look forward to too, not least The Broken Earth by N. K. Jemisin, whose work seems to improve with every book, and Joe Abercrombie's Half a King trilogy. I very keen indeed to see what the man whose body of work to this day defines grimdark does with a YA coming of age tale.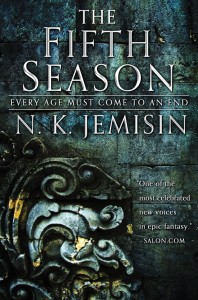 And maybe, just maybe, if we've very good boys and girls over the holidays, there might be new novels — new series, even — by K. J. Parker and China Mieville, a pair of productive authors who were curiously quiet in 2013.
Last for this part of the article, but very far indeed from least, fantasy fans have Fall of Light to look forward to, the second volume of The Kharkanas Trilogy by Steven Erikson. The mighty mind behind Malazan also has another new novel on the cards — a spacefaring farce with the working title Willful Child — which brings us neatly to our next category: the science fiction of the future!
The Echo by James Smythe will be the first such specimen to arrive. I'd had the pleasure of reading this one already, so I can say with certainty that it's a fully realised sequel which takes what was great about The Explorer and makes it bigger, better, and still more momentous. Meanwhile a second Smythe is set for publication in the UK in late May: No Harm Can Come to a Good Man is about something called ClearVista, a revolutionary new technology which purports to predict probabilities.
Pierce Brown's much ballyhooed-about debut Red Rising sounds like Ender's Game meets Mockingjay: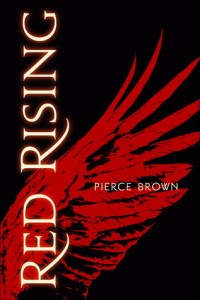 Darrow is a Helldiver, one of a thousand men and women who live in the vast caves beneath the surface of Mars, generations of people who spend their lives toiling to mine the precious elements that will allow the planet to be terraformed. Just knowing that, one day, people will be able to walk the surface of the planet is enough to justify their sacrifice. The Earth is dying, and Darrow and his people are the only hope humanity has left.

Until the day Darrow learns that it is all a lie. That Mars has been habitable — and inhabited — for generations, by a class of people calling themselves the Golds. A class of people who look down at Darrow and his fellows as slave labour, to be exploited and worked to death without a second thought.

Until the day Darrow, with the help of a mysterious group of rebels, disguises himself as a Gold and infiltrates their command school, intent on taking down his oppressors from the inside. But the command school is a battlefield… and Darrow isn't the only student with an agenda.
For those of you who have enjoyed the blockbuster Expanse saga, the latest annual instalment, Cibbola Burn, will be along shortly, and given the ending of Abaddon's Gate, I can't wait to see what's next for this smashing series. However there are actually two new James S. A Corey novels to look forward to in 2014, because in March, Honour Among Thieves will be released: the first Star Wars tie-in I've ever been interested in.
Ditto the one and only Nick Harkaway's Doctor Who novella. I'm well aware of what a spoilsport I seem here, but I've tried time and time again, and I fear the Doctor's never done it for me.
In any case, later in the year, a surprise sequel to The Best of All Possible Worlds by Karen Lord, which was an early favourite of 2013 for me. I expect great things from The Galaxy Game; you should too.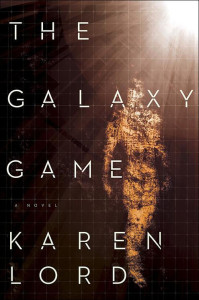 Then there's The Casual Angel by Hannu Rajaniemi, which promises to send off the quantum thief himself, Jean le Flambeur, in style. These have been hard books to read, but very much worth your while: science fiction doesn't come much cleverer.
Speaking of smarts, there are two new novels by Adam Roberts on the cards for 2014. The first, Twenty Trillion Leagues Under the Sea, comes complete with 33 pen and ink illustrations by the terrific Mahendra Singh, and supposes to shine new light on the sea's deepest, darkest reaches.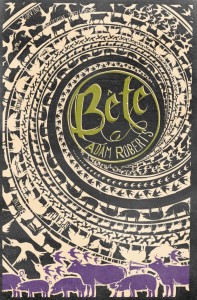 The second of said, Bête, is in large part about a talking cat:
A man is about to kill a cow. He discusses life and death and his right to kill with the compliant animal, and begins to suspect he may be about to commit murder. He kills the creature anyway…

It began when the animal rights movement injected domestic pets with artificial intelligences in a bid to have their status changed by the international court of human rights. But what is an animal that can talk? Where does its intelligence end and its machine intelligence begin? And where, finally, might its soul reside?

As we place more and more pressure on the natural environment, and become more and more divorced from it in the process, Adam Roberts' new novel posits a world where nature can talk back, and can question us and our beliefs.
Do your worst, sir!
Appropriately, there are some endings ahead as well. Ultima will conclude Stephen Baxter's promising Proxima duology; there's the final volume of The Apollo Quartet by Ian Sales; and the second half of Mira Grant's nasty two-parter Parasitology. Though I know that the novel had its problems, I for one had a bunch of fun with the first book.
And with that, we too come to a close.
Now I can't promise you that all the books I've blown though above will be brilliant, but I'll read them all — assuming I don't get trapped in another time warp — with hope in my heart.
There's a million more I'm forgetting, of course, and any number of other novels that I've neglected to mention for other reasons, but I think you'll agree we've got plenty to be getting on with in the year ahead. Let's get together and compare our notes later.
I couldn't very well say good day without a few word of thanks, though: to The Book Smugglers for another year of awesome content, and indeed for having me here for the third year. So please, let's hear it for Ana and Thea!

Thank you, Niall!