Welcome to Smugglivus 2013! Throughout this month, we will have daily guests – authors and bloggers alike – looking back at their favorite reads of 2013, and looking forward to events and upcoming books in 2014.
Who: Jared Shurin, of Pornokitsch, a blog focused on geek culture – books, movies, games, comics, television, and everything in between. Jared helps run The Kitschies, the annual award for intelligent, progressive and entertaining fiction containing speculative or fantastic elements. In addition (phew) he is the editor (and publisher) at Jurassic London, a not for profit press.

Please give it up for Jared, everybody !

Huzzah! Smugglivus season! We've lit the Smugglnorah, decorated the Smuggle-tree and now, for the third year running, we get to share lists. Best. Holiday. Ever.
My personal Smugglivus tradition has been "favourite books that weren't from this year" – a fun point of difference as everyone else will have thoughts about 2013, and, hey, this means I get a few thousand.
My ten reads from 2013 that weren't from 2013 (boy, that's confusing) are:
F. Scott Fitzgerald's Tales of the Jazz Age (1922)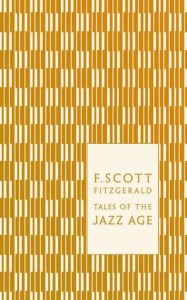 A bit cheeky (apparently he's all famous n' classic n' stuff), but I'd never read Fitzgerald outside of school, and… holy cow. Wonderful – and surprisingly naughty – glimpses into a fascinating era.
James Ross' They Don't Dance Much (1940)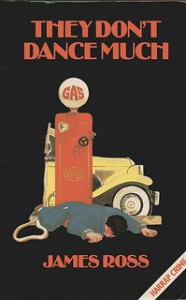 A nihilistic noir set during the Depression; the story of two enterprising killers who turn a gas station into a profitable roadhouse. Like the best of Jim Thompson, the meat of the story comes after the crime: the slow dissolution into corruption, paranoia and betrayal.
Ed Lacy's The Freeloaders (1962)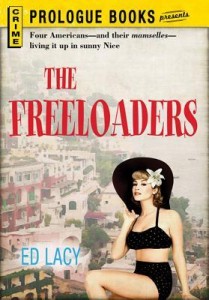 An American writer in Italy falls in with dubious company when he seeks the companionship of other expats. What begins as a casual friendship takes a turn for the dark as their secrets are all revealed. Another cheering novel of corruption, paranoia and betrayal.
Marijane Meaker's Game of Survival (1968)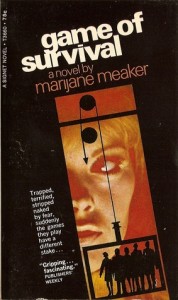 Five strangers are trapped in an elevator as a blizzard rages through New York. As they wait for the emergency services that may or may not show up, things get tense. To keep distracted, they play a little game… a game where they all tell the real truth about themselves, the stories that never get shared with strangers. Yikes.
Margaret Millar's Banshee (1985)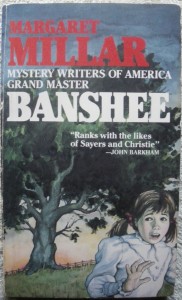 When a small girl goes missing, a community falls apart at the seams. Banshee is part character study, part mystery, and the conclusion is disturbingly thoughtful. (I learned about Margaret Millar through Sarah Weinman's Troubled Daughters, Twisted Wives, but I'm not recommending 2013 titles. Hint. Hint.)
Laurie Halse Anderson's Speak (1999)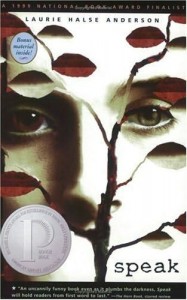 Not a conventional tale of the horrors of high school, but a challenging book about sexual violence and the search for agency. One of those books you read and simply can't stop thinking about, Speak naturally (and appropriately) provokes discussion, which is, in and of itself, a wonderful, powerful thing.
Patrick Ness' The Knife of Never Letting Go (2008)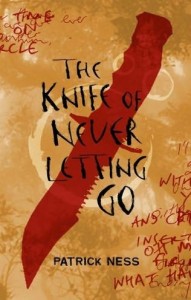 I'm not sure what to say about the Chaos Walking trilogy that hasn't already been said a thousand times. Many – adults and children alike – consider it the finest young adult series ever written. I'm one of them.
Henrietta Rose-Innes' Nineveh (2011)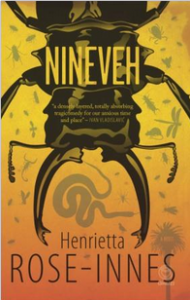 When Katya is called in to cleanse a posh suburb of an impossible insect invasion, her love for all creatures is put to the test by a scummy landlord and her own sleazy father. A provocative book that weaves fascinating parallels between vermin of the 2-, 4- and 6-legged varieties.
J.M. McDermott's Never Knew Another (2011)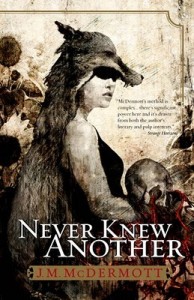 That rarest of beasts: a perfect fusion of fantasy and noir. (And 'noir' is the new 'Victorian' – the adjective of the moment that's invariably incorrectly applied to fantasy books.) In a badly-reduced nutshell: a pair of mind-reading wizard-cops try to find a dead murderer's accomplice by reading the fragmented memories from his skull. The reader soon empathizes with both hunters and hunted, an untenable position given the inevitable (or is it?) conclusion.
Megan Abbott's Dare Me (2012)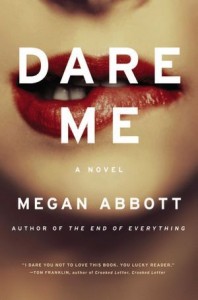 If you stuck Bring It On, The Secret History and The Postman Always Rings Twice in a blender, the result would be something approaching Dare Me. Ms. Abbott's suburban murder mystery is a perfectly-pitched tale of delinquent existentialism. (I made that phrase up, but I like it.)
And one to grow on:
Sarah Lotz's The Three (2014)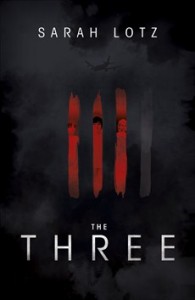 Cross The Shining with Studs Terkel and you've got one of the best thrillers I've ever read; an epistolary novel about plane crashes, eerie children and the end of days. This is a book that I devoured overnight – with one brief break for nightmares – eep.
Thanks again to the Book Smugglers for hosting Smugglivus – and happy holidays to everyone!

Thanks, Jared.