Welcome to Smugglivus 2013! Throughout this month, we will have daily guests – authors and bloggers alike – looking back at their favorite reads of 2013, and looking forward to events and upcoming books in 2014.
Who: Stephanie Kuehn, author of YA psychological thriller/mystery novel Charm and Strange (which Ana read and loved this year) – and which is now a finalist for the 2014 William C. Morris Award!
Please give a warm welcome to Stephanie, everyone!

What do the books we love say about us?
Like interpreting my own personal Rorschach test, I've been reflecting on my favorite reads from the past year, trying to mine the meaning behind my taste. Why do I read what I read? What do I look for in a story? For me, I think, the answer is philosophy and psychology. I am interested in both. More than relationships or the world around us, what fascinates me is analysis of the self. In that way, perhaps, I am self-centered.
I also enjoy books that make me uncomfortable. Moral ambiguity intrigues me far more than essentialism, and the stories I'm drawn to are unafraid to remind me of the darkness within. I believe that in our hearts and minds, every one of us holds biases and judgments that are unfair or self-serving; that we are all sometimes cruel and petty and spiteful; and that we all lie about these things, to ourselves and to others. Of course, these qualities don't have to define us or be the core of our humanity. But sometimes they do. And sometimes they are.
Below are four books I read this year that gripped me with their willingness to explore the baser realms of the human psyche, as well as their complexity and resistance to easy answers. But even in their darkness, these stories are not lurid or cynical (The Visit might be the one exception). All are full of compassion, ripe with beauty and truth. I've included my favorite quote from each.
We All Fall Down by Robert Cormier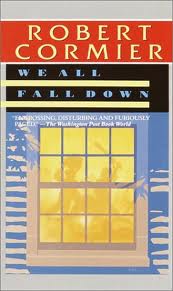 Cormier is known for his bleak stories about meek, underdog boys who are abused or exploited or corrupted by systems that reward cruelty toward others. But We All Fall Down is different. It's probably the closest thing to a teen version of A Clockwork Orange that I've read, although to me it's almost harsher to read because it's real. There's no allegory to distance the message. The main character, Buddy, isn't a victim of random violence—he's the perpetrator. And while he's certainly caught in forces and smothering social dynamics that influence his behavior, he has agency in his actions and has to live with this. But how? Is redemption his to find? Can you let others trust you when you can't even trust yourself? What do you do when what makes you sick is yourself?
"Maybe it isn't crap after all," Harry said. "Because we all fall down, don't we?" His voice dry, sharp as ice cubes clinking.
The Visit by Friedrich Dürrenmatt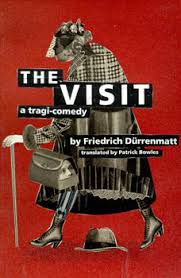 This strange stylized darkly comedic play by Friedrich Dürrenmatt is more an exercise in groupthink, personal justice, and psychological manipulation than anything else. Guellen is an impoverished dying town in rural Switzerland. When Claire Zachanassian returns to the place of her childhood an eccentric billionaire, she offers a deal to the desperate townspeople: murder the man who hurt her in her youth—now a beloved storekeeper—and she will pay off the town debt and then some. The townspeople are horrified and reject her offer…until their beloved storekeeper is out of earshot, that is.
MAYOR: Madam Zachanassian: you forget, this is Europe. You forget, we are not savages. In the name of all the citizens of Guellen, I reject your offer; and I reject it in the name of humanity. We would rather have poverty than blood on our hands.
(huge applause)
CLAIRE ZACHANASSIAN: I'll wait.
All Our Pretty Songs by Sarah McCarry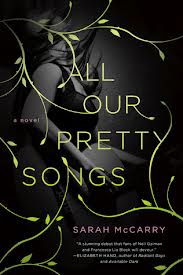 The gorgeous lyrical story of two teenage girls living in the Pacific Northwest in the nineties, All Our Pretty Songs is an ode to the fierce power of friendship. With magic, mythology, and beautiful prose, McCarry perfectly captures the way close kinship can bring out such aching and dangerous wanting, because what we are drawn to in others is often what we feel is lacking in ourselves. Sometimes to love is to lessen oneself. Sometimes to love is an act of self-loathing. But sometimes…sometimes love is transcendent. My suggestion: Read this while listening to Liz Phair's "Mesmerizing."
Who among us has not wanted to be transformed? I had lived all my life among extraordinary people, and some nights, I would fall asleep wishing to wake up worthy of them.
Black Helicopters by Blythe Woolston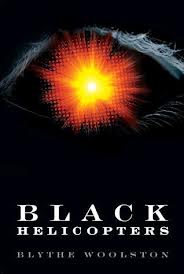 I read this book in one sitting. Then I read it again. It's short, tense, masterful, and devastating. Following young Valkyrie White, whose family and way of life have been destroyed by forces far greater than her, as she prepares for her moment of vengeance and sacrifice, Woolston reminds us that righteousness is a matter of perspective. Always.
"This is the queen," says Da. "She can move all of these ways." He slides the piece along the board, back and forth, side-to-side, corner-to-corner. "She is the most powerful piece on the board."
Thank you so much for having me! Happy holidays and happy reading.

Thank you, Stephanie!