Welcome to Smugglivus 2013! Throughout this month, we will have daily guests – authors and bloggers alike – looking back at their favorite reads of 2013, and looking forward to events and upcoming books in 2014.
Who: Karen "Kaz" Mahoney, best friend (disclose ALL THE THINGS) and kick-ass author of YA including the now completed Iron Witch trilogy, the ongoing Moth series (book 2 Hunting the Dark comes out in 2014) and more recently the one-shot comic book Jennifer Wilde – The Wilde Hunt
Please give it up for Kaz, everybody!

First of all, thanks very much to the lovely Book Smugglers for inviting me to take part in Smugglivus. It is, as always, an honour. (Hey, I have to say that so I get invited back next year! ;))
As far as reading goes, 2013 was the year I read a lot of non-fiction for research. I won't be talking about those books because it would mean (sort of) talking about the projects I'm working on. However! There is still plenty here. I… probably should have edited this a bit, but never mind. We all love recommendations, right? A lot of recommendations…
I should note that this is a very random list, and I have no doubt forgotten a ton of great stuff. It includes all kinds of media – not just books – and I like to think of it as a discussion of favourites rather than a 'best of' list. These aren't necessarily the best (though some of them might well be), but they are certainly the things that made me think, made me happy, stayed with me, or even challenged me. I also had to cut down on the commentary for space reasons, although I did enlarge on some of the items – especially for a few of the things that people might not be so aware of. Oh, and they weren't all published/aired in 2013 – though many of them were.
Here, then, is Kaz's Guide to 2013…
FAVOURITE YA BOOKS OF 2013:
September Girls, by Bennett Madison and Fault Line, by C. Desir
September Girls, because it challenged me to look beneath the surface (in more ways than one!) and because it was so incredibly well-written that I put it down and cursed Bennett Madison. 😉
Fault Line, because it challenged me in a different way entirely. A heartbreaking, unflinching look at rape and its impact on those who survive. People use the term 'an important book' too easily, I think. This one lives up to the billing.
17 & Gone, by Nova Ren Suma and The Lost Sun, by Tessa Gratton
17 & Gone, because the writing is absolutely luminous (without being distracting), while telling a story that chilled me and kept me guessing. I loved Lauren's voice, and I love books that keep you wondering whether something is really happening – or whether the protagonist is truly descending into madness…
The Lost Sun, because I adore Norse mythology, and I've never seen it presented quite like this. Because the writing is beautiful, the worldbuilding satisfyingly complex, and most of all because I fell in love with Astrid and Soren.
A BOOK THAT MADE ME THINK ABOUT THE BIG QUESTIONS
The Ocean at the End of the Lane, by Neil Gaiman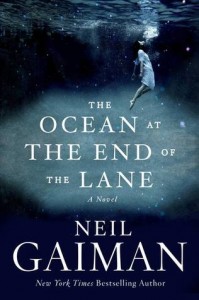 2013 was also the year I finally met Neil Gaiman, and he was kind and lovely – just like everyone says he is. (He might also have hugged me. It might have been a highlight… stop laughing!)
BOOK THAT SURPRISED ME THE MOST:
The Girl Who Chased the Moon, by Sarah Addison Allen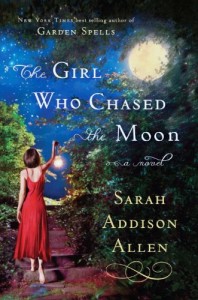 This is the first Sarah Addison Allen book I've ever read. It will most definitely not be the last! I've already got her first novel, Garden Spells, lined up to read, and intend to work my way through the others. Something about The Girl Who Chased the Moon moved me, though. When I started it, I wondered whether I would find it too… cutesy. And magic realism can be hit or miss for me. But, honestly, this book was just a winner all round. Great story, characters, the perfect touch of magic – and some real, powerful emotional content that surprised me.
FAVOURITE BOOK(S) ABOUT WRITING
Still Writing, by Dani Shapiro and Wonderbook, by Jeff Vandermeer
A tie – I really couldn't decide. Very different books, but both magical in their own way.
FAVOURITE URBAN FANTASY:
Frost Burned, by Patricia Briggs and Magic Rises, by Ilona Andrews
It was a tie (again). These two authors are on my auto-buy list and, perhaps even more important, they're on my read-as-soon-as-possible list. I adore both of these heroines, and genuinely anticipate each new installment in Mercy and Kate's adventures. The 2013 offerings were pretty strong, although I felt that Magic Rises was perhaps the most significant in terms of the wider story arc.
FAVOURITE COLLECTION:
Before and Afterlives, by Christopher Barzak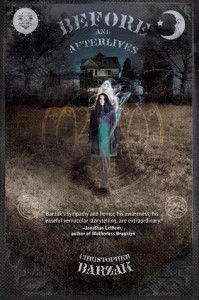 FAVOURITE MYSTERY OF 2013:
Claire DeWitt and the Bohemian Highway, by Sara Gran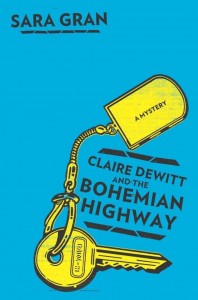 FAVOURITE RE-READ OF THE YEAR:
Sunshine, by Robin McKinley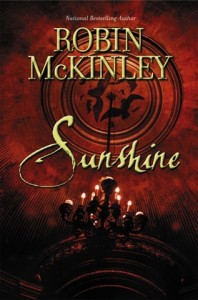 Yeah, I said it. I re-read books. A lot. This probably explains why I'm so bad at keeping up with all the latest stuff that gets released. I think I must have read Sunshine once per year since it first came out in 2003. Oooh… Ten-year anniversary! As I said on Twitter recently, this really is a perfect gem of a book. It stands completely alone and has the perfect (for me) ending. No need for a sequel, imho. Seems like Robin McKinley herself agrees with me:
*beams*
FILM OF THE YEAR:
Before Midnight
I haven't seen many movies this year – probably the least I've ever watched – and this one is still by far the best, even though it came out in the early part of the year. I saw the first of the three 'Before' films in London when I was 20 or 21. I went by myself, sitting in a small cinema in Central London with a handful of people. After it was over, I walked out into the bright day and felt changed by the experience – that's what the most powerful pieces of art do to you. Little did I know, then, that there would be two more films by the same incredible collaborative team, and that they would just continue to get better and better. Before Midnight was beautiful and painful and hopeful and, and… as near to perfect as it is possible to get.
I think, secretly, the middle film (Before Sunset) is probably still my favourite – but only by a tiny, tiny margin.
SHORT FILM THAT YOU SHOULD WATCH:
Bitter Orange, by Hope Larson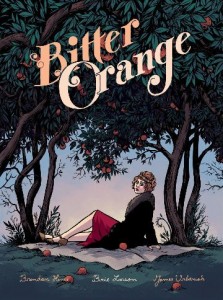 When I heard that Eisner award-winning Hope Larson, a brilliant writer and artist of graphic novels, had written and directed her first short film, I was all over it. Even better, it's set in the 1920s and stars the luminous Brie Larson (no relative). At just over 8 minutes, Bitter Orange is well worth your time. Check it out!
Bitter Orange from Hope Larson on Vimeo.
FAVOURITE TV SHOW:
Breaking Bad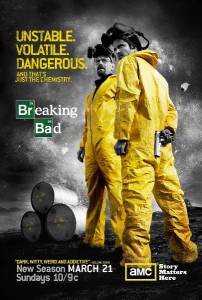 This was the year I watched my way through all five seasons of Breaking Bad. I blame two people for this: my boyfriend and Ana (of this very site). I could write pages about why I didn't think I'd like it, and why I ended up loving it with a fiery passion. But I probably already did that via email with Ana – she watched it before me and told me that I had to send her regular updates as I watched each season or a particular episode that she loved.
A lot of my enjoyment came from these guys, my two favourite characters: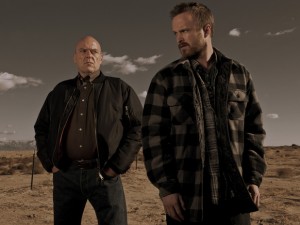 Hank and Jesse
Runner-up: Homeland. I actually preferred this year's Season 3 to the second season (I think I might be in the minority here?), despite having to suspend disbelief even more than normal. That's just par for the course with Homeland, and I have to keep tuning in for Clare Danes' performance, Mandy Patinkin's presence, and… yes… Quinn's stoic loyalty and angsty soul-searching. (Shut up.)
Shows I'm hanging in there with but almost ready to give up: The Walking Dead and The Vampire Diaries. I'm still watching, but getting very close to calling it a day. We'll see how things shape up after the mid-season break in each of these. I don't want to let them go because I love the characters, but I'm getting tired of some of those favourite characters acting in ways that I find harder and harder to explain. Ultimately, however, I suspect that I'll have to stick with The Walking Dead because…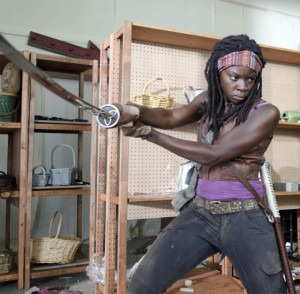 Michonne!
And…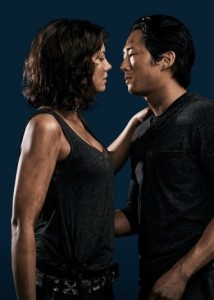 Maggie & Glenn
(My favourite couple to bring a little love to a zombie-filled world. :))
For the record, I am totally looking forward to the return of Game of Thrones in 2014!
FAVOURITE COMIC BOOKS:
Oh, so many… Too many!
Saga, by Brian K. Vaughan & Fiona Staples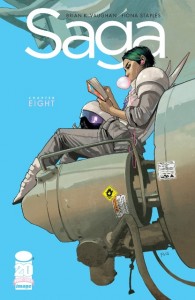 Epic, funny, romantic (star-crossed lovers, ftw!), action-packed, thoughtful, beautifully illustrated, and did I say funny? And true. In the best possible way. Alana and Marko complete me.
A favourite page, aimed at those of us who love to read – and who have had their lives changed by books on more than one occasion:
(Click to embiggen)
And Alana reads the book to Marko early on, while she's still guarding him in prison:
*ahem*
Then there's Lying Cat, who has become something of an internet sensation (you can buy T-shirts and everything!):
Panels that crack me up every time:
And the scenes that make me get something in my eye:
A FEW MORE GREAT COMICS TO LOOK OUT FOR…
Lazarus, by Greg Rucka & Michael Lark and Captain Marvel, by Kelly Sue DeConnick & Various Artists
Leaving Megalopolis, by Gail Simone & Jim Calafiore and
Hawkeye, by Matt Fraction & David Aja
BEST THING ON THE INTERWEBS:
Okay, I'm going with best. In this case, I stand by 'best' and will gladly challenge anyone who disagrees with me. 😉
Geek & Sundry makes me very happy. It's a YouTube channel run by Felicia Day, with so much amazing content I can't even begin to tell you about it all. Just head over there and check it out for yourself. My current favourite shows are TableTop, Vaginal Fantasy and Co-Optitude. Most of the time, when I'm writing, watching shows on G&S makes for a good reward-system as you've basically got shows ranging from 5 – 30 minutes in length.
Seriously, who thought watching people play retro video games could be so much fun?
There's now a second channel, Geek & Sundry Vlogs completely dedicated to… geeky vlogs. They cover everything you can think of, from comics and video games, to cosplay, LGBT geekdom, Greek mythology, and so much more. Really, there's something for everyone.
LOOKING AHEAD TO 2014…
I was going to write a whole list of the things I'm looking forward to, but I already went on for a ridiculous amount of time (sorry!!), so I'll just go with a few things.
Let's start with Geek & Sundry, as we were just talking about that. Next year (in January), they are launching a new web series that I cannot wait for…
Caper was created by Amy Berg, and is a superhero comedy series mixing live action with motion comics. From the official summary:
Caper features four super-powered crime fighters forced into a secret life of crime. This isn't the story about a super team coming together. This is about four alter egos desperate to escape their tiny, shared apartment. Combining their knowledge of the criminal mind to pull off victimless heists seems the perfect quick fix. But there's a catch…they can't use their superpowers or else everyone will know what these do-gooders are up to.
How cool does that sound?
FOUR BOOKS FOR 2014 (among oh-so-many):
Labyrinth of Stars, by Marjorie M. Liu
Why? Because it's Marjorie freakin' Liu, and although I love her work in comics I still want to read her novels. This is the fifth book in the Hunter Kiss series, which is one of my absolute favourites.
Death Sworn, by Leah Cypess
Why? Because… hello?! Leah Cypess' first two novels are incredible works of YA fantasy. I have no idea what this one is about, but I don't care. I know it will be awesome.
Queen of the Night, by Alexander Chee
Why? I have just one word for you: Edinburgh. No, not the city (though it's mighty fine, of course), but I mean the book. Chee's first novel, Edinburgh, is one of the best things I've ever read. Finally (finally!) we have something new from him – good things come to those who wait. I will be savouring this one.
The Goblin Emperor, by Katherine Addison
Why? Because Katherine Addison is really Sarah Monette who wrote four books that stole my heart. I've read the entire sequence through twice, and the first one (Melusine) several times…
AND ONE MORE THING…
I adore Teal Sherer's web series, My Gimpy Life, and thanks to her successful Kickstarter this year there will be a second season early in 2014. I will be watching the moment new episodes are released. I hope you will be, too. You can catch up on Season One here.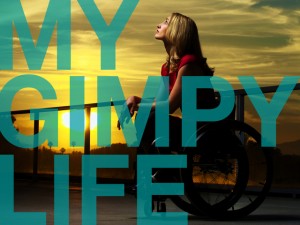 OH, GO ON… ONE MORE: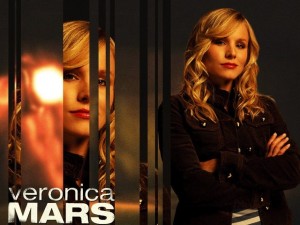 Need I say more, marshmallows?
A FINAL NOTE FROM KAZ & A GIVEAWAY
If you made it this far, congratulations! 🙂
Back in April 2013, the third and final part of The Iron Witch trilogy was published in the US, UK and Australia – thankfully it seems that most people seemed to like The Stone Demon, and felt I'd tied things up pretty well. However! Because I know readers love free stories, I will be posting a brand new short story on my website in the New Year: look for The Silver Fey Monday, 6th January 2014:
My other 2013 publication was my first ever full-length comic book, and I'm proud of the way it turned out: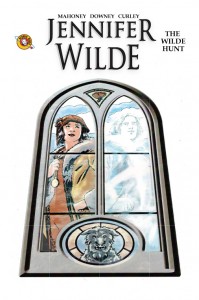 To celebrate the end of a great year of reading (and viewing), and to welcome in 2014, I'm giving away a gift basket of the following books/comics to ONE lucky winner:
The Stone Demon – by me!
Jennifer Wilde: The Wilde Hunt – by me!
Let it Snow – by Maureen Johnson, John Green & Lauren Myracle (probably my favourite Christmas book of all time)
Sunshine – by Robin McKinley
Captain Marvel: In Pursuit of Flight (the first volume) – by Kelly Sue DeConnick, etc.
Saga: Volume One – by Brian K. Vaughan & Fiona Staples
Use the form bellow to enter. Contest is open to all and will run until Saturday December 28 12:00am EST.
Happy Smugglivus, one and all!

Thank you so much, Kaz!