Welcome to Smugglivus 2013! Throughout this month, we will have daily guests – authors and bloggers alike – looking back at their favorite reads of 2013, and looking forward to events and upcoming books in 2014.
Who: Phoebe North, one of our favorite SFF bloggers turned author of young adult science fiction – her debut Starglass was published this year and Thea loved it.
Give it up for Phoebe, everybody!

2013 has been an interesting year for me—my first book, Starglass, was released in July, and just a few weeks before, I found out that I'm expecting my first child in February of 2014! Unexpectedly, the hormonal rush of gestation had a curious effect on my media consumption. I mostly found myself reaching for the literary and film equivalent of comfort food: episodes of Degrassi and The Cosby Show, re-reads of children's historical novels that I hadn't encountered since I was 8. And yet I still managed to soak up some wonderful works. Here are my favorites from this year!
The Incarnate Series by Jodi Meadows
Technically, only Asunder and the e-novella Phoenix Overture were released this year, but I did an event with the inimitable and kind Jodi Meadows and managed to beg an advanced copy of the concluding volume, Infinite, which is due out in January. I love this series so much! It's rare that a trilogy maintains its quality over three volumes, but my affection for Newsoul Ana and the world of Heart grew with each successive book. By the final pages of Infinite I knew that this would be a lifelong favorite, right up there with the Mercedes Lackey novels I adored so much as a teenager.
Meadows shares much in common with Lackey. On the surface, both Valdemar and Heart are essentially cozy fantasies, with small, brightly-colored details that make them feel vital and real. But both worlds hide larger and more sinister secrets. Meadows excels at world building; she laces intriguing hints of her universe's backstory into the narrative in an effortless way. And all of this is carried by the very likable and terribly charming Sam and Ana. This is a couple you can root for without reservation—a relationship that grows through mutual respect and admiration. I'd recommend these books for teen readers who want to see a healthy, but still steamy romance—and adult speculative readers who want to get wrapped up in an thought-provoking new world
Boardwalk Empire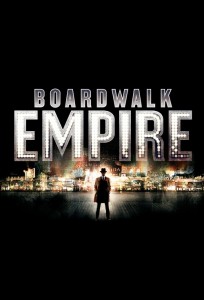 Boardwalk Empire is the show about empire building that I always hoped Game of Thrones would be. What surprises me is that it hasn't gained a bigger audience; the acting and writing and direction stand heads and shoulders above even most premium cable shows. Rich in period detail, the show seamlessly intertwines real history with the saga of would-be fictional gangster Nucky Thompson.
It's a show about mobsters, yes—and therefore a violent narrative (not usually my bag). And yet the violence, even when brutal or unflinching never feels exploitative. This is especially true for the violence against women; the camera doesn't linger or subtly condone these acts. All horrors are appropriately horrific, and women are allowed significant growth disconnected from these traumas. It's also a narrative that occasionally turns sexist tropes on its head; men are, on occasion, placed in refrigerators.
All that said, it's also simply beautiful, in terms of cinematography, and the way the story builds toward inevitable tensions through each deliberately plotted episode make the series, overall, feel a bit like a historical literary novel. Be sure to check out Genevieve Valentine's excellent Boardwalk Empire recaps over at the AV Club, too!
Saga by Brian K. Vaughn and Fiona Staples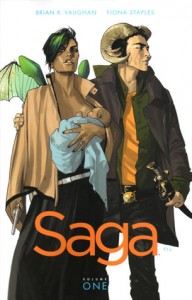 I'll admit that my love for Saga, a space opera graphic novel, is likely more than a little bit hormonally induced. I was given a copy of the first volume by publisher-sister and author Justina Ireland at BookExpo America—just days after I found out I was knocked up. As I took the train home to share with my husband the good news, I read about Alana and Marko and the birth of their first child and wept, terribly, trying to hide my foolishness from the other MetroNorth passengers
It's rare, in both comics and popular science fiction, to encounter stories that are about how friggin' great it is to become a parent; rarer still to find stories where new, leaky-boobed mothers are allowed to be varied and nuanced and heroic. But Vaughn does both in this epic story of two peoples at war in far-flung space and the star-crossed romance between a prisoner and his captor that arises out of this conflict. Alana and Marko are appropriately naïve—and at times foolishly passionate—which makes their story feel that much more grounded. Though the details of this universe are sparkling and exotic (featuring ghosts and TV-headed robots), the human emotions at its core are very, very real.
What I'm Psyched for in 2014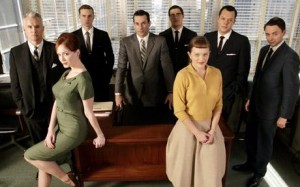 Other than the birth of my own kiddo? The final season of Mad Men, most definitely. I've rewatched the series in its entirety three times—it grows richer upon each viewing. I can't wait to watch Peggy Olson march herself into the 70s, even though I'm sure it will be heartbreaking to leave her, Don, Joan, Sally, and the entire staff of Sterling Cooper Draper Price behind.
Giveaway
To celebrate Smugglivus—and the arrival of 2014, a year that promises to be epic—I'm giving away a signed hardcover copy of Starglass, plus the first two volumes in the Saga saga to one lucky winner! US entrants only; sorry! Use the form below to enter – contest will run till Saturday January 4 2014 12:00 AM. Good luck!