Welcome to Smugglivus 2013! Throughout this month, we will have daily guests – authors and bloggers alike – looking back at their favorite reads of 2013, and looking forward to events and upcoming books in 2014.
Who: Bennett Madison, YA author who became one of Ana's favourites this year after the brilliance of September Girls and The Blonde of the Joke.
Please give it up for Bennett, everybody.

This was a pretty weird reading year for me. I was kind of busy and didn't read quite as much as I did last year, and there are a bunch of books that I still haven't gotten to that have a feeling I will adore. Looking back over my reading list for the year, I realize that I was very scattershot in my choices—I have very little notion in retrospect of what possessed me to pick up the books I did, and in this very idiosyncratic order. Still! It was a good year, and here are my favorite things. (As always, I'm choosing from the books I actually read in 2013 rather than books that were published in 2013.)
Best Catch-Phrase: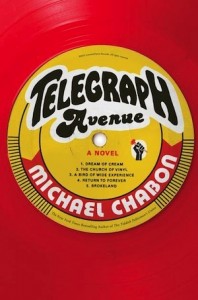 Telegraph Avenue by Michael Chabon
I was in the Bahamas for a week last January, staying with my friend Bob who kept wanting to do tropical things like go snorkeling and kayaking et cetera. I was an annoying guest who did not want to do any activities at all because I was busy lying in the sun with Telegraph Avenue, which was the most purely pleasurable reading experience I've had in a long time.
It is not Michael Chabon's most ambitious work or his most polished. You can tell he's just trying to jam every fun thing he can think of into the story, and if you've read much Chabon you probably have a sense of what he thinks is fun: super-hero comic books and Kung Fu movies and old soul records and flying dirigibles and man-on-man love of both the romantic and platonic kinds. Luckily these are pretty much the exact things I also consider fun so it works out.
(As a side note, one of Telegraph Avenue's most compelling relationships is between two women, which is not something Chabon is necessarily known for, so I was happy about that too.)
The story is sun-soaked and reeks of patchouli and dusty basements; music thumps off the pages. Mostly it's just fun.
Best of all, it brings me my favorite slogan of the year in fading Blaxploitation star Valletta Moore's signature catch-phrase: "Do what you got to do. And stay fly."
Best Unlikable Character: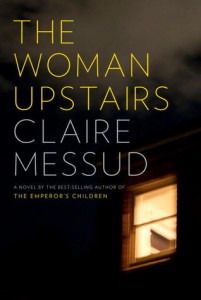 The Woman Upstairs by Claire Messud
I didn't actually find Nora Eldridge, Claire Messud's angry forty-something schoolteacher narrator in The Woman Upstairs to be particularly unlikable at all, but I guess a lot of people did, to which I say, seriously, whatever.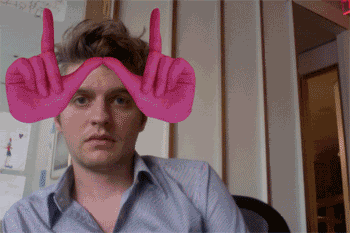 Somehow, Messud takes an interior and low-key story (especially in comparison to the sweeping satire of her last book, The Emperor's Children) and turns it into a surprising page-turner. What makes it all work, I think, is Nora's voice, which is funny and relatable (sometimes uncomfortably so) and moving and real. All of which are things that I will take over "likable" any day. (If everyone had to be "likable" in real life, no one would have any friends.)
Best Collection of Essays Published 25 Years Ago: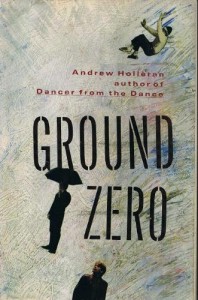 Ground Zero by Andrew Holleran
Did you know that I have read Sex and the City the book? Well I can't remember exactly why I read it, but I did! The book is not fiction but is a collection of Candace Bushnell's original Sex and the City columns, which ran in the New York Observer and which served as a very loose basis for the more famous (and superior) TV show, not to mention the subsequent pathetic movies.
Bushnell is a pricklier a narrator than Carrie Bradshaw, and the book much darker and nastier—and consequently more incisive– than the TV show. It's also actually about sex and also the city, whereas the series is more about a group of friends who talk sex while relating to each other brunch. (Which, that's okay too!)
This has not very much to do with Andrew Holleran's Ground Zero, except that Ground Zero is also a collection of essays written and published over several years, and most of them are about the idiosyncratic sexual mores and mating rituals of New Yorkers. Holleran is obviously a stylist in a class of his own, and the prose in his essays is mostly insanely gorgeous, but he can also be as funny and breezy and silly as Carrie/Candace, and once I noticed the overlap in their voices and concerns– about halfway through the book—it started to seem a little uncanny.
Of course, no one really dies in Sex and the City (well, there was that time Kristen Johnson fell out the window), whereas Ground Zero plops some Carrie Bradshaw-relation right down in the apocalypse: the essays in Holleran's book were written over the first decade of the AIDS crisis, and almost no one gets out alive. It is shocking, tragic, beautiful and hilarious and fucking horrifying– a glimpse into an almost entirely lost world that is familiar-ish but as strange as science fiction.
Best Out-of-Print Comic Book: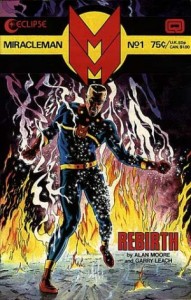 Miracle Man by Alan Moore/Gary Leach/Alan Davis/etc
You can see Alan Moore working out the blueprint for The Watchmen with Miracle Man, an elegiac and triumphant if not quite fully-formed exploration of what it means to be a 1950's superhero reborn into the 1980's.
Miracle Man is a huge pain in the ass to get your hands on, due to the usual bonkers rights issues that Alan Moore's work often seems to run into, but I think I read somewhere it was finally being reissued next year, so yay, you should read it.
Movie of the Year: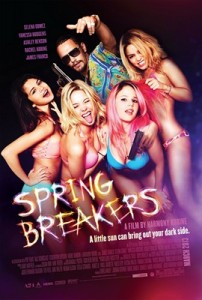 Spring Breakers
I fell asleep at some point during Spring Breakers. I'm not sure how long I slept for but when I woke up it seemed like it sort of didn't matter. This might not sound like the most ringing endorsement of a movie, but the thing about Spring Breakers is that it was kind of like a very stylish dream even during the parts when I was awake, so dozing off just seemed to enhance the experience. Plus I felt very rested afterward.
A lot of people hated this movie. I hated certain parts myself. I still don't really know what it was about, and I don't really know how to talk about it, but I spent more time thinking about Spring Breakers than probably anything else I read or saw this year. Whether the movie is a work of genius or a big and cleverly-disguised wad of cotton candy is not really relevant to me.
Best Not-Really Retelling of a Greek Myth: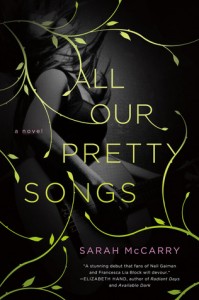 All Our Pretty Songs by Sarah McCarry
Sarah McCarry's prose is so sparkling and beautifully-wrought that it's easy to understate how much depth there is to it. Set in grunge-era Seattle, All Our Pretty Songs is a strange and dizzy reimagining that leaves you wondering which one's Orpheus and which one's Eurydice.
Best Funny Cancer Book: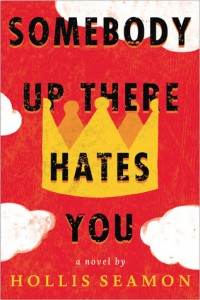 Somebody Up There Hates You by Hollis Seamon
Hollis Seamon generously allows Richie, her dying narrator, the dignity of being as bratty, horny, and obnoxious as he wants to be, with the ultimate result of making him all the more charming and heartbreaking.
Best Ambivalent Russian Romance: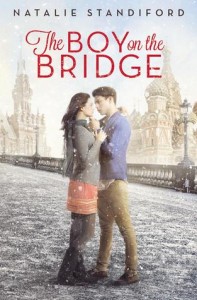 The Boy on the Bridge by Natalie Standiford
The always-great Natalie Standiford sheds her familiar Baltimore setting for Russia in the early 1980s, and comes away with my favorite kind of love story—the kind that's not exactly about love at all.
Best Books that Aren't Out Yet:
E. Lockhart's We Were Liars and Emily Gould's Friendship are both fantastic and you should read them as soon as you possibly can.

Thank you, Bennett