Welcome to Smugglivus 2013! Throughout this month, we will have daily guests – authors and bloggers alike – looking back at their favorite reads of 2013, and looking forward to events and upcoming books in 2014.
Who: Ann Leckie Science Fiction writer whose debut novel Ancillary Justice has basically blew everybody's socks off this year, earning rave reviews everywhere. In fact, Ancillary Justice has the very (VERY) rare honor of being both Thea and Ana's top 1 book of the year (seriously, it got a ten from both of us). Because of that, we couldn't think of anyone else who'd be better suited to start this year's Smugglivus celebrations.
Please give a warm welcome to Ann, everyone!

Happy Smugglivus! And happy upcoming anniversary to the Book Smugglers! Six years is an incredibly long stretch in internet time, and for all of those six years they've been keeping us informed about the books we want or need to read. I'm incredibly honored to have been asked to participate, and not only participate, but start things off.
I'm a big fan of winter holidays. As many as you can get, I say! In the Leckie household, for instance, along with Christmas we celebrate Dies Natalis Solis Invicti, with steaks for dinner and bloody bulls to drink. Though we've lost track of my daughter's origami tauroctony, I'll have to ask her to recreate it this year. And on each of the eight nights of Squidmas, Cthulhu leaves gifts for the children in the tentacles of the Christmas Squid.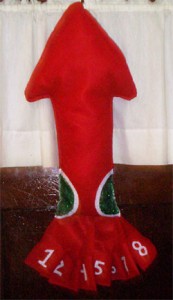 Yeah, we like to mix it up! And I love being able to add books to that mix. In fact, I'm kind of jealous that I didn't think up a Bookmas like this. It's a perfect idea for a winter holiday.
So, the sad fact is, I don't always read the books that came out in a given year, and the last few years even less than usual. The past few years, the most current books I've read have either been installments in C.J. Cherryh's Foreigner series (OMG I love those books so hard) or else nominees for awards I'm eligible to vote for. And I've been noveling pretty hard, so a lot of my reading has been nonfiction–and fairly specialized nonfiction at that.
And up until very recently, I've been editor of the webzine GigaNotoSaurus. Which has been a tremendous amount of fun, and I (very selfishly, certainly) would highly recommend perusing the archives, because there's some fabulous longish short fiction there. But it has absorbed a lot of my reading time. (Which is one of the reasons I've turned over editorial duties to Rashida J. Smith, and I'm really looking forward to reading the stories she brings us!)
So a list of the best books I read this year is going to be…a little odd. But so is putting candy in the tentacles of a felt squid while the kids are asleep, so.
Foreigner by C.J. Cherryh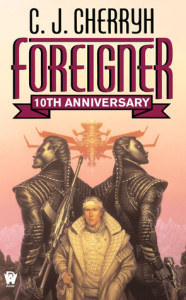 Like I said, usually the only new book I'm going to grab as soon as it comes out is going to be an installment in this series. But I can't really recommend the latest, much as I enjoyed it, because the latest will basically make no sense if you haven't started from book one, and if you're already a fan you won't need me to tell you about it. So, for starters, Foreigner by C. J. Cherryh.
The debt I owe to this book is vast. And if you read Ancillary Justice and enjoyed it, there's a really good chance you'll enjoy Foreigner.
Embassytown by China Mieville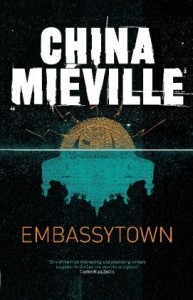 Okay, I didn't read this last year. Still. I thought I was allergic to Mieville–I tried Perdido Street Station, which a lot of people really loved, and I just couldn't finish it. But then I got The City and the City in the Hugo voter's packet and it was amazing with an extra side of awesome sauce. And when I heard a description of Embassytown it was like, now Mieville knew he'd gotten my attention, he was gonna write something just for me. I pre-ordered that puppy and I picked it up from the local bookshop the day it came out, and it was read through by the next evening.
Language! Political maneuvering! More language! People who are living metaphors! Just read it if you haven't already!
The Left Hand of Darkness Ursula K. Leguin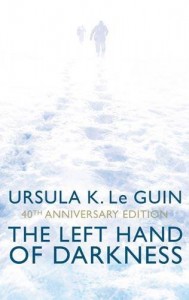 I did not read this for the first time this year, but I did re-read it this year. This is a book that is probably sufficiently famous that I don't need to explain why it's worthy of multiple reads–if you haven't read it yet, I strongly suggest that you find a copy and give it a go. It's a classic for a reason.
And the nonfiction. Nearly all of it research for the novel I've just turned in to my editors, and the one I'm going to be starting soon.
Veiled Sentiments: Honor and Poetry in a Bedouin Society by Lila Abu-Lughod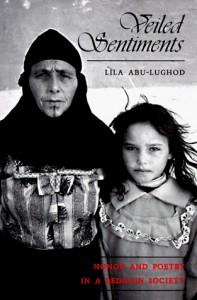 This book is absolutely fascinating. A very young Abu-Lughod did fieldwork in a Bedouin household in Egypt. She spent much of her time with the women in the household, and became fascinated with the way the community valued a sort of stoicism in the face of emotion or adversity but at the same time produced (and valued very highly) very emotional, expressive poetry. It looks like a contradiction–but people, and families, and cultures, are endlessly complicated and nuanced–something worth remembering the next time you hear about how some huge group of people can be reduced to a couple sentences about how they think or what they believe. I highly recommend reading this–though you may have to get it through inter library loan, if you don't have access to a university library that has it.
Purity and Danger: An Analysis of Concepts of Pollution and Taboo by Mary Douglas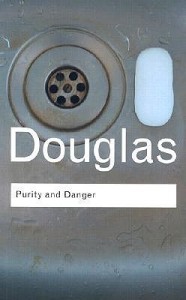 Pretty much what it says in the title. It's a bit old-fashioned, and that shows in some of the assumptions the author makes, just little offhand comments that made me go, "Oh, really?" but noticing those can be kind of enlightening in itself.
Domination and the Arts of Resistance: Hidden Transcripts by James C. Scott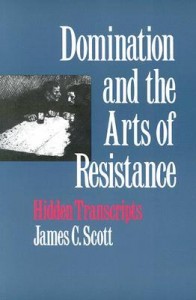 I wrote a blog post about this book, it impressed me so much. Like the last two, it may only be available through a university library. But it's never a bad idea to find out what your local library can do for you in the area of inter library loan. Mine will let me make ILL requests on the website–it's incredibly convenient.
And the books I'm looking forward to? Well, I know I'll be reading what turns up in the Hugo and Nebula voter's packets, that's for certain. And I've got some anthologies that have been waiting and waiting for me to have the time to read them–like We See a Different Frontier, edited by Fabio Fernandes and Djibril al-Ayad, which has stories by some of my favorite short fiction writers in it. And I'm really, really looking forward to Hild by Nicola Griffith, which I've been hearing the most amazing things about. But I pretty much assume there will be more amazing books to discover in the next year than I can possibly find time to read.

Thanks for sharing your favorites, Ann!
And now for the giveaway!
Giveaway details:
We have one signed copy of Ancillary Justice to give away. The contest is open to EVERYBODY, ANYWHERE and will run until Sunday, December 8 at 12:01AM EST. In order to enter, use the form below. GOOD LUCK!