As you probably know by now, Old School Wednesdays is a new weekly Book Smuggler feature. We came up with the idea towards the end of 2012, when we were feeling exhausted from the never-ending inundation of New and Shiny (and often over-hyped) books. What better way to snap out of a reading fugue than to take a mini-vacation into the past, right?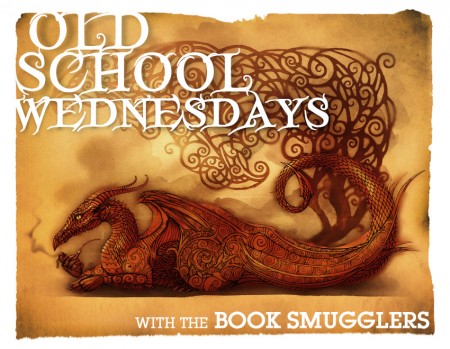 Logo designed by the wonderful KMont
We asked YOU for your favorite old school suggestions – and the response was so overwhelmingly awesome, we decided to compile a goodreads shelf, an ongoing database, AND a monthly readalong/book club. (Note that we've removed books that we have already read, or that we selfishly want to review as solos on Wednesday!)
December Readalong:
It is time for the December poll! Our official November readalong happens on Nov 27 (The Westing Game by Ellen Raskin), but we're preparing for December and opening the floor to voting for next month! The December Readalong will take place on December 18, the week before Christmas.
You can vote on which title you'd like to read by using the poll in our sidebar, or following the titles below. Without further ado, here are the new crop of 5 titles for voting!
The Game of Sunken Places by M T Anderson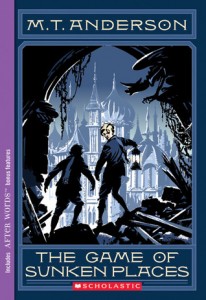 "Jazzier than Susan Cooper, funnier than Philip Pullman, this is a highly original and enormously entertaining read"–New York Times Book Review.

When Brian and Gregory receive an invitation to stay at a distant relative's strange manse . . . well, they should know better than to go, since this is a middle-grade adventure novel. But they go anyway. Why not? Once there, they stumble upon The Game of Sunken Places, a board game that mirrors a greater game in which they have suddenly become players. Soon the boys are dealing with attitudinal trolls, warring kingdoms, and some very starchy britches. Luckily, they have wit, deadpan observation, and a keen sense of adventure on their side.
Sammy and Juliana in Hollywood by Benjamin Alire Sáenz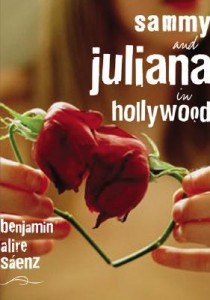 The Hollywood where Sammy Santos lives is not one of glitz and glitter, but a barrio at the edge of a small New Mexico town. In the summer before his senior year, Sammy falls in love with the beautiful, independent, and intensely vulnerable Juliana. Sammy's chronicle of his senior year is both a love story and a litany of loss, the tale of his love not only for Juliana but for their friends, a generation from a barrio: tough, innocent, humorous, and determined to survive.
The Chocolate War by Robert Comier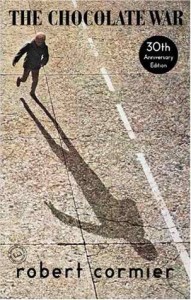 Jerry Renault ponders the question on the poster in his locker: Do I dare disturb the universe? Refusing to sell chocolates in the annual Trinity school fund-raiser may not seem like a radical thing to do. But when Jerry challenges a secret school society called The Vigils, his defiant act turns into an all-out war. Now the only question is: Who will survive? First published in 1974, Robert Cormier's groundbreaking novel, an unflinching portrait of corruption and cruelty, has become a modern classic.

The Book Thief by Markus Zusak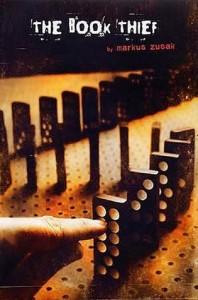 The extraordinary #1 New York Times bestseller that will be in movie theaters on November 15, 2013, Markus Zusak's unforgettable story is about the ability of books to feed the soul.

It is 1939. Nazi Germany. The country is holding its breath. Death has never been busier, and will become busier still.

Liesel Meminger is a foster girl living outside of Munich, who scratches out a meager existence for herself by stealing when she encounters something she can't resist–books. With the help of her accordion-playing foster father, she learns to read and shares her stolen books with her neighbors during bombing raids as well as with the Jewish man hidden in her basement.

In superbly crafted writing that burns with intensity, award-winning author Markus Zusak, author of I Am the Messenger, has given us one of the most enduring stories of our time.
The Tricksters by Margaret Mahy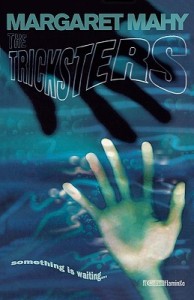 When three fascinating but sinister brothers mysteriously appear at her family's beach house, Harry feels as if she summoned them herself. Are the Tricksters her own creation? Or are they aspects of Teddy Carnival, a boy who drowned there years before?
[poll id="10″]
Get voting! And we hope you will join us on December 18.
Ongoing Suggestions:
Got a suggestion? Have an amazing book, published at least five years ago, that you would love to nominate for the OSW monthly readalong? Speak up and submit your favorites! (If you have problems with the form below, you can also access it HERE.)