As you probably know by now, Old School Wednesdays is a new weekly Book Smuggler feature. We came up with the idea towards the end of 2012, when we were feeling exhausted from the never-ending inundation of New and Shiny (and often over-hyped) books. What better way to snap out of a reading fugue than to take a mini-vacation into the past, right?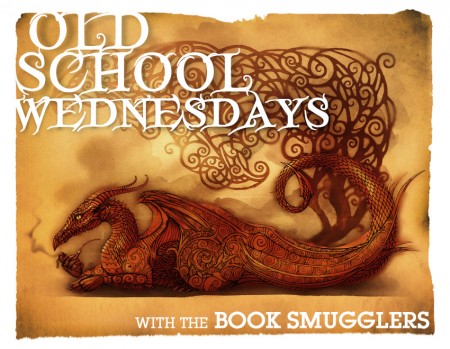 Logo designed by the wonderful KMont
We asked YOU for your favorite old school suggestions – and the response was so overwhelmingly awesome, we decided to compile a goodreads shelf, an ongoing database, AND a monthly readalong/book club. (Note that we've removed books that we have already read, or that we selfishly want to review as solos on Wednesday!)
August Readalong:
It is time for the August poll! Our official July readalong happens next week (Archer's Goon by Diana Wynne Jones), but we're preparing for August and opening the floor to voting for next month! The August Readalong will take place on August 28.
You can vote on which title you'd like to read by using the poll in our sidebar, or following the titles below. Every month, we'll select 4 titles at random from the OSW suggestions database. We'll also include the one title from the previous month's poll – the runner up with the second most votes (last month, that title was Arrows of the Queen by Mercedes Lackey). Without further ado, here are the new crop of 5 titles for voting!
Arrows of the Queen (Valdemar: Arrows of the Queen #1) by Mercedes Lackey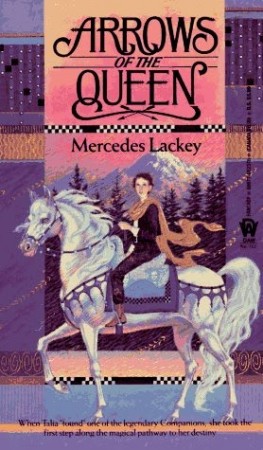 A KINGDOM IMPERILED!

Chosen by the Companion Rolan, a mystical horse-like being with powers beyond imagining, Talia, once a run-away, has now become a trainee Herald, destined to become one of the Queen's own elite guard. For Talia has certain awakening talents of the mind that only a Companion like Rolan can truly sense.

But as Talia struggles to master her unique abilities, time is running out. For conspiracy is brewing in Valdemar, a deadly treason which could destroy Queen and kingdom. Opposed by unknown enemies capable of both diabolical magic and treacherous assassination, the Queen must turn to Talia and the Heralds for aid in protecting the realm and insuring the future of the Queen's heir, a child already in danger of becoming bespelled by the Queen's own foes!
Lord of the Two Lands by Judith Tarr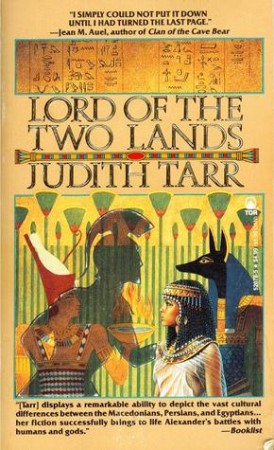 In 336 B.C., Egypt lay under the yoke of Persia, ruled by Governors appointed by the King of Kings in Persis. And in the Temple of Amon in Thebes dwelt the only living child of Nectanebo, the last fully Egyptian Pharaoh, who had been defeated in battle and slain by Darius's servants

But from the north a spirit of fire was moving across the World. A great warrior and general, the king of Macedonia, had risen to rule the Hellenic city-states. Now he was determined to challenge the might of the Persian Empire, to engage Darius himself in battle, and to defeat him. He was called Alexander, and the priests of Amon in Egypt saw that he was destined to rule their ancient land.

So they sent Meriamon, Beloved of Amon, daughter of Pharaoh, Singer and Priestess of the God, up from Egypt to the Plains of Issus, where a great battle had been fought, and the Persian king defeated. There she was to find Alexander, and persuade him to turn from the straight Eastward road and come south – where the double crown of Egypt awaited him.

LORD OF THE TWO LANDS is firmly based in the history of Alexander the Great, and then steeped in the rich, sun-drenched magics of ancient Egypt. It will transport you back to the time of heroes, when one man changed the face of the world.
The No. 1 Ladies' Detective Agency (No. 1 Ladies' Detective Agency #1) by Alexander McCall Smith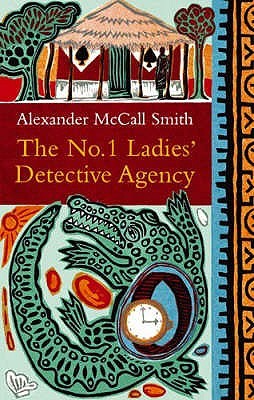 Working in a mystery tradition that will cause genre aficionados to think of such classic sleuths as Melville Davisson Post's Uncle Abner or Robert van Gulik's Judge Dee, Alexander McCall Smith creates an African detective, Precious Ramotswe, who's their full-fledged heir.

It's the detective as folk hero, solving crimes through an innate, self-possessed wisdom that, combined with an understanding of human nature, invariably penetrates into the heart of a puzzle. If Miss Marple were fat and jolly and lived in Botswana–and decided to go against any conventional notion of what an unmarried woman should do, spending the money she got from selling her late father's cattle to set up a Ladies' Detective Agency–then you have an idea of how Precious sets herself up as her country's first female detective.

Once the clients start showing up on her doorstep, Precious enjoys a pleasingly successful series of cases. But the edge of the Kalahari is not St. Mary Mead, and the sign Precious orders, painted in brilliant colors, is anything but discreet. Pointing in the direction of the small building she had purchased to house her new business, it reads "THE NO. 1 LADIES DETECTIVE AGENCY. FOR ALL CONFIDENTIAL MATTERS AND ENQUIRIES. SATISFACTION GUARANTEED FOR ALL PARTIES. UNDER PERSONAL MANAGEMENT."

The solutions she comes up with, whether in the case of the clinic doctor with two quite different personalities (depending on the day of the week), or the man who had joined a Christian sect and seemingly vanished, or the kidnapped boy whose bones may or may not be those in a witch doctor's magic kit, are all sensible, logical, and satisfying. Smith's gently ironic tone is full of good humor towards his lively, intelligent heroine and towards her fellow Africans, who live their lives with dignity and with cautious acceptance of the confusions to which the world submits them. Precious Ramotswe is a remarkable creation, and The No. 1 Ladies' Detective Agency well deserves the praise it received from London's Times Literary Supplement.
Sorcery & Cecelia: or The Enchanted Chocolate Pot (Cecelia and Kate #1) by Patricia C. Wrede, Caroline Stevermer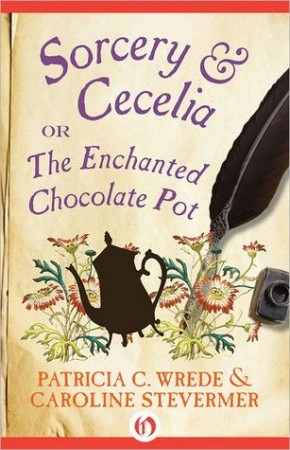 Two girls contend with sorcery in England's Regency ageSince they were children, cousins Kate and Cecelia have been inseparable. But in 1817, as they approach adulthood, their families force them to spend a summer apart. As Cecelia fights boredom in her small country town, Kate visits London to mingle with the brightest lights of English society. At the initiation of a powerful magician into the Royal College of Wizards, Kate finds herself alone with a mysterious witch who offers her a sip from a chocolate pot. When Kate refuses the drink, the chocolate burns through her dress and the witch disappears. It seems that strange forces are convening to destroy a beloved wizard, and only Kate and Cecelia can stop the plot. But for two girls who have to contend with the pressures of choosing dresses and beaux for their debuts, deadly magic is only one of their concerns. This ebook features illustrated biographies of Patricia C. Wrede and Caroline Stevermer including rare photos and never-before-seen documents from the authors' personal collections.
Hope Was Here by Joan Bauer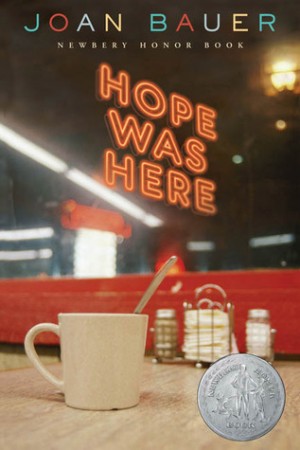 Hope is a 16-year-old girl, living a nomadic lifestyle with her aunt Addie. Addie is a chef and restaurant manager, and Hope works as a waitress. They're always moving from place to place, and the story opens with them up-rooting from Brooklyn, New York. Before she leaves, Hope scribbles 'Hope Was Here' onto the menu board – it's become her motto, a ritual she carries out whenever they have to hit the road – again. Hope's a city girl and she isn't sure how she's going to tackle life in 'cow country'. Things start hotting up for her, though, when she gets embroiled in the local politics of Mulhoney, Wisconsin while working at the Welcome Stairways diner- Soon, Hope is tackling big issues about her own past, while grappling with some surprising developments in her new home town.
[poll id="6″]
Get voting! And we hope you will join us on August 28.
Ongoing Suggestions:
Got a suggestion? Have an amazing book, published at least five years ago, that you would love to nominate for the OSW monthly readalong? Speak up and submit your favorites! (If you have problems with the form below, you can also access it HERE.)
Thanks everyone! Let us know if you have any other comments, suggestions, or ideas. We cannot wait to see which title wins the vote!