Author: Rita Williams-Garcia
Genre: Historical, Middle Grade, POC
Publisher: Amistad
Publication date: May 21st 2013
Hardcover: 288 pages
In this exquisite sequel to the New York Times bestseller One Crazy Summer, the Gaither sisters return to Brooklyn and find that changes large and small have come to their home.

After spending the summer in Oakland with their mother and the Black Panthers, Delphine, Vonetta, and Fern arrive home with a newfound streak of independence, and the sisters aren't the only ones who have changed. Now Pa has a girlfriend. Uncle Darnell returns from Vietnam a different man. But Big Ma still expects Delphine to keep her sisters in line. That's much harder now that Vonetta and Fern refuse to be bossed around. Besides her sisters, Delphine's got plenty of other things to worry about-like starting sixth grade, being the tallest girl in her class, and dreading the upcoming school dance (her first). The one person she confides in is her mother, Cecile. Through letters, Delphine pours her heart out and receives some constant advice: to be eleven while she can.

The sequel to the Newbery Honor Book and Coretta Scott King Award winner One Crazy Summer, P.S. Be Eleven stands on its own as a funny, moving story of three sisters coming of age in the turbulent 1960s.
Stand alone or series: Sequel to One Crazy Summer
How did I get this book: I got a signed review copy at BEA
Format (e- or p-): print
Why did I read this book: I absolutely adored the award-winning One Crazy Summer which is one of my favourite books of all time.
Review:
A couple of years ago I read One Crazy Summer by Rita Williams-Garcia and that was a huge turning point for me. That was a book that cemented a few things in my head: that Middle Grade books are awesome, that they don't need to be simplistic because they are intended for a younger audience and that books can include and talk about important issues without necessarily being Issue Books. I said in my review:
In fact, what strikes me the most about the novel is how the author successfully navigates the waters of so many important issues with the clear, concise, direct prose expected in a middle grade book but without being simplistic or didactic. Quite the contrary, I have found more subtlety and impact on this story than I have in several novels for adults I read this year.
I could say the exact same thing about its sequel P.S. Be Eleven.
Picking up right where One Crazy Summer left off, sisters Delphine, Vonetta, and Fern are on their way back to NY after spending the summer with their mother Cecile. They have changed a little bit: they have learned the meaning of the word "oppression" and that although you can't always have what you want, you can always fight for it. Back in Brooklyn, things are not exactly the same either: their father has a new girlfriend and their adored uncle Darnell has returned from Vietnam a different man. Only Big Ma, their grandmother, seems to want things to remain the same, holding up the kids against impossible expectations, almost hoping that things will never change.
But you can't stop time. And a revolution is happening in America and in the world as the sixties comes to a close – and it's against the backdrop of the Civil Rights and Feminist movements that Delphine and her sisters must learn how to negotiate their sisterhood, their roles in life in a coming of age story.
11-year-old Delphine remains the sole narrator here and it's her mature-but-not-quite-grown-up voice that imbues the book with its soul. Growing up is at the core of this novel: when Delphine starts exchanging letters with her mother, Cecile always finishes her own letters with a "PS be eleven" to Delphine. Cecile recognises that Delphine worries too much and wishes for her to take her time growing up. Easy for her to say it though, isn't it? Cecile left. She left and Delphine needs to deal with that fact and also with how her father and her grandmother always expect her to take care of her younger sisters and to be the responsible one. One of the most heartbreaking things about the novel is the realisation of how young Delphine truly is especially when she lets herself – almost without realising – be free to simply enjoy silly things like make fun of classmates and dance to the tunes of the Jackson Five. But it's like life keeps coming back to pull her down. Disappointments – huge and sad – occur and are heartbreaking in their utter unfairness and injustice. Especially when they are chalked up to "lessons" one must learn. It's interesting how that is exactly when the biggest lesson of all is learned: that adults and family are not perfect.
It is absolutely fantastic how the author writes those sections of the book and how the balance between the micro (small quotidian things) and the macro (what's happening in the world) as well as between young-Delphine and mature-Delphine is achieved. Her heartbreak at learning that Merriam Webster is not a woman like she always thought is as heartfelt as the disappointment with her father's "life lessons". It's all very difficult and imperfect and a brilliant portrayal of how it is possible to love family members even as your heart is broken by them.
This is also a book about how different generations deal with the changes brought up by the Civil Rights and the Feminist movements. They are exemplified in the differences between Delphine's mother and grandmother, the two women as different as night and day. Delphine's Big Ma is quite possibly one of the most heartbreaking characters I have come across with her internalised racism and sexism. Big Ma both fears white people and places them on a pedestal – she'd rather vote for Nixon over Bobby Kennedy because the former is dignified even though the latter will probably advance the cause of the Civil Rights movement. She objects to the way her granddaughters behave because she can't bear for them to be a "big Negro spectacle" and bring shame to the family. And yet, Big Ma is the one who put her life on hold to care and tend for her grandchildren and son. There is unspoken but unquestionable love there. Similarly, Delphine's mother is another strong, fully realised character that is never shamed for her choices – as much as they mean that she is not playing into the traditionally expected role of mother and wife. One of the best quotes from the novel comes from this brilliant, amazing letter she sends to Delphine:
Dear Delphine,
The green stucco house is mine, bought and paid for.
Mine to stucco and paint. Mine to live in.
The sofa I sleep on, the books stacked on the floor, are mine. Not all the clothes are rightfully mine, but I feel I have a right for them too. Like I've paid for them although I didn't lay out a cent to wear them. They are still paid for. They are mine and no one else's. They've conformed to me and can't be worn by anyone but me. The palm tree in my yard is mine. Someone got tired of it, or grew disappointed with it and threw it out. I brought it home, dug a hole on the side of the house, and planted it where it would get sun. The palm tree tries to stand up because someone wants it. It knows it is wanted. It knows it is mine.
The printer is mine. It was left out for scrap. It was heavy and in pieces, but I lifted it. Got it on the bus. Worked on it and worked on it until I got the rollers to turn and the gears to turn. No one carried it and fixed it but me. It is mine.
My feelings about your father are mine. They are not feelings that be understood by a young girl. They are my feelings. Mine.
Don't worry about these things. Study hard. Have your own things.
Your mother,
Cecile

P.S. Be Eleven.
No character is a straightforward simplistic, good x bad person and this complexity is applied to everybody including Delphine's new stepmother, who is obviously a modern independent woman who is constantly on a negotiated truce with her traditionalist husband.
And it's all the more remarkable because although the book is undoubtedly sadder and darker than its predecessor, it is still a book about three young, cute, lovely girls who squee together over their love for the Jackson Five one minute and fight over silly things the next. These books are amazing – and I hope the author will write more about the three sisters.
Surely one of the best books I read this year. IT SURELY IS!
Additional Thoughts: Cecile is a poet who writes feminist poems and Delphine's youngest sister Fern is learning to write poem as well. This is a big sub-plot of the novel. As I was reading this book, I was gifted a copy of How to (Un)cage a Girl by Francesca Lia Block, a poetry book: "A celebration of girls and women in a three part poetry collection that is powerful, hopeful, authentic, and universal."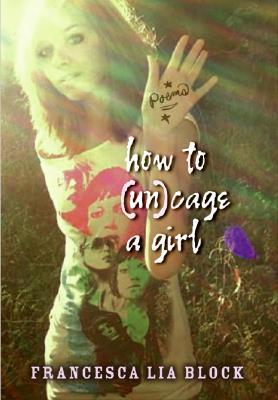 Even though I am not the biggest poetry fan, P.S. Be Eleven inspired me to read the book and I really enjoyed it. So I will just leave here my quick, related recommendation.
Rating: 8- Excellent leaning toward 9.
Reading Next: Moon Over Soho by Ben Aaronovich
Buy the Books:
(click on the links to purchase)
P.S. Be Eleven:
Ebook available for kindle US, kindle UK, nook, kobo & iBookstore
How to Un(cage) a Girl:
Ebook available for kindle US, kindle UK, google & iBookstore