As you probably know by now, Old School Wednesdays is a new weekly Book Smuggler feature. We came up with the idea towards the end of 2012, when we were feeling exhausted from the never-ending inundation of New and Shiny (and often over-hyped) books. What better way to snap out of a reading fugue than to take a mini-vacation into the past, right?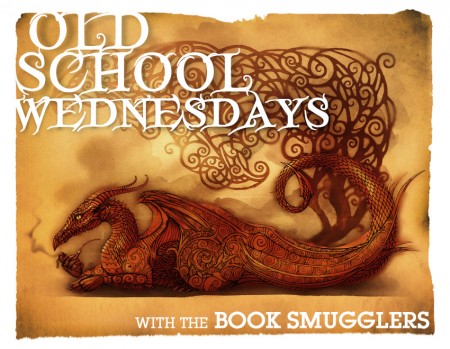 Logo designed by the wonderful KMont
We asked YOU for your favorite old school suggestions – and the response was so overwhelmingly awesome, we decided to compile a goodreads shelf, an ongoing database, AND a monthly readalong/book club. (Note that we've removed books that we have already read, or that we selfishly want to review as solos on Wednesday!)
July Readalong:
Holy smokes, it is ALREADY time for our July poll! Our official June readalong happens next week (The Angel with the Sword by C.J. Cherryh), but we're preparing for next month and opening the floor to voting for next month! The July Readalong will take place on July 31.
You can vote on which title you'd like to read by using the poll in our sidebar, or following the titles below. Every month, we'll select 4 titles at random from the OSW suggestions database. We'll also include the one title from the previous month's poll – the runner up with the second most votes (last month, that title was Sword-Dancer by Jennifer Roberson). Without further ado, here are the new crop of 5 titles for voting!
Sword Dancer (Tiger and Del #1) by Jennifer Roberson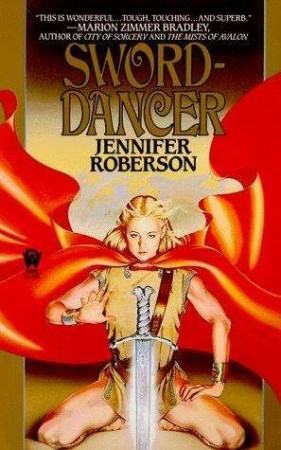 Tiger and Del–he a sword-dancer of the South, she of the North, each privy to a private kind of magic. Together they dared the dangers of the deadly Punja, the Southron desert, on a quest to rescue Del's brother, kidnapped by slavers long ago. Together they risked bloodthirsty beasts and wizard's spells on this mission from which only the bravest, most skillful, and lucky had even the remotest hope of returning alive….
The Silver Metal Lover (Silver Metal Lover #1) by Tanith Lee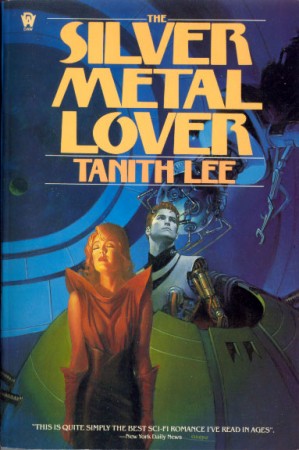 Love is made of more than mere flesh and blood….

Tanith Lee is one of the most thought-provoking and imaginative authors of our time. In this unforgettably poignant novel, Lee has created a classic tale–a beautiful, tragic, erotic, and ultimately triumphant love story of the future.

For sixteen-year-old Jane, life is a mystery she despairs of ever mastering. She and her friends are the idle, pampered children of the privileged class, living in luxury on an Earth remade by natural disaster. Until Jane's life is changed forever by a chance encounter with a robot minstrel with auburn hair and silver skin, whose songs ignite in her a desperate and inexplicable passion.

Jane is certain that Silver is more than just a machine built to please. And she will give up everything to prove it. So she escapes into the city's violent, decaying slums to embrace a love bordering on madness. Or is it something more? Has Jane glimpsed in Silver something no one else has dared to see–not even the robot or his creators? A love so perfect it must be destroyed, for no human could ever compete?
Goose Chase by Patrice Kindl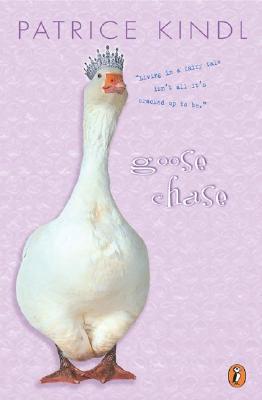 It starts when Alexandria, a poor, plain goose girl, offers her own bread and water to a hungry old woman-who just happens to be a witch in disguise. Poof! Alexandria is suddenly heartstoppingly beautiful. Her hair rains down gold dust, and the tears she sheds turn to diamonds. Soon a prince and a king are fighting for her hand, and they've locked her in a tower to keep her "safe." How Alexandria wishes she was a goose girl again! Clearly the only thing to do is escape-which is when her problems really begin! Patrice Kindl's inimitable voice and craft make this take on the classic fairy tale extraordinary-and extraordinarily hilarious.

"A delightful, witty fairy-tale spoof.. . . Kindl's humor, the strong characterizations, and vibrant action give the story wings." (Booklist, starred review)
Archer's Goon by Diana Wynne Jones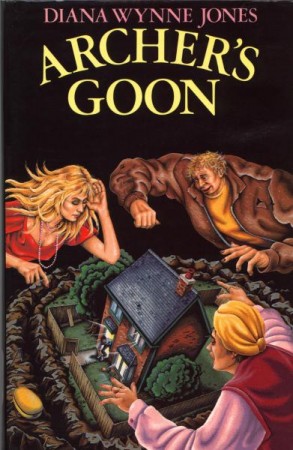 The trouble started when Howard Sykes came home from school and found the "goon" sitting in the kitchen. He said he'd been sent by Archer. But who was Archer? It had to do with the 2,000 words that Howard's author father had failed to deliver. It soon became clear not only that Archer wanted those words, but that his wizard siblings, Hathaway, Dillian, Shine, Torquil, Erskine, and Venturus, would also go to any lengths to get them.

Although each wizard ruled a section of the town, he or she was a prisoner in it. Each suspected that one of them held the secret behind the words, and that secret was the key to their freedom. Which one of them was it? The Sykes family become pawns in the wizards' fight to win their freedom, wrest control from one another, and fan out to rule the world.
Diana Wynne Jones skillfully guides the reader through a riveting, twisty plot, with satisfying surprises at every amazing turn. An exciting science fiction adventure where, happily, nothing is what it first seems to be.
Arrows of the Queen (Valdemar: Arrows of the Queen #1) by Mercedes Lackey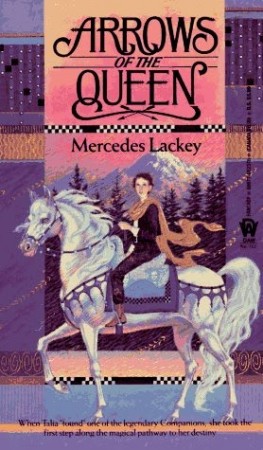 A KINGDOM IMPERILED!

Chosen by the Companion Rolan, a mystical horse-like being with powers beyond imagining, Talia, once a run-away, has now become a trainee Herald, destined to become one of the Queen's own elite guard. For Talia has certain awakening talents of the mind that only a Companion like Rolan can truly sense.

But as Talia struggles to master her unique abilities, time is running out. For conspiracy is brewing in Valdemar, a deadly treason which could destroy Queen and kingdom. Opposed by unknown enemies capable of both diabolical magic and treacherous assassination, the Queen must turn to Talia and the Heralds for aid in protecting the realm and insuring the future of the Queen's heir, a child already in danger of becoming bespelled by the Queen's own foes!
[poll id="5″]
Get voting! And we hope you will join us on July 31.
Ongoing Suggestions:
Got a suggestion? Have an amazing book, published at least five years ago, that you would love to nominate for the OSW monthly readalong? Speak up and submit your favorites! (If you have problems with the form below, you can also access it HERE.)
Thanks everyone! Let us know if you have any other comments, suggestions, or ideas. We cannot wait to see which title wins the vote, and for our first-ever Old School Wednesday Readalong!