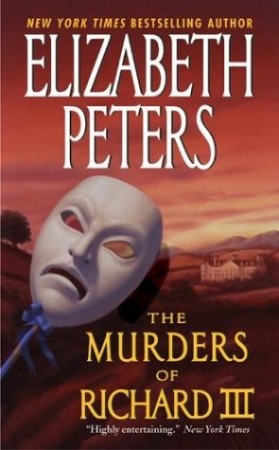 Title: The Murders of Richard III
Author: Elizabeth Peters
Genre: Mystery
Publisher: Avon
Publication date: First published 1974
Paperback: 352 pages
In a remote English manor house, modern admirers of the much-maligned King Richard III–one of Shakespeare's most extraordinary villains–are gathered for a grand weekend of dress-up and make-believe murder. But the fun ends when the masquerade turns more sinister . . . and deadly. Jacqueline Kirby, an American librarian on hand for the festivities, suddenly finds herself in the center of strange, dark doings . . . and racing to untangle a murderous puzzle before history repeats itself in exceptionally macabre ways.
Stand alone or series: Second in the Jaqueline Kirby series but can be read as a stand alone
How did I get this book: Bought
Format (e- or p-): print
Review:
A couple of months ago, news surfaced in England that a skeleton found beneath a car park in Leicester had been confirmed as that of King Richard III.
Historically, Richard III has been depicted as the hunchback tyrant who viciously killed his way to the throne, including his two young nephews. But that depiction has been argued to be based purely on Tudor propaganda to reinforce Henry Tudor's claim to the throne after Richard's demise in battle. Those who argue for the King are generally called Ricardians.
The story of how his body came to be found is pretty much AMAZING and is linked to the Richard III Society, whose aim is to promote research about the life of Richard III in order to reassess his positive role as English King and distance his image from that of a villain – in fact, many experts now claim that Richard III was actually a beloved non-villainous King. There is an excellent documentary on Channel 4 that depicts Richard III Society's Philippa Langley's quest to find the burial ground of the King. It's a fascinating documentary but if you can't find it, you can read all about it over at the Richard III Society's website.
Around that time, I saw several posts recommending two older books that talk about Ricardians and the historical image of Richard III: The Daughter of Time by Josephine Tey and The Murders of Richard III by Elizabeth Peters. I got both and randomly picked the latter to read first for our Old School Wednesdays feature.
The Murders of Richard III is the first Elizabeth Peters novel I read that doesn't star the amazing Amelia Peabody. It is the second book in another of the author's series featuring American librarian cum amateur detective Jacqueline Kirby, and I had no problems reading this without having read the first book in the series.
The story is set in a Remote English Manor House, where a group of Ricardians are having one of their meetings, a weekend of boring talks and exciting dress-up medieval banquets. This one is special though, as their leader has recently found a letter which can prove once and for all that Richard III did not kill his nephews. Jacqueline Kirby, an American librarian visiting her friend Thomas in England is part of the festivities, expected to examine the letter as an expert. Soon though, strange events start to take place and one by one, the guests start to fall victims to pranks that emulate exactly the murders that Richard III is supposed to have committed. Is this the work of anti-Ricardian? Or there could be worse things at play here?
One of the funnest parts of The Murders of Richard III is how self-aware and meta it is. It mentions not only The Daughter of Time but also many other mystery novels. It pokes fun at mystery tropes and conventions (one of the first things Jacqueline mentions is how every single guest falls under a stereotypical character i.e. the Vicar, the Doctor, etc) including the manner in which this specific crime is committed. Mystery-wise, there is nothing groundbreaking here and this fits squarely into what you'd expect from a cosy mystery.
I like Jacqueline Kirby (but not as much as I love Amelia Peabody): I like that she is ruthless and sarcastic and not exactly a super nice person and who sees power from being knowledgeable and proud of it. I like that she is an older, middle-aged character who is not portrayed as a matronly mother and who is empoweringly sexy and sensual.
The view point is Thomas' but even though the narrative is not from her point of view – something I found very interesting – and is definitely coloured by Thomas' expectation and image of her, the narrative still shows that she is very much in charge and in control in whatever situation she is in. This includes managing Thomas and his increasingly sense of entitlement with regards to a possible relationship between the two.
I had fun reading this but I suspect my enjoyment is partly due to knowing about the Ricardians beforehand. And in spite my enjoyment and appreciation for Jacqueline Kirby as a character, there was a lot of info-dumping about the life of Richard III and sadly, fat-shaming throughout the novel which made me really uncomfortable.
I will definitely be reading Daughter of Time soon to see how it compares.
Notable Quotes/ Parts:
"…do you know why the detective doesn't tell until the last chapter? So he won't make a fool of himself in case he's wrong."
Additional Thoughts: Unrelated to the book but regarding Old School Wednesdays. We opened the poll (sidebar) for our May readalong. You can read more about the books up for vote HERE.
Rating: 6 – Good
Buy the Book:
(click on the links to purchase)