And now for something completely different!
At the beginning of this year, we started a new feature called Old School Wednesdays. We came up with the idea towards the end of last year, when both of us were feeling not only exhausted from the never-ending inundation of new and shiny but also disappointed with the quality of these often over-hyped books. More and more we began to find relief and comfort by reaching to our TBR Mountain and reading older books. That was when we decided to turn this into a regular feature.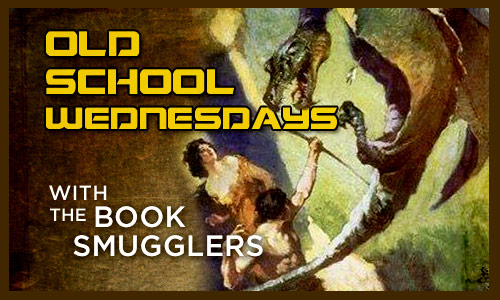 The thing is though, we completely underestimated both how much we'd love doing these post but also how popular they'd become. Every post has sparked conversation – the type that can only happen when people are sharing love for their favourites. As much as we like New and Shiny books, sometimes we feel that conversation in these posts don't flow as easily – possibly because most people have yet to read New and Shiny.
Today we wanted to share with you some of the books we have lined up in our Old School Wednesdays (OSW) shelves, but also open the floor to your recommendations!
Ana's OSW TBR:
Those are only physical copies. I also have quite a few on my virtual OSW TBR including:
Lord of the Two Lands by Judith Tarr
Cordelia's Honor by Lois McMaster Bujold
City of Bones by Martha Wells
Fires of Nuala by Katherine Kimbriel
Thea's OSW TBR:
(Apologies, there are some newer titles mixed in with the old!)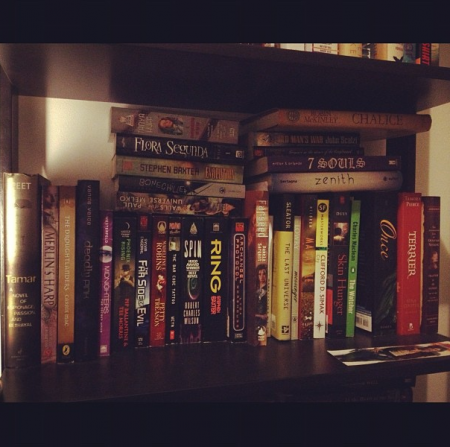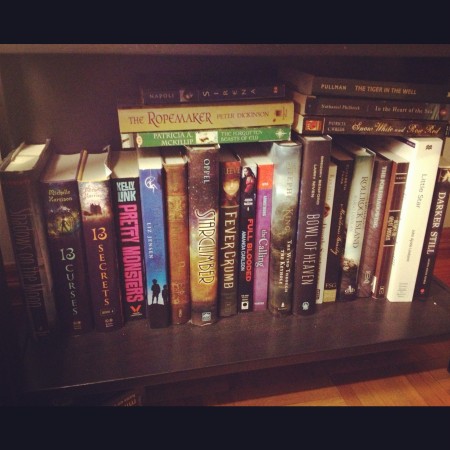 Like Ana, this is just the print, physical component of my OSW TBR – there are plenty more where these came from on my ebookshelf, including:
ALL the Vorkosigan books by Lois McMaster Bujold
Point of Honor by Madeline E. Robbins
Tooth and Claw by Jo Walton
Theodosia and the Serpents of Chaos by R.L. LaFevers
Dragon's Keep by Janet Lee Carey
The Price of the Stars by Debra Doyle and James D. Macdonald
Beggars in Spain by Nancy Kress
Birth of the Firebringer by Meredith Ann Pierce
Green Witch, Green Angel by Alice Hoffman
Aurelie by Heather Tomlinson
Bloody Jack by L.A. Meyer
And many, many more. (Yes, we have impulse control problems. DON'T JUDGE US!)
Your recommendations:
We now open the floor to you! See anything on our shelves that you think we should read next? Got any other burning recommendations? Please do share with us books that you've read, loved, and want to see reviewed here.
Your recommendations can be from ANY genre for adults, young adults or middle grade audiences. The only mandatory criteria: the book must be at least 5 years old.
And now…we open up the floor to you!