Welcome, everyone, to a brand new weekly Smugglerific feature: Old School Wednesdays! We came up with the idea towards the end of last year, when both of us were feeling exhausted from the never-ending inundation of new and shiny (and often over-hyped) books. And what better way to snap out of a reading fugue than to take a mini-vacation into the past?
Inspired by our defunct From the Dungeons feature (owing a dash of inspiration from Angieville's Retro Fridays), we decided to create a new feature for 2013. On Old School Wednesdays, we take a break from the new and pay homage to the old by reviewing books that are at least 5 years old.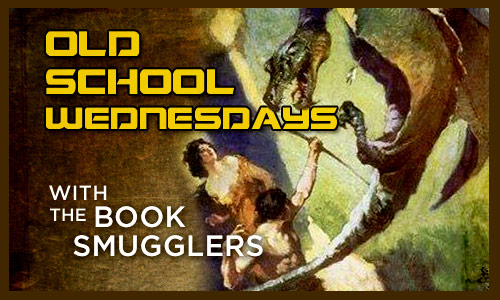 Today, it's Thea's turn to take over with a review of The Shadow in the North!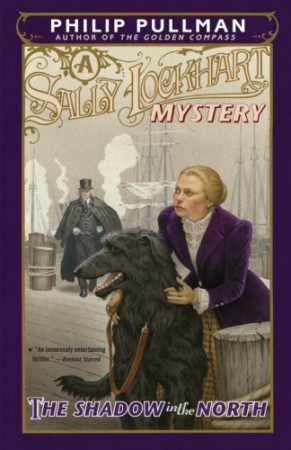 Title: The Shadow in the North
Author: Philip Pullman
Genre: Mystery, Young Adult, Historical
Publisher: Ember
Publication date: This edition 2008 / First published in 1988
Paperback: 361 pages
WHEN ONE OF Sally's clients loses a large sum of money in the unexpected collapse of a British shipping firm, Sally sets out to investigate. But as she delves deeper into the identity of a wealthy and elusive industrialist, she uncovers a plot so diabolical, it could subvert the entire civilized world.
Stand alone or series: Book 2 in the Sally Lockhart quartet
How did I get this book: Bought
Format (e- or p-): Print
Why did I read this book: I loved the first book in this series – in fact, I reviewed it just last week as my Old School Wednesday pick for Mystery Appreciation Week! Immediately, I ordered the next 3 books in the Sally Lockhart series and started The Shadow in the North with alacrity.
Review:
Since the events of The Ruby in the Smoke – the devastating loss of Sally's father, the dramatic mystery of a cursed Ruby and an old woman who would stop at nothing to seize its power – quite a lot has happened in Sally's life. She has gone to Cambridge and procured a higher education (even if she, a woman, could not receive a degree), she has organized her dear friends' photography business and saved it from financial ruin, and she has fittingly gone into business as a financial consultant. Everything is going swimmingly, until one of her recent clients loses their life savings on an investment in a shipping company – an investment that Sally personally endorsed, no less. Flabbergasted and determined to get to the bottom of the unprecedented liquidation of the shipping firm, Sally delves into the company's mysterious demise and discovers a sprawling, tangled web of murder, espionage, and machinery. At the heart of the mystery, in the middle of the web waits a tycoon named Bellman, plotting, manipulating everyone, slowly and steadily building power at the highest levels of industry and government.
Well, it's official: I am addicted to Sally Lockhart. I am enthralled, enamored, and utterly heartbroken by this novel. I am thrilled and infuriated. I will continue to read this series to the bitter end because I am incredibly hooked (I am still heartbroken though – DAMN YOU, PHILIP PULLMAN).
A LOT has happened in the time between this second mystery and the first book – so much so that I was concerned that I picked up the wrong book to read. But that is simply the nature of the novel, and once you get over the initial shock of the gap in time, it's easy to slip back into the world of Sally Lockhart. Since The Ruby in the Smoke, Sally has started an entirely new business and has grown into a wise – if prickly – young woman, running a business on her own and determined to keep her money and property and independence no matter the cost. This also means, however, that her relationship with Frederick – the young, vivacious photographer whom she met in on a desperate sea-side scramble in Ruby in the Smoke – is also strained. Fred is in love with Sally, you see, and wants to marry her; but Sally, uncertain of her feelings and needing to maintain her independence, refuses to answer him. And so, for months, the two have interacted, clearing caring for each other but also slipping easily into intense arguments about the same subject. It makes for a very interesting dynamic – the Sally of this second book is less naive than the Sally of a few years earlier. She's just as fierce and brave, but her need to be so strong and independent also means she's pushing people away from her. In particular there's one scene between Sally and Fred that broke my heart – he tells her that at her best she is brilliant, but at her worst she is a cold, abrasive terror, and as a third party observer you can see this is true. That's not to say that Sally is a cruel character or unrelateable – quite the opposite, actually. It hurts because it's true and we want Sally to open up and trust the people who so clearly love her, and whose affection she so clearly reciprocates (even if she refuses to admit it to herself). And there is MORE to this relationship, but I refuse to talk about it because there are SPOILERS. Suffice it to say, it broke my heart.
Of course, beyond this one central relationships, The Shadow in the North is a proper Mystery novel – complete with industrial espionage, secret companies and bad investments, guns, graphite and steam. The identity of the villain isn't a mystery, but the way everything fits together and the seemingly disparate plot threads, is a wonderful payoff. And the secret behind all of Bellman's machinations is also wonderfully, impressively unveiled. All around, this is a much more sophisticated book than The Ruby in the Smoke – it incorporates elements of spiritualism, secret marriages, and murder in the ice no less. But right alongside these more sensationalist elements, there's also some wonderful economic thriller aspects to the book, which might not sound particularly sexy but an angle that I absolutely LOVED. Sally's brand of detection takes her to research financial statements and patent histories, corporate entities and ghost companies. I'm saying it again: this is so freaking awesome. I love that this is a heroine that loves facts and figures, that loves math and history and finance and wields this intelligence like the honed blade that it is. AWESOME.
In addition to all of this, we get to see familiar faces (not just Sally and Fred, but Jim who is now a young man) and new faces, the most memorable of the new being Sally's loyal dog, Chaka.
And, everyone, there is HEARTBREAK. The only thing I was not crazy about with this book was the very, very end – not so much because of the terrible thing that Philip Pullman does to you as a reader, but because of the trite last sentence twist (which you can predict coming from miles away).
All that said – I still loved the book. I will be back for more, very soon.
Notable Quotes/Parts: You can read a select excerpt online HERE, using Google's Book Search program.
Rating: 8 – Excellent
Reading Next: Extinction Point by Paul Antony Jones
Buy the Books:
(click on the links to purchase)
(No ebook available)