Welcome, everyone, to a brand new weekly Smugglerific feature: Old School Wednesdays! We came up with the idea towards the end of last year, when both of us were feeling exhausted from the never-ending inundation of new and shiny (and often over-hyped) books. And what better way to snap out of a reading fugue than to take a mini-vacation into the past?
Inspired by our defunct From the Dungeons feature (owing a dash of inspiration from Angieville's Retro Fridays), we decided to create a new feature for 2013. On Old School Wednesdays, we take a break from the new and pay homage to the old by reviewing books that are at least 5 years old.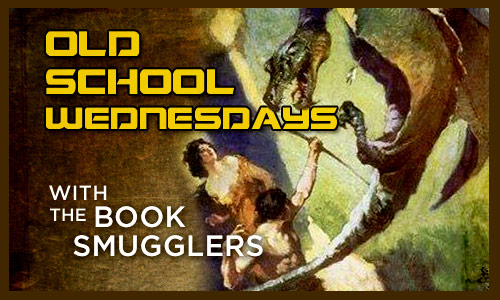 Today, it's Ana's turn to take over with a review of Secret Scribbled Notebooks!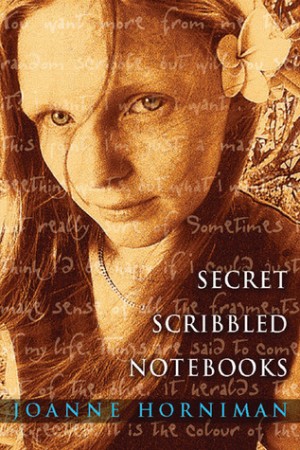 Title: Secret Scribbled Notebooks
Author: Joanne Horniman
Genre: Contemporary, Young Adult
Publisher: Allen & Unwin
Publication date: May 2005
Paperback: 228 pages
Seventeen-year-old Kate writes all of her dreams and thoughts in a set of three secret notebooks. In each of these journals, she records her daily life, from caring for her baby niece and making friends to dealing with the loss of parents and yearning for the future. Through reading, writing, and experiencing teenage life, Kate discovers love, friendship, and her own ambitions. This beautifully written portrait of a girl in her last year of school explores the universal stresses, joys, confusions, and observations of life as a teenager.
Stand alone or series: Stand alone
How did I get this book: Bought
Format (e- or p-): print
Why did I read this book: A few weeks ago I reviewed The Catalogue of the Universe and after remarking on the smartness of the main characters, was recommended Secret Scribbled Notebooks as a similar story. When I saw it was an epistolary novel, I bought it immediately.
Review:
"I want, I want, I want… At this point I'm just a mass of seething wants, but what I want I'm not really sure of. (Like going to the fridge, and opening it, letting all the cold air out…and not knowing what it is you want to eat. You stand with the door open hoping that something will you inspire you.) I'm standing with the door open at the fridge of life, and I want."
Secret Scribbled Notebooks chronicles, in epistolary format, Seventeen-year-old Kate's last year of school, the build up to her graduation when she will be (hopefully) moving away to the big city where things actually happen.
Kate has three notebooks – yellow, red and blue. In them she writes her feelings about her life and her hopes for the future as well as parallel stories and thoughts about the books she reads (she barely uses the blue because let's face it: who hasn't bought more stationary than they could possibly use?). Interspersed with those are "Wild Typewritten Pages" who offer a more straightforward narrative but with a larger significance that is not clear till the end.
Narratives in epistolary format – especially journals – are rife with unreliability and even though Kate opens the book by saying she has never been in love, the book in fact discloses Kate's budding love affair with people, with books (reading and writing), with life.
As many YA novels Secret Scribbled Notebooks is a story of identity – forged and developed slowly – captured in a narrative tone that is languid and gradually revelatory of hidden depths. From the birth of her niece to the close relationship with her sister; her relationship to her past and her absent parents (disappeared without a trace); her love for books and stories, assessed and examined in her red notebook; her budding friendship (potentially romantic) with fellow book-love Alex and her understanding of her own wants and desires – Kate's trajectory is both sensual and intellectual.
I enjoyed this book from the start but I truly fell in love with it when Kate thought:
"I'd been looking in the "Women's Literature" shelves – how ridiculous, book stores never have a section called "Men's Literature".
Isn't that so?
I'd be remiss if I didn't mention that the author also managed the almost impossible – to have teenagers discuss their predilection and love for classic/older literature (Oscar Wilde, Virginia Wolfe, Dickens and Anais Nin among others) without making them seem or sound out-of-touch or pretentiously obnoxious.
This is yet another great Old School Wednesdays discovery – one featuring a smart, astute, engaged teenager with a passion for books.
Notable Quotes/ Parts:
My Name is Kate O'Farrell old I am seventeen years old. I am in my last year of school and when that is all over I will be leaving this place for good – going to a real city, where I will begin a new life. I have long read hair and pale skin. I like staying up very late at night. It is my ambition to see the sun rise, but sadly I am always asleep by then. I love eating and reading, preferably at the same time. I am very tall and too thin, I have never been in love.
Rating: 7 – Very Good
Reading Next: Beautiful Music for Ugly Children by Kirstin Cronn-Mills
Buy the Book:
(click on the links to purchase)
Ebook available for kindle UK