Hello everyone, and a hearty happy holidays to you all! We hope you had a fantastic break with family and friends, and are ready to celebrate 2013 in style. This is our final week of Smugglivus, so hold on to your hats – it's gonna be a busy one.
Giveaway Winners:
The lucky winner of an advance reader's copy of Karen Healey's new book When We Wake is…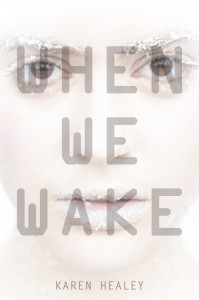 Congratulations! You know the drill – send an email to us (contact AT thebooksmugglers DOT com) with your snail mail address, and we'll get your winnings out to you as soon as possible.
If you didn't win, don't fret – our Kobo eReader Smugglivus Giveaway is running until January 1, plus we have giveaways from Kate Elliott and Stephanie Burgis.
This Week on Smugglivus:
Deep breaths. It is the final countdown to Smugglivus proper on January 7! Later today we have guest author Alexandra Monir over to talk Inspirations & Influences for her upcoming YA paranormal romance novel, Timekeeper. We also have Smuggler favorite author Sarah Rees Brennan over to celebrate, Smugglivus style.
On Monday, it is officially the LAST day of 2012 – and with that, we finally present you with our very own Most Excellent Books of 2012 lists! This year was a tough one with so many fantastic books to choose from, but we think we've nailed down the final selection.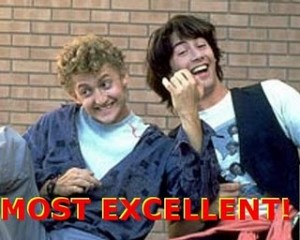 On Tuesday, we usher in 2013 with a guest post from another favorite author, Catherynne M. Valente, followed by blogger and romance author Katiebabs/KT Grant. And, in grand Smugglivus tradition, Ana presents her Best of the Rest (TV, films, etc) list of 2012.
Wednesday, our guest of the day is Holly, blogger behind Book Harbinger, followed by Thea's Best of the Rest list.
On Thursday, we host Michelle Cooper (new Smuggler favorite author of the Montmaray Journals) as our Smugglivus guest of the day. Her post is followed by another Smugglivus tradition: the Airing of the Grievances (in which we air out our dirty laundry, and rant about the things that have frustrated us in 2012).
Friday, Frances Hardinge, author of utterly brilliant MG/YA speculative fiction novels is our guest author. Her post is followed by Ana, taking on one more Smugglivus tradition: the Feats of Strength! Like last year, our Feats of Strength mean that we each get to read and review 5 books, in 5 different genres (including one Dare book and one What She Said book) and with the following TWIST: each review can contain no more than 50 words. Ana tackles Wizard and Glass by Stephen King (the Dare), A Brief History of Montmaray by Michelle Cooper (What She Said), I Was a Rat by Philip Pullman (a fairy tale retelling), The Lives of Christopher Chant by Diana Wynne Jones (old school YA fantasy), and One Salt Sea by Seanan McGuire (urban fantasy).
Saturday, our guest is Aidan, SFF blogger behind A Dribble of Ink. Then, it is Thea's turn for the Feats of Strength, in which she tackles: Cracked up to be by Courtney Summers (the Dare), Boneshaker by Kate Milton (What She Said), Flash Point by Nancy Kress (dystopia/SF), Hattie Big Sky by Kirby Larson (historical YA), and Borders of Infinity by Lois McMaster Bujold (science fiction).
On Sunday, we have our final two Smugglivus guests – bloggers Raych of Books I Done Read, and Amy McKie of Amy Reads.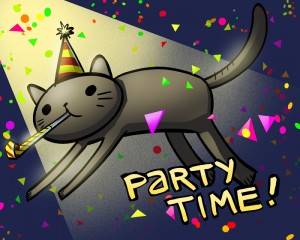 And on Monday, we celebrate our official fifth year anniversary. PHEW. It's a very busy week! Until later, we remain…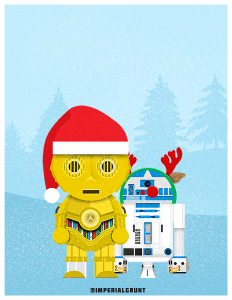 Holiday Duo by Imperial Cabana
~ Your Friendly Neighborhood Book Smugglers