Hello folks – Christmas is coming and as I write this post, I am also getting ready to spend the holidays with my family in Brazil. Hooray! That said, here is what we have in store on this week's Smugglivus.
This Week on The Book Smugglers:
Later today, we have our blogging friend Iris from Iris on Books to talk about her top picks of 2012.
On Monday, we have Elizabeth Vail of Gossamer Obsessions with a fun (and thought-provoking) post, followed by a post from the lovely Zetta Elliott.
On Tuesday, to celebrate Christmas, we will be running a Very Special Giveaway of a KOBO TOUCH EREADER. And the contest will be open to everybody!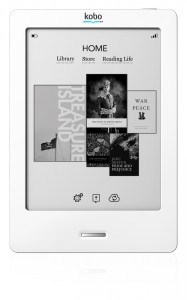 On Wednesday, our first guest of the day is Rachel Hartman, author of one of our notable reads of 2012, the lovely Fantasy YA, Seraphina. We are also proud to be hosting the one and only Juliet Marillier, one of our all time favourite authors. Finally, we close the day with another guest – Karen Mahoney – doing something a bit different for Smugglivus as she and Ana talk about their reading of Strong Poison by Dorothy L.Sayers.
Thursday, Maggie of Bibliophilia shows up to say hi, followed by guest posts from Celine Kiernan (lovely author of awesome Fantasy and more recently, the award winning Into the Grey) and N.K. Jemisin (who kicks some serious ass with her amazing books).
On Friday, we welcome back to the blog Janine from Dear Author as she reflects on her 2012's reading expectations. Later that day, we will have Stephanie Burgis, whose MG books Thea completely fell in love with this year. And over at Kirkus, we will be posting about our highly anticipated reads of 2013.
Finally, on Saturday: it's Kate Elliott's turn with her own favourites of 2012, followed by a guest post by Jodie of Book Gazing.
Aaaand that's it for now. We hope you will enjoy the week and as always, we remain…
"Girls: Fact & Fiction" at The Light Grey Art Lab
~ Your Friendly Neighborhood Book Smugglers