Welcome to Smugglivus 2012! Throughout this month, we will have daily guests – authors and bloggers alike – looking back at their favorite reads of 2012, and looking forward to events and upcoming books in 2013.
Who: Amy of My Friend Amy. Amy posts about all sorts of things including book reviews and thoughtful analysis of great TV Shows.

Please give it up for Amy, everyone!

While I can sometimes be found complaining about the state of television, the truth is that there is a lot of great story telling going on there that I have enjoyed this year. When I was invited to post about it for Smugglivus, I was kind of excited because I really like talking about it! My taste is kind of eclectic and I'm not much of a TV snob at all when it comes to scripted drama so read on at your own risk!
Without doubt my TV discovery of the year was Danish series Borgen.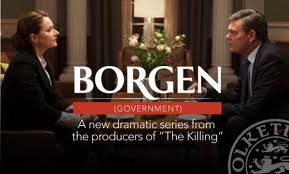 Borgen is the story of the first fictional female prime minister of Denmark and is a rich and compelling political drama. The show centers around Birgitte Nyborg and follows her time as Prime Minister as she learns to balance work and family life, make political concessions, and maintain her idealism in the face of incredible challenges and pressures. The three main characters of Borgen are all complex and interesting as they navigate the political waters of their life and seek to maintain their integrity. I love them all! The show takes a realistic but slightly more gentle approach to politics than I'm used to. It explores issues that are relevant for many of us and one of my favorite things about the show is the way it demonstrates the tension between the media and the government. I would be hard pressed to think of a show I feel is better written on the whole. Great writing, great acting, great characters, compelling story telling. I LOVE IT.
Watching Borgen made me want to seek out other Danish series and so I also watched the Danish/Swedish series The Bridge.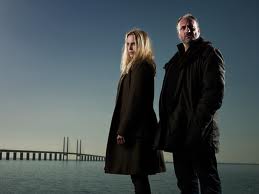 I was skeptical at first because there is just SO MUCH CRIME DRAMA on TV and it's mostly boring to me. But the The Bridge is a smartly written serialized crime drama that is about a serial killer show, but it's also about connections between societies, personal and public life, people, etc. Saga Noren quickly became one of my favorite characters on TV. I'm cautiously hopeful for the American version of this show. It's a show I think can be adapted in a different culture and because of the very unique tensions in the relationship between the United States and Mexico, I think it could be excellent. Everyone involved with the project is top notch so I have hope.
Don't get the wrong idea, though, I don't only watch heavy subtitled shows. I also thoroughly enjoyed the CW aired Canadian show the L.A. Complex.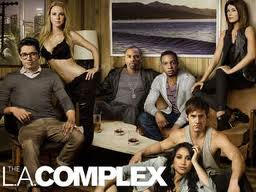 This show was criminally underwatched and told fresh and interesting stories I'm not seeing anywhere else. The most compelling emotional story was about Kaldrick King, closeted gay rapper,and his relationship with Tariq. Watching him struggle with his own sense of self-loathing and longing for a normal relationship was heartbreaking. But there were also interesting stories about women working in comedy and the lengths they are willing to go to succeed in Hollywood. While touted as a show about trying to make it in L.A., the characters represented a wide variety of artists. Don't get me wrong, this show was 100% soap with ridiculous plots and all, but it was surprisingly compelling with heart. Sadly, the show has been cancelled in Canada, but it wraps up most major storylines in the second season and is definitely worth watching.
The CW's spy drama Nikita also continued to be excellent as Nikita was on the run from Division and Alex claimed her birthright.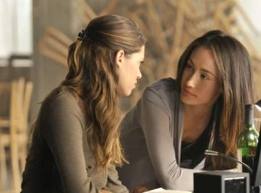 Nikita is a show with interesting characters trying to figure out how to do what's right in a world that's very wrong. If you love strong willed kick ass female characters and Homeland isn't your thing, I think you should give Nikita a try. It's a very pro-female show with surprising layers amidst all the the things getting blown up.
ABC Family's Switched at Birth continued to delight me as well.

While Pretty Little Liars gets all the social media buzz, Switched at Birth gets the critical acclaim and that's the way it should be. The show is the story of two girls switched at birth that find out about it in high school. And there's all this stuff they have to deal with like big questions about identity. It's a teen soap, but one with lots of heart, okay? And as one of the girls is deaf, it strives to show a wide range of experiences within the deaf and hard of hearing culture without ever veering into after school special territory. In short, a fun feel good show with surprising depth.
The Walking Dead underwent a change in showrunner which turned out to be the best thing for the show. Every week is like a thrill ride now and the new characters and situations of this season are so fabulous and interesting. It's the show that is probably the most fun for me to watch, I love it.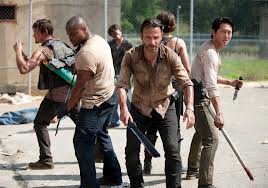 Finally, my favorite new show of the season is Nashville.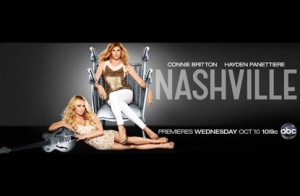 Nashville is an interesting look at the life of a singer in three stages: the veteran, the rising super star, and the girl just starting out. These women have emotional complexity and depth. I'm secretly pulling for them all to become BFFs eventually, but for now they have a lot of interesting conflict they are dealing with. Juliette is my favorite and well…I see a lot of Hayden Panettiere hate around, but I really think she's just right in the role. Juliette has a lot of issues I can understand and relate to and I'm rooting for her big time.
I watch a lot of TV. I haven't even mentioned Parks and Recreation or The Good Wife both of which have been pretty wonderful lately.
Thanks again to Ana and Thea for letting me post about my TV addictions for Smugglivus. Happy holidays everyone!

Thanks Amy (and for the record, I [Ana] am 100% with you on the Borgen and Nashville love)