Today, we are thrilled to make our appearance on the official The Diviners blog tour! The newest novel from award-winning author Libba Bray, The Diviners is the story of Evie O'Neill as she is dashed away to a life of glamour, speakies, and murder most foul in 1920s New York City. To celebrate The Diviners, we are thrilled to have a very special interview – not with Libba Bray, but with the character of Sam Lloyd.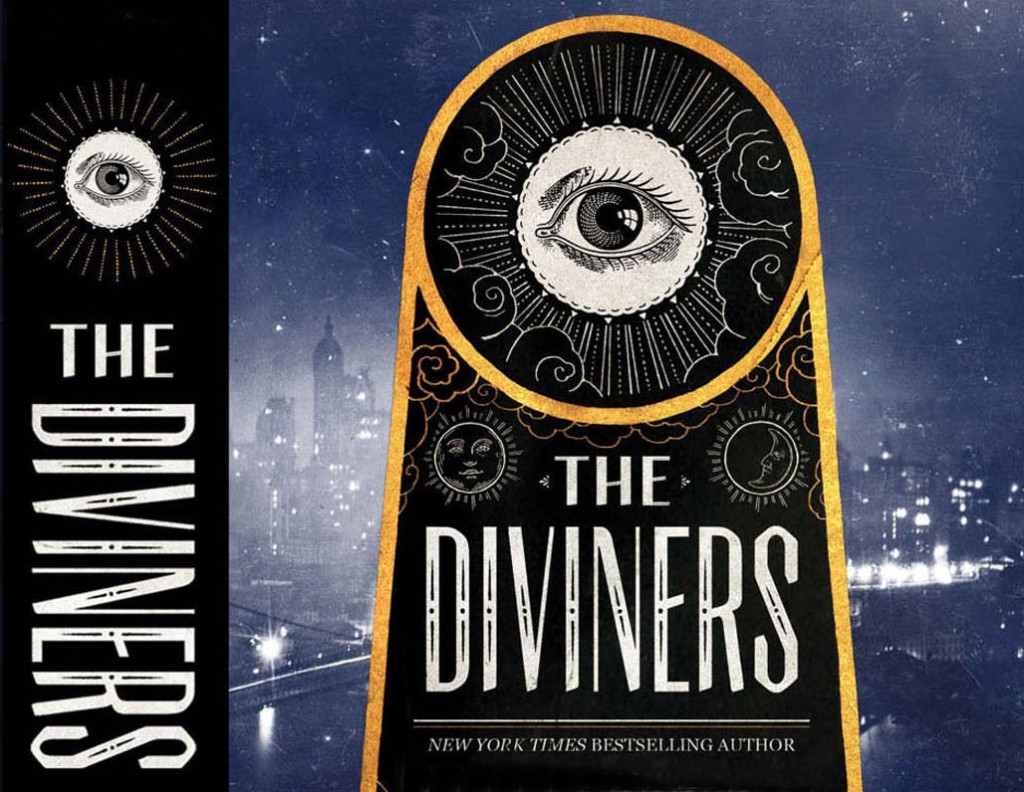 Sam is a pickpocket and a scoundrel, but with generally good intentions – and what girl can resist Sam's antics? Here to talk about life in the Big Apple during the roaring twenties, please give it up for Sam!

The Book Smugglers: Well there, Sam Lloyd, it's a pleasure to have you over to answer some questions, you rapscallion, you. Life on the hard streets of New York City in this fine year 1926 is a hard gig, but you manage to get by, hustling, bamboozling, and pickpocketing respectable, pretty young ladies. To you, what's the most challenging – and fun – way to hustle for your supper?
Sam: Gee, thanks, doll. It's nice to be recognized for my talents. If you'd like to know about any of my other talents, ahem, I'd be more than happy to show you around my rumble seat. Of course, I'll need to steal a car first.
Sure, I can lift a wallet with grace and style. It's not that I'm invisible; it's more that I can redirect people's thoughts, distract them while I, ah, liberate them from their money. I'm pretty quick—and not just because I worked in a traveling circus for a bit. Think of me as the Houdini of the streets: Now you see me; now you don't. Of course, you can always surprise a pretty girl with a solid kiss—and take her money while she's distracted. You might get a slap in the face, but hey, for a kiss and twenty bucks, that's a small price to pay.
By the way, doll, did anybody ever tell you you've got beautiful eyes? Why don't you let me hold your bag for you? It looks heavy and I'm a helpful fella.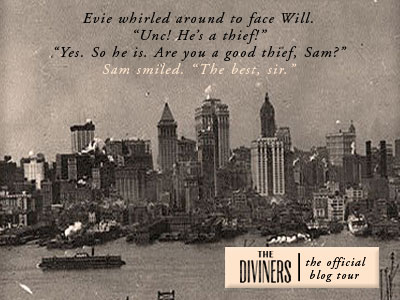 The Book Smugglers: Your relationship with your parents is a touchy subject – but indulge us. You're actually from Chicago, but ran away from home – can you tell us a bit about your immigrant parents, your hometown, and why you chose to leave?
Sam: My folks came over from Russia to chase the American Dream and settled in Chicago in a neighborhood full of other Jewish immigrants. But something happened; my mother left under mysterious circumstances and never came home. Then she sent me a secret message on the back of a postcard, and I've spent the last two years trying to find her. My father didn't want me to go after her. He's used to getting his way, but this time, I'm calling the shots. No matter what, I'm going to find out what happened to my mother, and nobody can stop me.
The Book Smugglers: New York in the '20s is a volatile place (and our own uncanny supernatural ability to see the future tells us that it's only about to get more volatile). Have you noticed any changes on the street?
Sam: You'd have to ask the Professor—that's Dr. William Fitzgerald of the Museum of Creepy Crawlies, er, The Museum of American Folklore, Superstition, and the Occult—about that. He's the one who gets goofy about the ghosts. Me? I don't believe in that hokum. But these occult murders taking place in the city—pentagrams, odd symbols, missing body parts, strange religious messages—well, that's enough to give even a hard-boiled fella like me the heebie-jeebies.
The Book Smugglers: What's your personal favorite part of the great bustling metropolis that is New York? And, should you be so lucky to take a sweet, sassy gal out on a date, where would you take her?
Sam: The hustle and bustle of Times Square is a swell spot for a fella in my line of work—plenty of chumps gaping at the skyscrapers, the movie palaces, the automobiles swerving around, and the newsies shouting out the late edition headlines. Easy pickings. Hey, a fella's gotta finance that night on the town with his girl. I've got a soft spot for the horse races out at Belmont or the speakeasies in basements tucked under the steps of brownstones all over town. If I were lucky enough to take a sweet, sassy girl named Evie in my arms, I'd rather keep her in than take her out, if you know what I mean. But the Hotsy Totsy is a pretty spiffy joint. It's got a great show. The orchestra is theelephant's eyebrows. And some drunken swell always leaves a fancy jacket lying around that I'm more than happy to make my own. What can I say? I wear thievery well.
The Book Smugglers: You sure do, Sam. Thanks for the chat, and good luck with landing that date with Evie.

About The Diviners: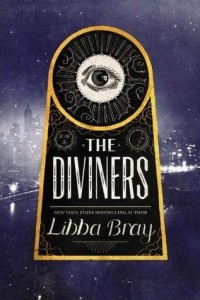 Evie O'Neill has been exiled from her boring old hometown and shipped off to the bustling streets of New York City–and she is pos-i-toot-ly thrilled. New York is the city of speakeasies, shopping, and movie palaces! Soon enough, Evie is running with glamorous Ziegfield girls and rakish pickpockets. The only catch is Evie has to live with her Uncle Will, curator of The Museum of American Folklore, Superstition, and the Occult–also known as "The Museum of the Creepy Crawlies."

When a rash of occult-based murders comes to light, Evie and her uncle are right in the thick of the investigation. And through it all, Evie has a secret: a mysterious power that could help catch the killer–if he doesn't catch her first.
You can read more about The Diviners on the official website or on Facebook.
The Book Trailer:
The Giveaway:
Courtesy of the publisher, we have on prize pack up for grabs! The pack includes a signed finished copy of The Diviners, a Diviners necklace, 1920s headband, and some Bit O' Honeys (yum). The contest is open to street addresses in the US only and will run until Sunday September 23 at 12:01am (EST). In order to enter, use the form below. Good luck, folks!