Hello everyone! Happy Sunday! Are we all enjoying the Olympics? Yesterday, I learned that trampoline-ing is an Olympic sport…that is kind of amazing. But on to business!
Smugglerific Newsletter

Our newsletter will be going out tomorrow, and we hope everyone is in on it! This month we have a great middle grade author guest in Claire Legrand, and, as usual, a sweet newsletter-exclusive giveaway. If you haven't yet, check out past issues HERE and use the form below to sign up!


If you have trouble using the signup form above, you can visit the form directly online HERE.
This Week on The Book Smugglers:
We kick off the week with Ana's review of the highly anticipated Liar & Spy by Rebecca Stead (whom you might know as the author of Newbery Award-winning novel When You Reach Me). Ana is VERY excited.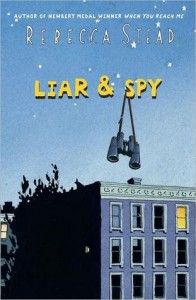 On Tuesday, Ana is back with a review – ok a series of mini-reviews – for four good but lackluster books: The Wednesdays by Julie Bourbeau, Twelve Minutes to Midnight by Christopher Edge, The Interrogation of Gabriel James by Charlie Price, and Godless by Pete Hautman. Phew.
Wednesday, we are a stop on the official Throne of Glass blog tour and we are thrilled to have author Sara J. Maas over for an Inspirations & Influences post (plus a chance to win the book). Later in the day, Thea reviews The FitzOsbornes in Exile, the second book in the Montmaray Journal trilogy.
On Thursday, Thea is back with with a review of one of her most highly anticipated novels of the year, Two Weeks Notice by Rachel Caine (the followup to the truly AMAZING Working Stiff – please ignore the terrible covers).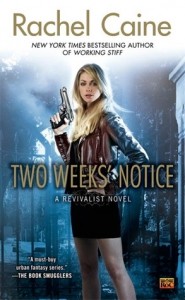 On Friday, we close out the week with a review of Libriomancer by Jim C. Hines – the first in his new urban fantasy series that combines librarians with magic.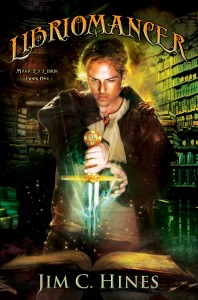 It's a busy week! Until tomorrow, we remain…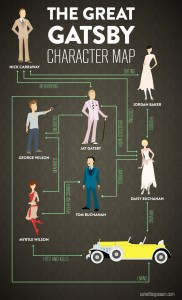 Spoilers Ahoy! The Great Gatsby flowchart from I Love Charts (Source)
~ Your friendly neighborhood Book Smugglers