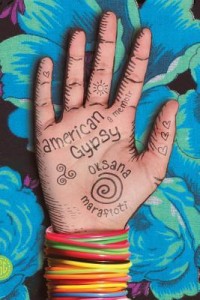 Title: American Gypsy: A Memoir
Author: Oksana Marafioti
Genre: Memoir, YA
Publisher: Farrar, Straus and Giroux
Publication date: July 3 2012
Paperback: 348 pages
A vivid and funny memoir about growing up Gypsy and becoming American

Fifteen-year-old Oksana Marafioti is a Gypsy. This means touring with the family band from the Mongolian deserts to the Siberian tundra. It means getting your hair cut in "the Lioness." It also means enduring sneering racism from every segment of Soviet society. Her father is determined that his girls lead a better, freer life. In America! Also, he wants to play guitar with B. B. King. And cure cancer with his personal magnetism. All of this he confides to the woman at the American embassy, who inexplicably allows the family entry. Soon they are living on the sketchier side of Hollywood.

What little Oksana and her sister, Roxy, know of the United States they've learned from MTV, subcategory George Michael. It doesn't quite prepare them for the challenges of immigration. Why are the glamorous Kraft Singles individually wrapped? Are the little soaps in the motels really free? How do you protect your nice new boyfriend from your opinionated father, who wants you to marry decently, within the clan?

In this affecting, hilarious memoir, Marafioti cracks open the secretive world of the Roma and brings the absurdities, miscommunications, and unpredictable victories of the immigrant experience to life. With unsentimentally perfect pitch, American Gypsy reveals how Marafioti adjusted to her new life in America, one slice of processed cheese at a time.
Stand alone or series: Stand alone
How did I get this book: Review copy from the author
Why did I read this book: A few months ago, we were contacted by the author offering a copy of the book for review. Even though we don't really review memoirs, we both thought the book – an Ana-book, we called – sounded really interesting and we decided to give it a go. I am so glad we did because as it turns out, I loved it.
Review:
And now for something completely different as I try to write my first review of a memoir.
Oksana was 15 when her parents decided to leave Russia (just before the USSR was dissolved) for America in search of a better life. Although they were rather affluent people, they were treated like second class citizens back home due to their part-Gypsy ancestry. Oksana's parents were part of a touring band: the father a gifted Roma musician and the mother an accomplished band manager from Armenia. When the family moves to the US, they hope to leave all problems behind and start anew in the land of opportunity. Unfortunately things are not that easy and theirs plans don't go as smoothly as they hope. There is the language barrier to start with not to mention all the cultural baggage they brought along.
Conflicts follow them to America: her mother's alcoholism, her father's propensity to cheat, their different nationalities and backgrounds still a source of problem. And Oksana stands in the middle: the only one who speaks a little of English, a child of different cultures, a supposed soviet in the middle of capitalist America and a girl trying to find her own identity in the middle of all this chaos.
If qualifications are necessary at all, I would call this a Young Adult memoir as it is framed and limited by Oksana's high school years. The memoir starts when she is fifteen and stops as she is about to go to college – it often goes back in time to early childhood but rarely if ever do we get to see a glimpse of Oksana's older years.
I chose to read American Gypsy for a number of reasons: I liked the idea of venturing into memoir territory, a new thing for me. I feel like it is impossible to write this review of a very personal story without making it personal too – it is as though after having received what I consider to be a gift from the author, I just have to return it by speaking a bit about myself. I chose to read this memoir in particular because 1) it was offered to me and 2) it sounded interesting. The former only made it easy. The latter because just like the author, I am too an immigrant (from Brazil to England) and wanted to hear about her experience. And as it just so happens, I have always been fascinated by not only Russia (and especially how so many different cultures and peoples were brought together under one rule) but also by Gypsies. In Brazil, we have this fascination for Gypsies: I remember when my mother used to take me to a "Gypsy" store and buy me flowery "Gypsy" clothes."Gypsy" is also a very common Carnaval costume and I dressed up with long skirt, huge earrings and dangling bracelets more than once.
Of course now I know, this is all embarrassingly stereotypical bulshit and tremendously offensive: we obviously knew absolutely nothing about the Romani people and more often than not, most people don't either. Which is a point that comes brilliantly across when reading American Gypsy as Oksana navigates the assumptions and prejudices that her people suffer. To the point where, to start with, she doesn't even admit that she is Gypsy.
That said, this book is much more than the exploration of the macro-cosmos of a culture backdrop – as a memoir, it is more about Oksana and how her life progresses as she moves to America. As a teenager, she is often trapped by her parents' wants and desires for her. She had to navigate the waters of a traditional Romani father who has certain expectations about what a girl, a daughter should or rather; could accomplish. It is heartbreaking to read about how Oksana felt the need to earn her father's admiration for what she could do as an accomplished musician herself. The conflict between learned tradition and obvious desire for change and progress is not an easy one to solve and this memoir was great at showing that. This story follows Oksana as she tries to find a place for herself fighting a cultural assimilation that clashes with her family's past (whose outlandish stories she is proud to share) and trying to find a measure of individualisation in the midst of such strong traditions.
American Gypsy actually reads like a novel and at times I forgot I was reading about real people – and it is weird and a bit funny for me to be saying this because of how many times I've said the opposite about a novel ("it was so good I felt the characters were real people"). There is a lot of dialogue, and outlandish, funny adventures as well as some heartbreak and serious moments.
At the risk of sounding trite: I loved reading American Gypsy. It is extremely well-written, gripping and I couldn't put it down. I loved reading about Oksana's story: her path to individualism and independence; her troubled relationship with her parents, a relationship of love but one with charged expectations about her gender – in that sense, this book is also a great feminist read.
More than that, from a very personal and self-centred strand-point, I loved this from a ContempYA perspective. I have gotten used to reading these fictional stories about identity and fitting in and it is really interesting to read a real story of a teenager who has the same problems I usually read about in YA. In that sense, reading this book helps me reading ContempYA – from a reviewer point of view. But above all, I loved her voice, I loved the cultural differences explored in the book, I loved Oksana's strive for independence and I am so glad I gave the book a shot.
Notable Quotes/ Parts:
AMERICAN CHEESE

The woman on the other side of the desk scribbled in her files. I studied her with interest: perfectly manicured nails, killer perm, and a beige pantsuit with the American embassy ID clipped to the left breast pocket. She warmed us now and then with one of those smiles that make you want to ask its owner to be your child's godparent even if you've only just met. She didn't look like someone who held the fate of my family in her hands.

Before the interview that morning, Mom had instructed Dad not to speak, for two reasons. First, he couldn't complete a sentence without swearing. And second, but more important, he always said the wrong thing.

The woman looked up from her paperwork and turned to my father. In a version of Russian that made me feel like I was teetering on a balance beam along with her, she said, "Mr. Kopylenko, tell why you want exist in United States?"
I stared at Dad's fedora, thankful that at least he had given up his earrings for a day. Mom tightened her grip on her purse, and my eight-year-old sister, Roxy, stopped swinging her legs.

Dad straightened, cleared his throat, and said in equally precarious English, "I want play with B.B. King. I great Gypsy musician and he like me. When he hear me play, we be rich. Here, I great musician, but nobody know. We live in 1980s, but feel like 1880s. Russian peoples only like factory and tractor. I no drive tractor. I play guitar. Her name Aphroditta. Also." He lifted his index finger to stress the importance of what was coming next. "I super-good healer. I heal peoples. If you have hemorrhoid, I fix. I take tumor with bare hands. In Russia, I not free. I go to jail, you understand?"

I was mortified, my eyes jumping between Dad, the awfully quiet American, and my mom, who'd plastered on a smile like a fresh Band-Aid.

"We want our girls to have a better future," Mom said in Russian, after recouping from the awkward pause. "You understand."

Years of managing a Roma performing ensemble had taught my mother the schmooze side of business. She closed many impossible deals over black caviar and bottles of Armenian cognac, items she couldn't bring to our interview, though not for lack of trying. That day, November 18, 1989, Mom had put on a periwinkle wool dress, a fox-fur coat—we had waited in line outside the embassy for three hours—a pair of Swedish-made boots, and not a flicker of jewelry except for her wedding band. She had made sure none of us looked too rich or too poor; it was important to appear like the average Soviet family. This was tricky, since, as far as Americans knew, the USSR did not have a middle class and was not supposed to have an upper class, which we happened to belong to.
Additional Thoughts: Oksana Marafioti is blogging with us today on Inspirations and Influences. Make sure to stop by her post.
Rating: 7 – Very Good and leaning toward 8
Reading Next: Seraphina by Rachel Hartman
Buy the Book: