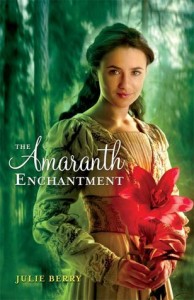 Title: The Amaranth Enchantment
Author: Julie Berry
Genre: Fairy Tales, Fantasy, Young Adult
Publisher: Bloomsbury USA Childrens Books
Publication Date: March 2009
Hardcover: 320 Pages
A delightful fairytale by a lyrical new voice.

When Lucinda Chapdelaine was a small child, her parents left for the royal ball and never returned. Ever since, Lucinda has been stuck in perpetual servitude at her evil aunt's jewelry store. Then, on the very same day, a mysterious visitor and an even more bizarre piece of jewelry both enter the shop, setting in motion a string of twists and turns that will forever alter Lucinda's path. In this magical story filled with delightful surprises, Lucinda will dance at the royal ball, fall under the Amaranth Witch's spell, avenge her parents' death, and maybe—just maybe—capture the heart of a prince.
Stand alone or series: Stand alone novel
How did I get this book: Bought
Why did I read this book: I LOVED Secondhand Charm, the second YA fantasy novel from Julie Berry. After reviewing it last week, I immediately went out and bought The Amaranth Enchantment, the highly praised debut novel from the wonderful Ms. Berry – naturally, I *had* to read it, straight away.
Review:
Lucinda Chapdelaine was born into a life of love, happiness, and privilege. As a young girl, she had a loving father, a doting mother – this, plus the family's ties to riches and royalty, made it seem as though Lucinda's would be a truly charmed life. All of that changes overnight, however, when Lucinda's parents go to the Royal Ball and are tragically killed in an accident, leaving their only child an orphan. Penniless and alone, Lucinda is taken in by her mild-mannered Uncle (by marriage, not blood) and his new, vindictive bride. Set to work as a servant in her Uncle's gold and jewelry store under her cruel Aunt's watchful eye, Lucinda slaves away night and day cleaning in return for a small, drafty room, meager food, and a quiet, miserable existence.
At the age of fifteen, however, Lucinda's fate changes once again. A beautiful woman enters her Uncle's shop with the largest, most unique, precious jewel Lucinda or her Aunt have ever seen, and asks for a setting to be fashioned in exchange for a handsome sum – and things look as though they are turning around for the downtrodden jeweler. No sooner than the enchanting woman has left, however, does the town priest inform Lucinda's Aunt and Uncle that their mysterious customer is none other than the Amaranth Witch – a fearful sorceress that consorts with the devil, and a woman with which no respectable establishment will have any business dealings. Incensed and ever-concerned with public perception, Lucinda's Aunt decides that they will not help mend the fixture for the witch, even though the shop desperately needs the money, and orders Lucinda to return the jewel to the witch immediately…
But Lucinda has other plans. When she decides to hold onto the jewel with the hope that she will convince her Uncle to fix the setting and earn a large commission, her plans go dangerously awry – and Lucinda finds herself caught in a tangled web of lies and intrigue, involved with a common street thief, a crown prince, and a witch.
Part Cinderella story, and reminiscent of the feel and style of Neil Gaiman's Stardust and Diana Wynne Jones's Howl's Moving Castle, The Amaranth Enchantment is a delightful fairy tale-ish yarn with a dash of science fiction and a generous dose of romance to boot. While there isn't any doubt in my mind that Secondhand Charm is the superior book of Julie Berry's YA fantasy offerings, there's something incredibly endearing about Lucinda and her struggles in this book, just as there's something winsome with the other characters, setting, and lilting style to Ms. Berry's prose.
The clear standout for the novel is Lucinda, whose characterization elevates The Amaranth Enchantment from somewhat mediocre to a more memorable YA fairy tale offering. Lucinda is a heroine that is funny and heartfelt, and manages to be spunky without being abrasive. I love that on the one hand, she doesn't take anyone's crap, especially ragamuffin thief Peter – thusly avoiding a potentially eye-bleeding love triangle. For example, at their first meeting, Peter climbs into Lucinda's cold attic room to take refuge from a fellow thief, hot in pursuit. Peter, cheeky thief that he is, smooth talks his way into staying the night to stay alive, and when Lucinda's back is turned, he crawls into her bed. Instead of falling for that crap, Lucinda is enraged (rightfully!) and tells the strange, smelly boy to get the hell out of her bed.[1. If this was a more contemporary YA romantic fantasy, how much do you want to bet that she would have acquiesced because of Peter's rougish charm? Ugh. Gag.] I love that at the same time that Lucinda does not put up with any nonsense, she also is very much a fifteen year old girl and has a sweet – if somewhat predictable – romance with the prince of the realm. Above all, I love that Lucinda has some agency and gumption. She makes the decision to keep the rare Witch's jewel to help the Uncle and Aunt that have treated her with nothing but bitterness, that she decides to seek out the so-called witch, even though everyone else fears her.
Also, I love Lucinda's goat. Named Dog. (That's right, DOG.)
In contrast, however, the other characters are slightly more…stock. Lucinda's Prince Gregor feels a bit hollow and insincere (really, he's engaged to a gorgeous crown princess, but he decides to dance the night away with a brash, unaccompanied young woman at a festival with the entire kingdom watching on?). Peter, the thief, is far more fun, and I'm glad he is portrayed as a comically condescending, untrustworthy, yet somehow still charming rogue. Beryl, the titular Amaranth Witch, is a fascinating character in theory – an estranged woman in a strange kingdom far far away from home, a Yvaine-like character if there ever was one – but, like Gregor, hollow in execution. Perhaps this is because The Amaranth Enchantment is so abrupt in its telling, though.
From a worldbuilding and plotting perspective, Lucinda's world is at first glance a familiar Western European model fairytale kingdom, with a king and a queen and princes and princesses that marry for power and position. The story proper is also familiar as a very loose Cinderella retelling, and proceeds down a fairly predictable path. What sets this particular retelling apart is The Amaranth Enchantment's interesting, decidedly sci-fi type of twist (regarding one character's origin and the "magic" of the realm). That was completely unexpected, and pretty cool.
All in all, The Amaranth Enchantment is a sweet, easy read of a novel. It's not as polished or memorable a book as Secondhand Charm, but it's still a good way to scratch a YA fantasy/fairytale-ish itch. Recommended.
Notable Quotes/Parts: From Chapter 2:
"Your what?" I said.

"Er," said my customer.

"Prince Gregor, we are honored," said Uncle. At least one of us was cogent.

I flopped down onto my knees, which made me disappear behind the counter. I considered crawling underneath and hiding on a shelf. I looked up to see the prince – the prince! – peering down over the counter's edge at me.

"You don't need to do that," he said.

"Do what?"

"Get down on your knees. Unless you are proposing marriage."

I scrambled to my feet. "As you wish." I dusted off my skirt. "You know best." Stupid response! Could I mortify myself more?
You can read the full excerpt online HERE.
Rating: 7 – Very Good (though I wavered on a 6)
Reading Next: This is Not A Test by Courtney Summers
Buy the Book: (click on the links to purchase)





Ebook available for kindle US, kindle UK, nook, kobo, sony, google & apple