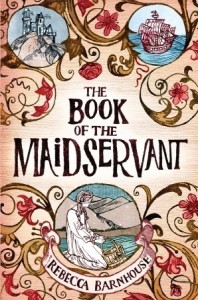 Title: The Book of the Maidservant
Author: Rebecca Barnhouse
Genre: Historical, Medieval, Young Adult
Publisher: Random House Books for Young Readers
Publication date: October 2009
Paperback: 240 pages
Johanna is a servant girl to Dame Margery Kempe, a renowned medieval holy woman. Dame Margery feels the suffering the Virgin Mary felt for her son but cares little for the misery she sees every day. When she announces that Johanna will accompany her on a pilgrimage to Rome, the suffering truly begins. After walking all day, Johanna must fetch water, wash clothes, and cook for the entire party of pilgrims. Then arguing breaks out between Dame Margery and the other travelers, and Johanna is caught in the middle. As the fighting escalates, Dame Margery turns her back on the whole group, including Johanna. Abandoned in a foreign land where she doesn't even speak the language, the young maidservant must find her own way to Rome.

Inspired by the fifteenth-century text The Book of Margery Kempe, the first autobiography in English, debut novelist Rebecca Barnhouse chronicles Johanna's painful journey through fear, anger, and physical hardship to ultimate redemption.
Stand alone or series: Stand alone
How did I get this book: Bought
Why did I read this book: I recently read Rebecca Barnhouse's Peaceweaver and loved it so much I bought her entire backlist (ok, it was only two books. STILL, her entire backlist). I read it now because I was on holidays last week and in the mood for a medieval story.
Review:
In the 1400s, Dame Margery Kempe left England on a pilgrimage to Rome. Her account of that and other pilgrimages as well as her conversations with God (Dame Margery was considered a Holy Woman) was published as The Book of Margert Kempe and is considered to be the first official autobiography in the English language. In Rebecca Barnhouse's note at the end of The Book of the Maidservant she notes that Dame Margery's account mentions the maidservant who accompanied her and who is constantly maligned and criticised for being lazy in her narrative. Barnhouse became fascinated by the figure of the maid and decided to write this pilgrimage from her perspective.
Johanna is the 14 year old maidservant to the great Dame Margery Kempe, a holy woman known for her connection to God, a connection expressed mostly by wailing, weeping as well as criticising others. Johanna had only been working for her for a while (ever since her father lost his land and her sister got married. There is no room in their lives for a young maid anymore) when she was told she was to accompany her mistress on this pilgrimage to Rome. For Johanna this not only means leaving everything she knows behind but also effectively becoming a servant to everybody else in the group and as such she carries water, she cooks dinner, cleans pots and clothes, sows, gets the fire started and so on and so forth. There is no rest for Johanna at all. She narrates her own story – and what a story it turns out to be, especially when her mistress simply leaves her behind in the middle of nowhere.
My mistress says you mustn't stare into the fire lest the devil look out at you from the flames. "He'll see into your soul," she says.
My mistress says a great many things about the devil.
But before cockcrow, when my mistress is still abed and I'm sitting on my heels coaxing the embers into life with my breath, I stare into the fire with no fear of the devil. The devil, I think, wakes up when my mistress does.
Johanna's narrative is what makes this book such a delightful experience. Johanna's perspective is keen, observant, funny and probably more just than those who proclaim themselves holy. Johanna is dragged around without much say and she is exploited without consideration. She is expected to cook without knowing how (probably the funniest moments in the book are when she is trying to skin and cook their food. It didn't turn out well). When everybody is resting after a long day of walking, Johanna is still expected to be up and doing things for everybody. The same thing is not expected from a male servant accompanying another member of the pilgrimage:
Nobody besides Dame Isabel and her husband orders Bartilmew around, but everybody feels free to tell me what to do. And Petrus feels free to show me his fists any time he wants.
Having said that, despite Johanna's keen observations her perspective doesn't come with a modern coating and Johanna is and remains a character of her own time. This means that her perspective is intrinsically religious and based on the mores of the time. She might think these things but she would never voice them or expect anything different.
The Book of the Maidservant proved to be an interesting read for many reasons – not only because of the story itself and Johanna but also because I found myself thinking about agency a lot. For all intents and purposes, Johanna mostly reacts to events as things happen to her. She unwillingly becomes a maidservant; she unwillingly leaves for Rome; she unwillingly works like a slave for everybody; she is left behind and continues to work for everybody. It never really occurs to her that she might have a choice or to do something different. But here is the thing: what are her choices? Especially after her mistress leaves her behind – she is a maidservant in foreign soil, who doesn't speak the local language and who has no money or possessions. She must solely rely on kindness of strangers for survival but to be fair, not without some measure of acting and smarts on her part. So here is what got me thinking: could Johanna's thoughts be considered a form of agency? I believe so, Johanna's voice is full of righteous indignation and the more the story progresses the more that silent, voiceless indignation transforms itself in a form of agency. Although her thoughts certainly don't make her especially nice, she was still endearing to me because of that. She never, ever makes herself to be a martyr and she knows exactly the worth of her work, even if she can't do much about it until very, very late in the story. And when an opportunity arises to make a choice, she takes it.
I don't think this is a book for everybody – the story is kind of stark and for a book that follows such a long pilgrimage it is also very short, not to mention that the subject matter itself is likely to attract only those interested in Historical fiction – but it was definitely a book for me. I loved it.
Notable Quotes/ Parts: Another passage I loved:
I mend the coals with the tongs, then blow them into flames with the bellows. Already, while my mistress was sleeping, I've brought up the coal. Also, I've scoured the bottles and pots left from yesterday. And brought in the water for Cook and for me, lots of water, fetched from the Common Ditch, a long walk through the ooze and muck of the streets in the chill damp of the morning.
My mistress feels such compassion for Our Lord, she cries and cries as the thought of him on his rood. You'd think she could spare some compassion for me.
Rating: 7- Very Good
Reading Next: Company of Liars by Karen Maitland (yes, another Medieval book) (it's the last one, I swear) (maybe).
Buy the Book: