Author: Barry Lyga
Genre: Horror, Mystery/Thriller, Young Adult
Publisher: Little, Brown Books for Young Readers
Publication Date: April 2012
Hardcover: 359 Pages
What if the world's worst serial killer…was your dad?

Jasper (Jazz) Dent is a likable teenager. A charmer, one might say.

But he's also the son of the world's most infamous serial killer, and for Dear Old Dad, Take Your Son to Work Day was year-round. Jazz has witnessed crime scenes the way cops wish they could–from the criminal's point of view.

And now bodies are piling up in Lobo's Nod.

In an effort to clear his name, Jazz joins the police in a hunt for a new serial killer. But Jazz has a secret–could he be more like his father than anyone knows?
Stand alone or series: Book 1 in a planned trilogy
How did I get this book: e-ARC from the Publisher (via NetGalley)
Why did I read this book: I'm kind of a sucker for these types of serial killer books, especially for the YA crowd (wow, that sounds a little crazy when I put it down in writing). I loved Dan Wells' John Wayne Cleaver books, so when I saw I Hunt Killers pop up on the radar, I was predictably hooked.
Review:
Jasper "Jazz" Dent is a good looking kid, generally well-liked, with a true best friend and a great girlfriend. He's also the son of Billy Dent, the most notorious serial killer of the past half century.
Jazz has fought long and hard to bury his past – ever since his father was arrested and imprisoned for multiple life sentences, Jazz has strived to create a normal, quiet life. Even with the buried memories that haunt him, Jazz keeps his sanity thanks to the help of Connie and Howie, even though he knows he'll never be like other carefree teens. When a mutilated body shows up in the sleepy town of Lobo's Nod, Jazz knows that this is no random act of violence – there is a serial killer on the loose. The police, however, think otherwise and warn Jazz to back away from the case, but how can he? Jazz, with his intimate knowledge of murder and manipulation passed on by his father knows that he alone has the power to stop the killer. As the bodies pile up, with every new layer that Jazz uncovers, one thing becomes unassailably clear: this new killer is somehow tied to Jazz and his incarcerated father, Billy. If Jazz is to hunt down this copycat killer, his time is short, and everyone he cares for is in danger.
The first novel in a planned trilogy, I Hunt Killers is author Barry Lyga's first stab at the YA horror/thriller serial killer subgenre (lame pun totally intended). And, I am thrilled to report, Mr. Lyga's first foray into some very dark subject matter is pretty freaking fantastic. It's hard to read or discuss I Hunt Killers without making the inevitable comparison to another recent series (featuring a teenage hunter of killers), Dan Wells' John Wayne Cleaver books – a series that I personally love and one that is close to my heart. Upon first reading the synopsis for Barry Lyga's novel, I was intrigued but also slightly wary. Teenage borderline sociopath using his unique perspective and emotional detachment for the greater good (i.e. hunting killers) sounds very close to Mr. Wells' already completed trilogy, and to Jeff Lyndsay's Dexter.
Long story short, I needn't have worried.
Having read I Am Not A Serial Killer and being a huge Dexter fan actually added to the reading experience of I Hunt Killers, because our protagonist in this new series, Jazz, is completely unique and markedly different than either John or Dexter. In fact, Jazz is the anti-John/Dexter. Allow me to explain:
John Wayne Cleaver and Dexter Morgan are unapologetic, textbook Antisocial Personality Disorder killers. They do not feel emotions the way "normal" people feel emotions. They manipulate, exploit and violate others, they feel no remorse for their actions, and being inside these particular characters' heads is fascinating and terrifying. In Wells' books, there's this constant fear and unrelenting tension running throughout because we don't know if John will ever be able to harness Mr. Monster.
In I Hunt Killers, however, Jazz is a different case. Despite his narrative pointing to the contrary, Jazz feels. At a young age, he befriended Howie by protecting him from a group of bullies that were fascinated by how easy it was to make the type-A hemophiliac bruise. Jazz's girlfriend, Connie, is another link that shows his ability to feel and even to love. Jazz's greatest fear is that he will become his father one day, and with Billy's poisoned words seeping through Jazz's every memory, it's no wonder that Jazz is, frankly, such a mess. Dexter Morgan had his father Harry to keep him on the straight and narrow, to establish an unbreakable code that would harness Dexter's dark passenger and only use his deadly skills to only hunt down the guilty killers that deserved retribution. Jazz Dent, meanwhile, has Dear Old Dad Billy, who took an average child and taught him an entirely different code – how to best manipulate and attack a victim, how to saw through a knee joint, how to dispose of body parts most effectively. Despite all of this floating around in Jazz's head, and despite his fear that he is turning into his father and will one day snap and give in to the teachings of Billy, I don't buy it for a second. Jazz is an incredibly unreliable narrator and for all of his fears and doubts, it's clear that unbeknownst to himself, he actually does feel.
It's a really, really cool conceit, and one of the biggest draws to the book.
From a writing and plotting perspective, I Hunt Killers is also expertly done. A taughtly written thriller with a genuinely well-executed murder mystery, I was kept on my toes for the entire book. The novel's final act is mind-blowingly awesome (and unexpected, I might add), and answers the question of how this could possibly become a trilogy instead of a one-off book. Needless to say, I'll be back for more.
I Hunt Killers is a dark, twisted excursion into the psychology of a boy, scarred and irrevocably changed by his father's legacy – and I loved every second of it. Absolutely recommended, and another book on my shortlist for notable reads of 2012.
Notable Quotes/Parts: You can read the first 40 pages of I Hunt Killers online using Hachette's OpenBook reader HERE.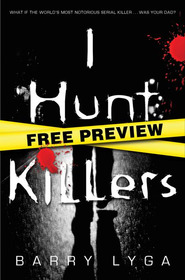 Alternately, if you have an ereader, you can download the first 10 chapters in a short ebook for free, including a bonus prequel short story, "Career Day". SERIOUSLY. Check it out. Get it for: nook, kindle, kobo, apple, google or sony)
Additional Thoughts: Make sure you stop by and check out our awesome interview with Barry Lyga today! We are giving away a copy of I Hunt Killers, too.
Rating: 8 – Excellent
Reading Next: Glamour in Glass by Mary Robinette Kowal
Buy the Book:





Ebook available for kindle US, nook, google, sony, apple & kobo