Today we are very excited to be a part of Johan Harstad's 172 Hours on the Moon blog tour, celebrating the release of the novel. A celebrated short story author, novelist, and playwright in Norway, Johan Harstad made his speculative fiction and YA debut with the 2008 publication of DARLAH. This month, that novel is being published and sold in the United States as 172 Hours on the Moon.
As Thea is a junkie for all things scifi and horror related, we were thrilled to be a part of the US release of 172 Hours on the Moon, and to have the opportunity to interview the author! Please give a warm welcome to Johan, folks!

The Book Smugglers: Welcome, Johan, and thanks for taking the time to answer a few of our questions! 172 Hours on the Moon (originally published as DARLAH) is a crossover YA/SF novel, in which three teens are sent to the moon as part of NASA's PR revitalization program gone terribly wrong. Can you tell us a bit about what inspired the novel? Have you always been a fan of science fiction/horror?
Johan: Hi there! If someone had told me ten years ago that i would someday write a YA sci-fi/horror novel, I would have thought that they probably didn't know me very well since I never thought I'd ever write a genre faithful-novel at all, little less a YA one. But life takes some strange turns and one day in 2007 I was asked or commissioned, more or less, by one of the big Norwegian publishing houses to write a book in connection with my hometown Stavanger – The Cultural Capital of Europe 2008 (yeah, it sounds great. In reality it's just politics…). I was free to do whatever I wanted, I could write a short book with mostly illustrations or about bullying and all that stuff. The idea was that the book would get normal distribution and all, but it would also be handed out to about 10,000 3rd graders in the city. Which was an idea that I liked. So, after having thought about it for a while, I decided that I would try my best to scare the shit out of them with a novel that also paid tribute to books and films of the genre I grew up with. Needless to say, perhaps, they couldn't hand the book out to third graders in the end … they gave it to 9th or 10th graders instead.
For me writing the book was great fun. It was very, very different from my other books and it made me remember a lot of the books I read when I was 11, 12, 13, 14, like Stephen King, Michael Crichton, a lot of thrillers and horror novels. I had completely forgotten about them and I realized I hadn't read any books in those genres since I was that age – and so I got online and ordered a bunch of them to reread. I was never a big sci-fi buff when it came to literature, that was more of a movie thing, loving the Alien franchise, The Abyss, Solaris (not the Clooney remake, mind you, but the weird, scary Soviet original), Star Wars, etc. Also, newer crossover series like Lost had a great impact on me. When it comes to horror I've always been a big fan of the genre, constantly trying to find movies that are actually scary (most of the time you end up disappointed). I had some great – and horrible – memories of watching great films like The Exorcist, The Shining, Invasion of The Body Snatchers and A Nightmare on Elm Street when I was eleven or twelve, and in later years I've been a big fan of Japanese and Korean horror movies. They seem to be willing to go further than their American counterpart. So all these things got my brain working, I guess. I also made a promise to myself before I started writing: I should not be moralistic in any way, and it should not have a happy ending, but be quite dark, almost without hope, as I think too much literature and movies today tend to end in a very "and-then-everyone-was-happy-and-reunited-with-their-families-and-newfound-boyfriends" sort of way. I wanted the reader to feel distress. Just as I did when I was at that age.
The Book Smugglers: The Moon has been a source of inspiration and has piqued humanity's curiosity for centuries. Recently there has been a resurgence of public interest in space travel, whether those destinations be a simple low earth orbit, or to more exotic locales such as the Moon or Mars. Why did you choose the Moon as the destination for your lottery-winning teens? What does the Moon symbolize and what role does it play in your novel?
Johan: I had done a lot of research on the Moon when I wrote an adult novel called Buzz Aldrin, What Happened To You In All The Confusion? (published in the US last year), but in a very different way. The novel was quite a sad story about a guy who ever since he was young wanted to be second best in life, like his biggest hero Buzz Aldrin, who was the second man on the moon in 1969. Though the novel didn't really have anything to do with space or the Moon, per se, I did a lot of research on it since I also wanted the novel to tell the story of Buzz Aldrin's trip to the Moon. And so I was left with a feeling, or a wish to use the Moon for something else, in another book. As a location for a horror story it seemed perfect, it's both so close to us and also so deserted, deadly quiet and unfamiliar. There's something very scary about that place, the quietness and how footprints stay forever. And the moon is a bit old fashioned as well, I guess – memories of the 1960's, the Cold War, etc. Interestingly, since the book came out in Norway in 2008, there seems to have been quite a few movies made with similar takes on the moon, for example the, uh, slightly crappy movie Apollo 18 and more recently a film called Iron Sky, in which Nazis apparently have lived on the moon ever since escaping there in 1945. Haven't seen that one yet … But 172 Hours on The Moon is the real deal, and hopefully with a more interesting and chilling plot than these low budget movies.
The Book Smugglers: You're an experienced writer of adult and YA fiction, as well as full length works and short stories. Do you find it challenging to write for different audiences, or across different genres? Which genre is your favorite, from a writing perspective?
Johan: Apart from writing 172 Hours on The Moon I never think about audiences while writing, and I probably didn't do it that much when writing that one, either. Since I read a lot of adult fiction, poetry, drama and short stories from an early age, I know that very young people will read above their level/age and the other way around. So my feeling is that if the book is good it'll find its readers in a wide age span. Writing adult novels and short stories are closely related in terms of work and approach (both a mix between being impossibly hard and immensely rewarding), while writing a plot driven YA novel like 172 Hours is easier in some ways, but more frustrating and complicated in others. You have to consider pacing in a whole different way and there's not as much room for 'playing literary jazz,' if that makes any sense. The most frustrating, sometimes least rewarding – but at the same time still very fascinating and interesting form of writing is plays. I'm usually in a very bad mood when writing plays, as opposed to working on a novel, I guess it's because I have to put all I want to say in the dialogue instead of being able to use language as an art form describing the world the characters living in it feels, do, experience and thinks. And I'm constantly aware that a crap actor can ruin even the best line …
The Book Smugglers: Are you a reader of Science Fiction? Who are your favorite authors and most beloved books (or films) in the genre?
Johan: I've already covered much of this in my first answer, I think.
The Book Smugglers: We Book Smugglers are faced with constant threats and criticisms from our significant others concerning the sheer volume of books we purchase and read – hence, we have resorted to 'smuggling books' home to escape scrutinizing eyes. Have you ever had to smuggle books?
Johan: Not really. I'm probably more of a gatekeeper. I buy a lot of books, from bookstores, online and when traveling, both for research purposes and because I simply want to read them. My wife works in publishing and brings home more than her fair share as well. And then there's the books given or sent to us. It piles up pretty quickly. The difference, though, between my wife and me is that I buy books that I want to read in part or full while she'll also bring home a lot of books connected to her work at the publishing house. They seem to take up even more space. So she's doing a bit of smuggling, I think. On top of that I also keep a number of my own books in the apartment in case I need them or want to give them away. Now, with seven books published, some of them in twelve different languages, in a number of different editions and formats and everything from five to a hundred copies of each there are boxes of books in every available space. So we do give away a lot of books, especially when we have two or more copies of stuff, to friends, or we put boxes of books in the basement for other people in the building to pick up or we leave stacks of books on subway stations. But all this being said, I'd much rather have too many books than an empty apartment and a kindle…

For more about 172 Hours on the Moon, make sure to check out the official facebook page HERE.
Giveaway Details: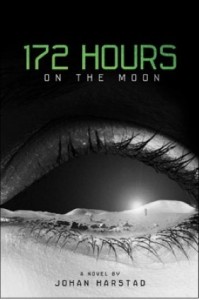 We have FIVE copies of 172 Hours on the Moon up for grabs! The contest is open to addresses in the US only (no P.O. boxes), and will run until Saturday, April 21 at 11:59 PM (PST). In order to enter, leave a comment here naming your favorite story, tv show, or movie about the moon. Good luck!