"Inspirations and Influences" is a series of articles in which we invite authors to write guest posts talking about their…well, Inspirations and Influences. The cool thing is that the writers are given free reign so they can go wild and write about anything they want. It can be about their new book, series or about their career as a whole.
Our guest today is bestselling author Veronica Wolff, here to celebrate the release of her new book Isle of Night (which Thea will be reviewing later today), the first book in a new UF series for Young Adults.
Please give it up for Veronica!

It all started with a catsuit. Not on me, of course. My ten-foot pole isn't quite long enough to touch that. No, the seeds of a smart, lethal heroine were planted years ago, with reruns of The Avengers and Emma Peel rocking her black catsuit, kitten-heel boots, and ladies' pistol.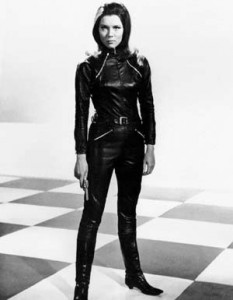 Really, I could stop there. But you probably want more of an answer than that, huh?
Whenever I'm asked what my influences are, I always feel I should say something dreadfully literary. That my inspiration is found in the works of Anton Chekhov, early Cubist sculpture, and maybe the French New Wave. But alas, my tastes are way more lowbrow than that.
First, there's media. I consume a lot of media. I watch. A lot. I love TV, especially shows with kickass female stars. In addition to The Avengers, I adored and was inspired by the JJ Abrams series, Alias. I love a smart woman who is strong and can rock some hidden weaponry along with a good pair of platforms.
I love movies, too. No chick flicks for me. Give me apocalypse. Explosions. Catastrophic meteors, aliens, zombies…see a trend here?
There's a lot of music in my life, too—I adore all kinds of it, and crank up the speakers as I write, blasting everything from heavy metal to Beethoven (who, I'd argue, was the proto-metalhead, but that's an entirely different blog post).
Finally, of course, there are books. Lots of books. We all love those, right? That's why you're here, reading this. I devour everything from romance, to young adult, to epic fantasy, to romantic young adult epic fantasy…you get the picture.
And hey, just being out in the world provides me with lots of fodder. I live in San Francisco, so the mere act of stepping out my front door can be an adventure in sensory overload.
So, what are my influences, you ask? TV, movies, music, books…but it all began with that catsuit.
About the author: Veronica Wolff is an award-winning, bestselling author with a soft spot for kilts, mountains, beaches, and vampires. Not necessarily at the same time. She lived everywhere from Texas, to Hawaii, to India, before finally settling in Northern California, where she lives with her husband, two kids, one insane rescue dog, one angelic rescue dog, the gentlest cat ever, and a snake whose days are numbered. You can follow her on Twitter.

GIVEAWAY DETAILS: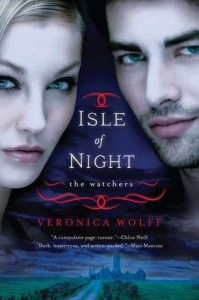 We have ONE copy of Isle of Night to giveaway! The contest is open to residents of the US only, and will run until September 10 at 11:59PM (PST). In order to enter, simply leave a comment here letting us know what YOUR favorite lethal heroine. Only one entry per person, please! Multiple comments will be disqualified. Good luck!