Title: The Girl of Fire and Thorns
Author: Rae Carson
Genre: Fantasy, Young Adult
Publisher: Greenwillow Books (US) / Gollancz (UK)
Publication Date: September 2011 (US & UK)
Hardcover: 432 pages
Once a century, one person is chosen for greatness.

Elisa is the chosen one.

But she is also the younger of two princesses, the one who has never done anything remarkable. She can't see how she ever will.

Now, on her sixteenth birthday, she has become the secret wife of a handsome and worldly king—a king whose country is in turmoil. A king who needs the chosen one, not a failure of a princess.

And he's not the only one who needs her. Savage enemies seething with dark magic are hunting her. A daring, determined revolutionary thinks she could be his people's savior. And he looks at her in a way that no man has ever looked at her before. Soon it is not just her life, but her very heart that is at stake.

Elisa could be everything to those who need her most. If the prophecy is fulfilled. If she finds the power deep within herself. If she doesn't die young.

Most of the chosen do.
Stand alone or series: Book 1 in a planned trilogy
How did I get this book: ARC from the Publisher at BEA
Why did I read this book: I am going to be completely shallow and transparent and admit that I decided to read the book almost solely based on the Tamora Pierce blurb. I love Tamora Pierce, people. If she blurbs a new YA fantasy novel that features a strong heroine on a hero's journey, you bet your ass I'll read it. I will admit that the ARC cover looked pretty bad in my opinion – but more on cover talk (and misrepresentation – yes, whitewashing and skinny-cizing – later).
Review:
The second daughter of the royal family of Orovalle, Princess Lucero-Elisa de Riqueza is not destined for a life of rule from the throne – that is an honor reserved for her beautiful, cunning older sister, Alodia. But Elisa is far from overlooked, as she has a more unique and frightening destiny. As an infant at her nameday ceremony, Elisa is chosen by God when a blinding light overtakes the church, and a godstone lodges itself in her navel. Every century, a person bearing the godstone is chosen for a life of Service; that is, a life marked by some heroic deed that is meant to serve God's will. Coddled by her nurses and protected by her gruff father and perfect sister, Elisa's safe, secure life is ripped away on the eve of her sixteenth birthday, when she's thrust into a world of intrigue. As part of a political concession, Elisa is given in marriage to King Alejandro de Vega of neighboring kingdom Joya d'Arena. Frightened and alone, Elisa leaves Orovalle for a strange new court in the foreign land. Though her bridegroom is kind and assures Elisa that he wants to befriend her and earn her confidence, the new queen notices that something is amiss. First, their caravan is brutally attacked on the way to the palace, leaving many of their party injured and dead. Then, upon arriving in the royal city of Brisadulce, Alexander takes his new wife to separate chambers through a secret palace entrance and pleads with Elisa to keep their marriage – and her role as the once-in-a-century bearer of the godstone – a secret. With war looming on the horizon between Joya d'Arena and the encroaching Invierne, things are tense at court, and secrets abound. When Elisa is kidnapped by an unlikely captor and whisked across the scorching desert to the east and taken to the hills at the farthest edges of the kingdom, she sees first hand what war means for Joya d'Arena, and the battered Joya d'Arenan people of Basajuan. And, perhaps finally, she understands what it means to be a bearer of the godstone and what she must do to help her newfound people survive.
Blurbed by the likes of Tamora Pierce and Megan Whalen Turner, released to overwhelming praise from the blogosphere and lit critics alike, one could say that The Girl of Fire and Thorns has some big shoes to fill. With that kind of hype, it's rare for a book to live up to expectations – but I'm very happy to report that with only a few reservations, The Girl of Fire and Thorns does a beautiful job of living up to the challenge of the formidable Hype Machine.
In many ways, The Girl of Fire and Thorns feels like a Young Adult, simpler (and certainly less racy) rendering of a Jacqueline Carey novel. The greatest strengths of Fire and Thorns lie with its effortless plotting, well-conceived world, and sympathetic heroine. For the former, the realms of Orovalle, the stagnant decadence of Brisadulce, and the harsh reality of life on the Hills and fringes of the desert in Basajuan are beautifully rendered. In addition to all three locations being so different in terms of physical geography, topography, and ecosystem, each location has its own separate motives and, to some extent, cultural differences. This is undoubtedly a work of high fantasy, with monarchs scheming in courts with their treacherous backhanded deals and power plays in Brisadulce; and, at the same time, it has plenty of traveling, action, and, of course, war of both the magical and plain bloody variety.
Above all, though, The Girl of Fire and Thorns is a novel about a girl that finds herself responding to the call of destiny. This is Elisa's tale, and she blossoms from uncertain and self-doubting girl to the leader of a powerful rebellion. Also, notably, Elisa is an overweight heroine – which is almost unheard of in fantasy novels, especially those for Young Adults. When we first meet her, struggling to fit into her wedding dress, she compares herself to a sausage and hopes against all hope that her unseen husband will be ugly, or old, or infirm in some way to protect herself from his inevitable disgust. Even though Elisa is a large girl, though, her weight does not simplify or caricaturize her. We readers feel for Elisa when ladies and maids ridicule her, when a child calls her fat in front of the entire court, when she struggles to keep up with her captors lest she die in the desert, with the disgust that people show when they learn that it is Elisa – soft, overweight Elisa – that is meant to be their hero. She's not a perfect heroine or a Mary Sue, for all that she's God's Chosen, but she finds a way to take on the innumerable challenges thrown in her path with a kind of calm grace and growing sense of confidence and self-respect. Needless to say, I loved every second of her story, as she grows into the powerful Queen she has always had the potential to be. There are plenty of other characters that are fabulous, too – from the indecisive Alexander to the noble Lord Hector, the beautifully treacherous Condessa Ariña and the prickly Cosmé, and, of course, the sweet Humberto and ruthless nursemaid Ximena. I loved them in all of their imperfections and complexity.
On that note, I should also say how much I appreciated the surprisingly brutal developments in terms of the plot. Ms. Carson subscribes to the George R.R. Martin school of fantasy characters – meaning that there are many of them, and no one is safe. I love this kind of sadistic fatalism, especially in a YA novel – but be warned if you like a fantasy where the good guys always emerge victorious, saved at the last minute from harm or death. The Girl of Fire and Thorns may not be for you, if you are that reader.
My only reservation regarding The Girl of Fire and Thorns is with how closely the central theology to the world and novel – integral to the plot and to the shaping of Elisa as a character – sits to Judeo-Christianity. Unlike Jacqueline Carey, for example, who takes familiar foundational religions and histories and crafts entirely new cultures and creation myths from that seed, The Girl of Fire and Thorn is less varied and more of a direct translation of biblical values and teachings. The fictional religion in the novel is monotheistic and follows very similar central tenets to Christianity – often passages that Elisa or others quote even bear very close resemblance to familiar biblical passages (e.g. "Out of the mouth of babes" in scripture versus "From the mouths of innocents flows truth"). As such, the novel could be construed to have something of a double meaning; that is, beyond the story of Elisa and her rise to power and acceptance of self, there's also this thread that all this is accomplished through the Will of (the Christian) God, and by virtue of her (Christian) faith. There's absolutely nothing wrong with the latter type of story – it simply isn't particularly to my tastes. It made me uncomfortable, as with this latter interpretation, Elisa's hero journey feels eerily like a Christian religious parable. (Of course, there's the addition of magical birthstones in bellybuttons, trolls-dolls style, which is a clear departure from any sort of religion – so maybe I'm reading too much into the similarities. I don't think I am, but there you have it.) That said, your mileage may vary – this type of thematic ascription is not something I'm comfortable with, but it certainly doesn't diminish the book or mean that others wont enjoy it.
Questions of religion aside, overall, I loved this fantastic debut novel. The Girl of Fire and Thorns does, in fact, live up to its preceding hype. While this is the first book in a planned trilogy, it also can be read as a self contained book, and breaks in a sane place (i.e. no terrible, tearing-out-your-hair cliffhanger ending here). I cannot wait for the next book in this promising new trilogy.
Notable Quotes/Parts: Using Harper Teen's Browse Inside widget below (or online HERE), you can read the first 85 pages of the book:
Additional Thoughts: On the covers, because this bears some mention and discussion: Elisa is not a thin girl. In fact, she is quite overweight, describing herself as such throughout the book. Even when she (involuntarily) loses weight during her abduction and sojourn in the desert, Elisa is never ever portrayed as a dainty girl. Furthermore, she's dark skinned. So this ARC cover: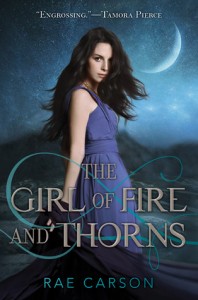 Yeah…FAIL. The good news is, the publisher caught it and changed the cover to its current final state (which features a face in the shimmering of a godstone), and the UK cover gets skin tone down perfectly. As we've discussed many a time here in Smugglerville, we know that book covers are often misrepresentative of their content – sometimes going as far as whitewashing a character. Something we haven't talked much about, however, is this concept of slenderizing a plus-sized character for a cover. We've seen it before in books like Everything Beautiful. Have you noticed any of this in your reading?
Rating: 8 – Excellent
Reading Next: Daughter of Smoke and Bone by Laini Taylor
Buy the Book: