Greetings, fellow readers! Today we are very excited to have Cinda Williams Chima over for a guest post about her newest release and penultimate novel in the Seven Realms Series, The Gray Wolf Throne.
Please give a warm welcome to Cinda, everyone!

It's Not About the Idea
I often hear from young writers despairing because they can't come up with a totally new and unique idea. All the good ideas are taken, they say.
Here's a secret: it's not about the idea. It's about the execution. Really, it is. All writers stand on the shoulders of other writers. Fantasy tropes persist because they work so well in story.
Wise old wizard mentor, anyone? Think Merlin. Think Gandalf. Think Dumbledore. Think Obi-Wan Kenobi.
Vampires keep coming back (ha!) because they're scary and primitive and hot. Stephenie Meyer achieved extraordinary success with a new take on an old premise. Though she was pilloried by some for departing from vampiric convention, resulting in hilarious debates about whether "real" vampires could be "sparkly" or go out in the daylight.
Who made the vampire rules?
J.K. Rowling was not the first author to write about wizards. It was what she did with the premise that made her books so successful. Fortunately for us, there's no copyright on wizardry.
There, now. Pressure's off about the idea. Pressure's on about the execution.
So how do you make a story your own? Tolkien once said that writers find ideas in "the leaf-mold of the mind." When I teach writing workshops, I tell my students not to worry – that each and every one of them has a unique body of experience that no one else can access. Not even their their best friend has the exact same collection of mental compost—soil in which to grow stories.
George R.R. Martin says that he based the architecture of his Song of Ice and Fire series on The Lord of the Rings. He was also influenced by history — the familial infighting during the War of the Roses. After visiting Hadrian's wall in Scotland, he put up a wall to the north of his fantasy kingdom of Westeros.
Of course, Hadrian's wall is 10 feet tall, and Martin's wall is 700 feet high, and made of ice. That's where the magic comes in.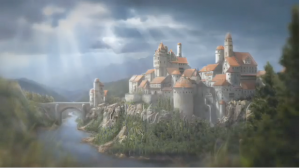 Fellsmarch Castle from The Seven Realms Series
So whose shoulders do I stand on? Tolkien's, of course, because he made me believe in magic. How else to explain my lying awake in my bed in the suburbs at 3 a.m. worrying that Black Riders were going to come through the door?
How did he do that? I wondered. And I set out to find out.
When I was a teen, I devoured Marion Zimmer Bradley's and Mary Stewart's fantasies. They built atmospheric, moody worlds I could believe in. I've always loved Arthurian legends, which contained an element of magic and history and pageantry but were mostly about flawed people. I learned that narrative tension comes from the reader's relationship with the characters. If you care about the characters, you care what happens to them.
I also read David Eddings and Mercedes Lackey's fantasies. I loved nothing more than to discover a new series, a new world I could bury myself in.
J.K. Rowling ushered in a golden age of fantasy, and changed the rules for middle grade and young adult lit. I was writing The Warrior Heir at the time and coming up on 100,000 words. And I kept reading that YA books couldn't be more than 60,000 words long. And I knew I couldn't tell my story in 60,000 words.
And then JKR blew that convention out of the water with Harry Potter.
Even though The Gray Wolf Throne is my sixth novel, I'm constantly learning more about writing by reading other people's work.
My Seven Realms novels are set in a world I created for The Star-Marked Warder, an adult fantasy trilogy I began to write while looking for a publisher for The Warrior Heir. If this YA thing doesn't work out, I thought, maybe I'll write for adults. Sort of the opposite of what's happening now with many mainstream authors.
SMW owed a lot to George R.R. Martin. I'd read the first three books in his Song of Ice and Fire series back in the 90's. His world-building was terrific, but it wasn't the magical element that intrigued me — it was the people. All of his characters are layered, complex, and alive. Protagonists, antagonists — even the characters I hated had motivations, desires, and dreams — they were believable as people.
In fact, GRRM made me hate a character, and then turned around and made me love him. How did he do that? I grumbled. I want to do that, too.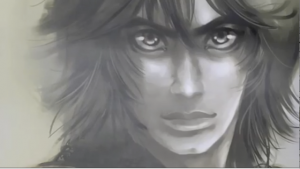 Han "Cuffs" Alister
It took three or four years to sell The Warrior Heir. By then, I had 500,000 words set in the Seven Realms — a medieval landscape with a conflicted, complicated history. I had characters I loved — even a map. I've never been to the Seven Realms, but it was built on my memories of visits to the Canadian Rockies, to Yellowstone, to New Zealand.
But I never finished SMW. When The Warrior Heir sold, I hustled back to YA fiction and wrote The Wizard Heir and The Dragon Heir.
After that, I knew I wanted to return to high fantasy, but keep writing for young adults – in a cinematic, pacy, accessible fashion. I don't mean dumbed down. I mean free of unnecessary gingerbread, hand-waving, and show-off prose. For a time I had a note taped to my screen, something my then-teenage son said about a fantasy novel he couldn't finish.
"One hundred pages, and all they did was go down the road."
The Seven Realms world was extremely vivid to me, because, well, I'd spent so much time in it. I thought – I have a world, a magical system, a history, and characters I love. So I took several characters in the SMW books back to when they were teenagers – Han Alister, Raisa ana'Marianna, Micah Bayar, and the rest.
I was bucking the trend to a degree. There was some teen high fantasy out there — Paolini's Inheritance series, T.A. Barron's Avalon series, Megan Whalen Turner's Queen's Thief series, and Tamora Pierce's novels. But paranormal and contemporary fantasy was getting most of the attention. My Heir Chronicles series is contemporary fantasy, so it took a bit of talking to persuade my publisher to take a chance on a high fantasy venture. But I wrote sixty pages, and I was in.
I was determined to create characters that would leap off the page. I wanted flawed, realistic protagonists who would grow and transform themselves in the course of a four-book series. As the story opens, Raisa ana'Marianna is sheltered, a bit spoiled, and fickle. Han Alister is a streetgang leader with a notorious past. I loved excavating the history that created the adults I knew they would grow up to be (some of them, anyway.)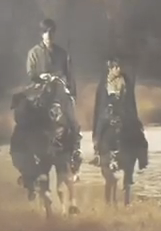 Han and Raisa from The Demon King
I was especially concerned about my antagonists. I'm not fond of monsters—or one-dimensional villains. I want layered, complex, antagonists who have goals, motives, and a history that explains who they are.
Micah Bayar, for example, does some terrible things. But at the end of the day, I want you to understand why he does them and maybe even sympathize with the demons he faces.
You'll have to let me know if I've succeeded.
The Gray Wolf Throne is the third book in the Seven Realms Tetralogy, and it goes on sale August 30, 2011. For more about writing, rants and raves, visit me at www.cindachima.blogspot.com or on my website at www.cindachima.com.
You can check out the official trailer for The Demon King below:
New York Times bestselling author Cinda Williams Chima grew up with talking animals and kick-butt Barbies. She began writing romance novels in junior high school. Her Heir Chronicles young adult contemporary fantasy series includes The Warrior Heir (2006), The Wizard Heir (2007), and The Dragon Heir (2008), all from Hyperion, with two more books forthcoming.
Chima's best-selling YA high fantasy Seven Realms series launched with The Demon King (2009), followed by The Exiled Queen (September, 2010) with The Gray Wolf Throne scheduled for fall, 2011. There are four books planned.
Chima's books have received starred reviews in Kirkus and VOYA, among others. They have been named Booksense and Indie Next picks, an International Reading Association Young Adult Choice, a New York Public Library Book for the Teen Age, to the Kirkus Best YA list, and the VOYA Editors' Choice, Best Science Fiction, Fantasy and Horror, and Perfect Tens lists.
Chima was a recipient of the 2008 Lit Award for Fiction from the Cleveland Lit and was named a Cleveland Magazine Interesting Person 2009. She has been active in the Society of Children's Book Writers and Illustrators (SCBWI) for more than five years. She lives in Ohio with her family, and is always working on her next novel.

Giveaway Details:
We have ONE FULL SET of the first three novels in the Seven Realms books up for grabs (The Demon King, The Exiled Queen & The Gray Wolf Throne)! The contest is open to addresses in the US and will run until Saturday, September 3 at 11:59 PM (PST). In order to enter, simply leave a comment here letting us know what YOUR favorite fantasy series is! Only one entry per person, please. Multiple entries will be disqualified. Good luck!