Even though we Smugglers were less than impressed with Beauty Queens (make sure to check out our review later today), that doesn't mean that you won't like it. Courtesy of Scholastic, This Is Teen, and Big Honcho Media, we are happy to present our official stop on the Beauty Queens giveaway bonanza.
The Book: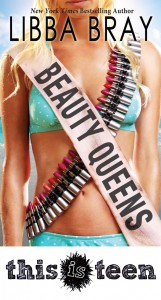 The fifty contestants in the Miss Teen Dream Pageant thought this was going to be a fun trip to the beach, where they could parade in their state-appropriate costumes and complete in front of the cameras. But sadly, their airplane had another idea, crashing on a desert island and leaving the survivors stranded with little food, little water, and practically no eye liner.

What's a beauty queen to do? Continue to practice for the talent portion of the program – or wrestle snakes to the ground? Get a perfect tan – or learn to run wild? And what should happen when the sexy pirates show up?

Welcome to the heart of non-exfoliated darkness. Your tour guide? None other than Libba Bray, the hilarious, sensational, Printz Award-winning author of A Great and Terrible Beauty and Going Bovine. The result is a novel that will make you laugh, make you think, and make you never see beauty the same way again.
Scholastic has launched a new online community called This Is Teen to connect readers with their favorite YA authors and books. Visit their page on Facebook for all the latest news on Libba Bray and her new book Beauty Queens: www.facebook.com/thisisteen.
This Is Teen "What Makes You A Beauty Queen" Contest:
Ladies and gentlemen, we want to know WHAT MAKES YOU A BEAUTY QUEEN? Being a Beauty Queen like the ones in Libba Bray's new novel means being true to yourself and who you want to be. Tell us in 500 words or less what makes you a Beauty Queen, and you could win a $250 Amex Gift Card to use toward whatever makes you feel most awesome. Or you could opt for a $250 gift card to Sephora. Whatever you choose, we will also send you a signed copy of the book and your very own tiara!
To enter go to www.thisisteen.com/Contest.htm
NO PURCHASE NECESSARY. Open to legal US residents ages 13 to 18. Deadline to enter 5pm EST on July 1, 2011. Void where prohibited. For complete details and official rules go to www.ThisIsTeen.com

THE GIVEAWAY:
We have ONE prize pack up for grabs, including a copy of Beauty Queens, a sweet fedora, shades, and sunscreen. The contest is open to residents of the US only, and will run until Saturday, June 25 at 11:59pm (PST). To enter, simply leave a comment here letting us know what one book you'd take with you on a desert island. Only ONE entry per person, please! Multiple comments will be disqualified. Good luck!