Author: Seanan McGuire
Genre: Urban Fantasy
Publisher: DAW
Publication date: March 1 2011
Paperback: 400 pages
With Blind Michael and his Hunt safely behind her, October "Toby" Daye is doing her best to settle back into a normal routine—or as normal of a routine as she can manage, with her personal Fetch now paying half the rent. Still, things seem to be mostly under control…until the events of a single night send everything reeling. Now, with the Queen of the Mists watching her back and the Lady of the Tea Gardens deathly ill, Toby has no choice but to get involved, no matter how much she wants to avoid it.

The trials ahead will be some of the worst faced by Toby and her strange band of allies, and not even Tybalt will be able to escape totally unscathed. What's worse, the Luidaeg is unavailable to help them. This time, they're on their own. And people keep making Toby wear dresses, which is just adding insult to dangerous injury…
Stand alone or series: 4th book in the ongoing Toby Daye series.
Book 1: Rosemary and Rue – reviewed HERE
Book 2: A Local Habitation – reviewed HERE
Book 3: An Artificial Night – reviewed HERE
How did I get the book: Bought
Why did I read the book: Because I absolutely, completely love this series and think it is probably one of the best UF series out there at the moment. Top notch UF, people.
Review:
The world probably still needed to be saved. The world almost always needs to be saved
October Day – Changeling, Private Investigator, Knight of Duke Sylvester's house – is back in this fourth book, with a vengeance. It starts mundanely enough, as Toby, her Fetch May (the two are now living together) and their friend Danny are grocery shopping. Their outing is interrupted by a messenger from the Queen of the Mists, requiring Toby's immediate presence. It turns out that the Queen grants Toby the title of Countess as well as the lands of Goldengreen, previously owned by her friend Evening Winterrose, a "present" that may well turn out to be something like a Trojan Horse given how much the Queen hates Toby. But before Toby can even recuperate from the shock, two of her best friends, Lily and Luna, fall ill. Seeing as how entities such as the duo are not supposed to get sick in such a manner, Toby suspects that something rotten is up, certain that her old enemy Oleander is involved and proceeds to investigate the matter.
After the stint into pure Fantasy territory with An Artificial Night, Late Eclipses brings the series back into UF lands as well as returning Toby to a more investigative role but with a difference: this time it is more personal than ever. Not only because the people targeted are her best friends and all clues suggest that the culprit is someone from the collective nightmares of all Fae but also because Toby is accused of the crimes and needs to prove her innocence. All with a little help from her friends in what becomes a non-stop, manic adventure.
Late Eclipses is another great entry in a consistently awesome series. Although we don't know exactly how many books will there be in the series (according to the author's website, there should be 10?), I got the feeling that this might be a half-way book. This is not a bad thing, quite the contrary. I felt that some things were answered and dealt with, whilst opening up new roads so that the series can progress.
But if I had to pick one word to describe the going-ons in the book, I would go with "identity". This is the book in which Toby firmly establishes herself in her role as Hero with all that it encompasses: determination, strength, boldness and an uncanny keenness for not thinking things through as well as self-sacrificing tendencies. She is in other words, completely and utterly fallible but that never prevents her from doing what needs to be done for her friends. And I love that the loyalty to her friends is central part of her identity but also how this loyalty is returned – some scenes in this book were positively awesome in that aspect. But that is not all: identify is also a good word because in this book, Toby learns that being "daughter of Amandine" might have more meaning that she ever expected. There is no sense of "finality" though – some things with regards to who she is are indeed set in stone but others are left wide open. Toby is thankfully, an always evolving character and I can't wait to see where she goes next…..
One last, tiny thing before I finish my thoughts on the book. (Avert your eyes right now, if you don't care about romance).
Although I can't really say that there is a heavy romantic element in this series, there is a nice undercurrent of l'amour that is sloooooooooowly progressing between Toby and Tybalt ( I am disregarding the whole thing with Connor because I am in sheer denial) and if you are a Tybalt-Toby fan, you better prepare yourself because their scenes in this book are both amazing AND frustrating. I am shipping these two so hard, it's not even funny. This is another aspect that makes this series so good: I am really invested in these characters and I care about what happens to all of them and wait anxiously for every single instalment. As a reader, there is nothing better than that.
Notable Quotes/Parts: One of the things I love about these books, is the humour. Although not really outright funny, Toby (and now May) can really bring the snark:
As far as I know, I'm the first person to live more than a month past the arrival of a Fetch – and I'm definitely the first person to ask their Fetch to move in.

May's store of borrowed memories includes my mind-numbing stint as a Safeway checkout girl. That's not a period of my life I like to dwell on, although the cynic in me insists in pointing out that fewer people were trying to kill me in those days. And yet, without all those attempts on my life, I wouldn't have needed a Fetch, and I'd have missed out on May's excellent vegetarian lasagna. There's a bright side to everything.

May pouted. Yet another expression never worn by my face until the universe decided to make a copy of it.

"You take the fun out of everything."

"That's me," I agreed. "Toby Daye, assassin of fun."
Additional Thoughts: Book 5, One Salt Sea, comes out later this year (September) and I can't wait, although I feel that the person she is dating (as per the blurb) is not the person I want her to be dating. *insert shifty eyes*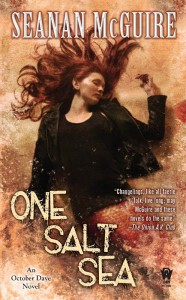 October "Toby" Daye is settling into her new role as Countess of Goldengreen. She's actually dating again, and she's taken on Quentin as her squire. So, of course, it's time for things to take a turn for the worse.

Someone has kidnapped the sons of the regent of the Undersea Duchy of Saltmist. To prevent a war between land and sea, Toby must find the missing boys and prove the Queen of the Mists was not behind their abduction. Toby's search will take her from the streets of San Francisco to the lands beneath the waves, and her deadline is firm: she must find the boys in three days' time, or all of the Mists will pay the price. But someone is determined to stop her — and whoever it is isn't playing by Oberon's Laws…
Rating: 8 – Excellent
Reading next: Mare's War by Tanita S. Davis
Buy the Book: