Welcome fellow mortals to the first official stop on Meg Cabot's Abandon Blog Tour! In celebration of the release of the first book in a brand new trilogy, we are thrilled to have the lovely Meg Cabot over to talk about her inspirations & influences for this dark, paranormal retelling of a classic Greek myth.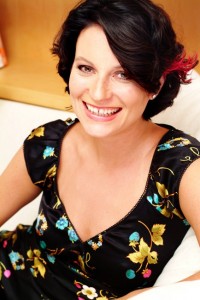 Please give a warm welcome to Meg Cabot!

One of the first things readers ask when they meet an author whose book they've loved is, "Where on earth did you get the idea for this book?"
The truth is, authors kind of hate this question, because sometimes they don't remember (one author I asked didn't even remember the book. Thanks, Author Who Shall Be Nameless).
But with my new book Abandon, the answer is easy. Abandon was partly inspired by the myth of Persephone, one of the only Greek myths where the heroine doesn't get turned into a tree, or an animal, or a flower . . . .
Instead, she ends up goddess of the dead, Queen of the Underworld!
I've always loved this myth because I didn't exactly feel like I fit in at school. I wasn't into sports and sometimes had problems paying attention in class. Because of that, I didn't always get the best of grades. I thought maybe I was in the wrong place . . . or the wrong millennia.
So when I stumbled across Edith Hamilton's book Mythology, and the myth of Persephone, and learned how her mom kept her away from Olympus, thinking it would "protect her"—with tragic results—something clicked. I couldn't get the story out of my mind. (In fact, I failed Algebra twice partly because I kept drawing scenes from the myth in my Algebra notebooks! You can see them on my photo album on the Abandon Facebook page.)
There was something incredibly compelling to me not only about Persephone's rise to Queen of the Underworld but about the love story between her and Hades . . . possibly because they were two people who both felt like outsiders, rejected by everyone else for being different. Hades was so in love with Persephone, he was even willing to allow the earth's entire population to starve rather than give her up.
As a teenager, I was always longing to find that one special person who would not only completely love and understand me for who I was, but come and take me away to a place where I would fit in and finally find my purpose in life.
The heroine of Abandon, Pierce, feels as if she doesn't fit in at her new school as well, mostly because, like Persephone, Pierce has been to the Underworld. Only no one will believe her. Everyone thinks she's crazy. Pierce is starting to think so, too.
Especially because someone she met while she was in the Underworld—a mysterious guy named John Hayden—doesn't seem to want to let her go now that she's back amongst the living. Pierce is drawn to him in a way she can't explain . . . and maybe can't even admit to herself.
Myths are traditional stories that were created to explain a natural or social phenomenon in the time before science. The myth of Persephone explains the origin of spring . . . but it's a story that's also shrouded in death. In Abandon, Pierce is a teenager torn between the challenges of being alive—dealing with being the "new freak in school," her parents' divorce drama, the mounting danger that seems to follow her everywhere she goes—and the idea that she can escape to the Underworld, this seemingly peaceful place, ruled by this incredibly mysterious, sexy guy.
Which will Pierce choose? You'll have to read Abandon to find out!

About the Book: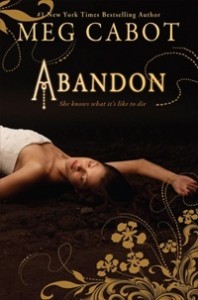 Seventeen-year-old Pierce Oliviera knows what happens to us when we die. That's how she met John Hayden, the mysterious stranger who's made returning to normal life—or at least life as Pierce knew it before the accident—next to impossible. Though she thought she escaped him—starting a new school in a whole new place—it turns out she was wrong. He finds her. What does John want from her? Pierce thinks she knows…just like she knows he's no guardian angel, and his dark world isn't exactly heaven. But she can't stay away from him, either, especially since he's always there when she least expects it, but exactly when she needs him most. But if she let's herself fall any further, she might find herself back in the place she fears most. And when Pierce discovers the shocking truth, that's exactly where John sweeps her: The Underworld.
Check out the official book trailer:
And you can find out more about Abandon and books like it over at Scholastic's new online community called This Is Teen, which connects readers with their favorite YA authors and books.

Visit their page on Facebook for all the latest news on Meg Cabot and her new book Abandon.

The Giveaway: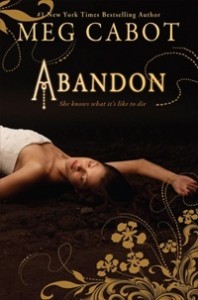 We have ONE copy of Abandon up for grabs for a lucky winner! The contest is open to addresses in the US and Canada only, and will run until Saturday April 30, 2011 at 11:59PM (PST). In order to enter, simply leave a comment here telling us what YOUR favorite myth (Greek or otherwise) is! Only one entry per person, please. Good luck!
Make sure to check out the next stop on the Abandon blog tour on Thursday, April 28 at Presenting Lenore!