Welcome to Smugglivus 2010: Day 13
Throughout this month, we will have daily guests – authors, bloggers and publishers alike – looking back at their favorite reads of 2010, and looking forward to events and upcoming books in 2011.
Who: Adele of Persnickety Snark, an Australia-based blog dedicated to all things YA: reviews, interviews and VERY interesting discussion posts.

Let's give a warm welcome to Adele!

It is a truth universally acknowledged that Australians kick arse and take names. Of course, the fact that I am a card carrying, flag waving proud Aussie might make me a tad biased. But in the case of Australian YA (OzYA) we really are plonking the kangaroo steak on a silver platter and serving it to you with a side of awesome.
My personal tastes run towards the contemporary titles in youth literature and here are my five picks for 2010 OzYA titles you need to get your bookworm-y hands on pronto.
Cath Crowley's Graffiti Moon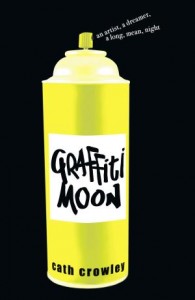 Mistaken identity, multiple perspectives, a pink combie van and a plethora of snarky conversations, broken noses and art all within one night traipsing around Melbourne, Australia. Lucy's on the hunt for the illusive graffiti artist, Shadow. Ed's on the precipice and not sure which direction to turn. Poet experience the evening in free verse – strange, true and wonderful. It is a remarkable collation of characters that intersect in one evening affecting change, seeking clarity and remaining true to the teenage ideal. It's a novel that explores artistry in many forms all through the lyrically poignant imagery crafted by Crowley. A truly remarkable novel that you must read.
Fiona Wood's Six Impossible Things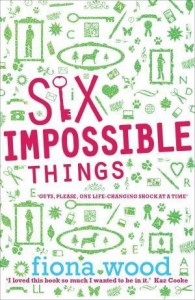 Dan's life has completely gone kaput – his parents separated, his dad's come out, they are broke and he has to change high schools. Wood has created what could have been a tale of woe into a story about a good kid navigating the choices made for him by others. A sensitive kid, Dan has also fallen hard for the girl next door and resorts to some stalker-lite measures to get to know her better. The mother/son dynamic isn't a relationship explored all the frequently in young adult literature and this book authentically depicts their interchanges with warmth, humour and exasperation. A strong debut with a quirky heart.
Melina Marchetta's The Piper's Son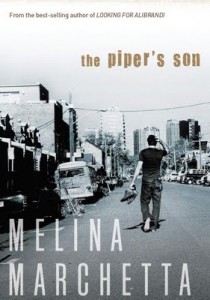 A self-confessed MM fangirl, The Piper's Son is departure for the author as it is duel perspective and a sequel. The loveable larrikin from Marchetta's sophomoric Saving Francesca is the protagonist in this tale and he shared the spotlight with his aunt Georgie. It has been five years since the death of Tom's uncle (and Georgie's brother) and the family is still grappling to deal with their grief. Yes, it sounds grim but it's anything but. It's about redemption and laughter, music and friendship. If that's not enough, characters from both Saving Francesca and Jellicoe Road rear their lovely heads. Another diverse turn for the nuanced and lyrical author.
Lucy Christopher's Stolen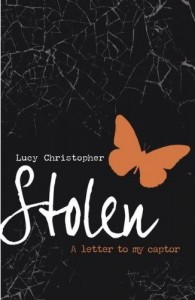 If a book were to ever breathe Australia, this would be the one. Every time I crack open the covers I expect the red dirt of the outback to trickle out and burrow its way into my fingernails. A truly astounding debut, Christopher craftily turns the antagonist (a kidnapper no less) into an empathetic being. How on earth does that happen? A way with words, a visceral style and a brave perspective, that's how. An uncomfortably shocking but impressive read.
Kathy Charles' John Belushi is Dead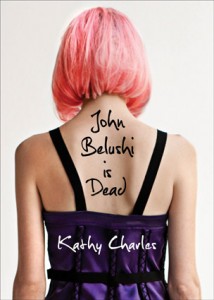 A pink haired death hag isn't the typical choice for a YA protagonist. I admit to not even knowing what a death hag was prior to read this delightfully seedy exploration of celebrity death, grief and unlikely friendships. The brilliance of this title is how unpredictably and unique it truly is. Hilda meets Hank, an elderly cantankerous old man while searching for death memorabilia (as you do) and a connection is made. If you like the rawness of Stephanie Kuehnert's work (shame on you if you don't know who she is) or just happen to be a death hag, this book is for you!
I will admit there was an excited shriek when the Smugglivus email request came, immediately followed by a freak out about what the heck I was going to write. It became clear that there was no better subject to write about than what is closest to my heart – the talented array of Australian YA authors who move me with their words. A big thank you to Ana and Thea for giving me the opportunity to share my love of OzYA (and slightly wacky sentence structure) with the wider blogging community, I appreciate it more than words can say.
Happy Smugglivus to you all, especially those of you whose interest I've piqued!

Happy Smugglivus to you Adele, and thank you for sharing these titles with us!