Welcome to Smugglivus 2010: Day 11
Throughout this month, we will have daily guests – authors, bloggers and publishers alike – looking back at their favorite reads of 2010, and looking forward to events and upcoming books in 2011.
FANGIRL ALERT!
Who: The amazingly, fantastically talented Megan Whalen Turner, author of The Queen's Thief series (first three books reviewed here, SPOILER FREE) which happens to be one of Ana's favorite books of ALL TIME. When the time to start inviting folks for Smugglivus came, Ana trembled but sent out an invitation and when MWT not only REPLIED but also said YES, Ana collapsed in a puddle of giddiness.
Recent Work: Book 4 in the series, A Conspiracy of Kings, reviewed HERE.
Ladies and gentlemen, please, all hail Megan Whalen Turner!

I spent today wondering why I said I would write a post for Smugglivus. Do you know how long it takes me to write anything? Okay, yes, you probably do. Fortunately, this doesn't require me to pick any new character names, because that can take years, but picking favorites is almost as hard. I didn't get to read that many books this year and they were a very odd batch even for me.
The book I was most excited to find? Inns of Greece and Rome. Yeah, no kidding. I don't think too many other people will be interested, but I love it.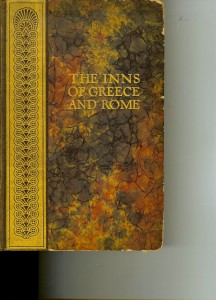 I found it one morning on the shelf at a used bookstore in San Diego. When I went back to get it in the afternoon it was GONE. Luckily, it had just been re-shelved by a staff person who had noticed that it was in the wrong section.
Readers may not be any more interested in Fanny Burney's Journals and Letters, but I'll pick it for a favorite anyway. M.T. Anderson evangelized for Burney in his Book Brahmin gig for Shelf Awareness and I owe him a thank you. I'll steal his words about Fanny, and just add that she was born the year after Jane Austen and survived her by ten years. If you'd like to see what a life like Jane Austen's looked like from the inside, read Fanny Burney's Journal.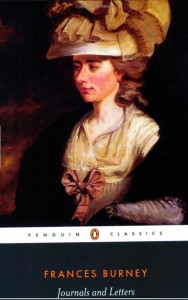 Fanny Burney's Journals and Letters, a deeply moving glimpse at a brilliant woman over 70 years. She begins her journal as a slip of girl. Secretly, without knowledge of her father, she becomes one of the country's leading novelists of wit. She is forced unwillingly to become a handmaid to the Queen of England . . . finally falls in love in middle-age . . . and on and on. She describes it all in a series of astounding portraits.
~ M.T. Anderson
I did read a few things written this century. Frances Hardinge's The Lost Conspiracy. Maggie Stievater's Ballad right after I finished her book, Lament. I like every book by Stievater better than the one I read before.
On the younger end of the spectrum, I read Kage Baker's book The Hotel Under the Sand with mixed sadness and delight. Baker died at the beginning of the year, and I can only wonder what children's stories will remain unwritten.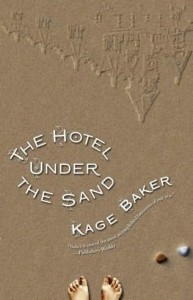 The Hotel Under the Sand is about a young girl named Emma, washed ashore on the Dunes after Great Tragedy who discovers the Wenlocke Hotel, many years earlier buried in a sandstorm and trapped in time. Diana Wynne Jones compared it to Alice and Oz, but it reminds me more of Half Magic, by Edward Eager. It would make a fabulous present for the ten or eleven year old reader in your life.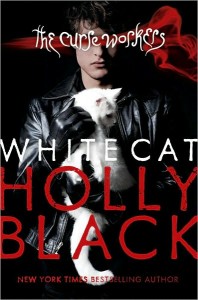 I had lunch at NCTE with Holly Black and Cindy Pon. Cindy bought me White Cat and it was perfect for this 45 year old. I am sure I don't need to tell you how wonderful Holly Black's books are. I think the reason I admire Holly so much is the integrity of her worldbuilding, for example, the way history of her invented "cursework" is carefully woven into our history.
And I know I am not the first to express my delight in Cindy's Asian inspired fantasy. I don't know what sources she drew on, but I know that her books remind me of Gulliver's Travels and Marco Polo's Marvels of the World and the voyages of Sinbad. Rather than any predictable quest, what Cindy's characters set out on are Voyages of Discovery and I love that..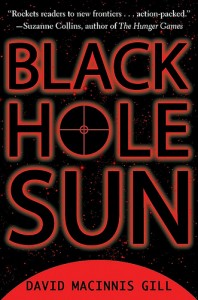 My last pick is Black Hole Sun by David Macinnis Gill and I have an ulterior motive. I discovered Andre Norton and Robert Heinlein in middle school and I loved their books. There doesn't seem to be much science fiction written explicitly for young adults, these days, and I want more. Near future dystopias are all very nice, I mean, they're fine, wait, no, I mean, I am glad there are many outstanding stories set in dystopias, but I want space ships and laser beams, please. Black Hole Sun has got plasma pistols and a fabulous complicated collection of cities on a partially terraformed Mars. It's got a main character who's a mercenary, only maybe not a mercenary, with a complicated set of ethics, and just enough of the Seven Samurai to make me really, really happy. I understand that Gill is working on a sequel. I'm hoping for space ships.
Happy Smugglivus!
May you Read in Peace and Prosperity
Megan

Thank you Megan! And a Happy Smugglivus!