Today we are pleased to host the first stop on Jennifer Donnelly's Revolution Blog Tour! As Thea loved Jennifer's earlier Printz Honor recipient novel, A Gathering Light (US Title: A Northern Light), we were thrilled to have the opportunity to host a stop on the UK release tour. First, here's a little bit about the book: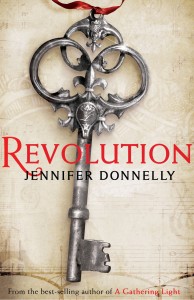 BROOKLYN: Andi Alpers is on the edge. She's angry at her father for leaving, angry at her mother for not being able to cope, and heartbroken by the loss of her younger brother, Truman. Rage and grief are destroying her. And she's about to be expelled from Brooklyn Heights' most prestigious private school when her father intervenes. Now Andi must accompany him to Paris for winter break.

PARIS: Alexandrine Paradis lived over two centuries ago. She dreamed of making her mark on the Paris stage, but a fateful encounter with a doomed prince of France cast her in a tragic role she didn't want—and couldn't escape.

Two girls, two centuries apart. One never knowing the other. But when Andi finds Alexandrine's diary, she recognizes something in her words and is moved to the point of obsession. There's comfort and distraction for Andi in the journal's antique pages—until, on a midnight journey through the catacombs of Paris, Alexandrine's words transcend paper and time, and the past becomes suddenly, terrifyingly present.

Jennifer Donnelly, author of the award-winning novel A Northern Light, artfully weaves two girls' stories into one unforgettable account of life, loss, and enduring love. Revolution spans centuries and vividly depicts the eternal struggles of the human heart.
Without further ado, please give a warm welcome to Jennifer Donnelly!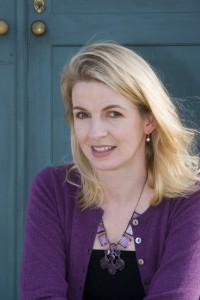 The Book Smugglers: Thank you for the taking the time to chat with us, Jennifer, and welcome to our blog! Your newest novel, Revolution, intertwines the life of a modern teen with a brave young spy and during the most perilous time of the French Revolution. How much and what type of research did you do for this novel?
Jennifer: I read miles of books. Huge surveys of the Revolution, like Simon Schama's Citizens and Thomas Carlyle's The French Revolution, plus many smaller, more specific histories of, for example, Paris itself in the 18th century, clothing of the period, puppets – the list goes on and on.
In addition to reading extensively, I visited Paris several times. I went to the Archives of the City of Paris. To the catacombs, which was a tough trip because I am claustrophobic, and because they are full of dead people. To the very moving Picpus cemetery, where I saw the original gate through which carts came carrying the headless bodies of victims of the Terror, and the mass graves where they were dumped. To tragically gorgeous Versailles. To the underground kitchens of the Poilane bakery. To the Basilica of St. Denis, where the heart of Louis Charles now rests.
I never take a break from researching. Sitting in a cafe, or in a garden, eating an apple tart on the banks of the Seine – it's all research. In the cafe, I listen to the voices and watch the faces and gestures of the people around me and absorb it all. In the courtyard of the Palais Royal, I squint my eyes and look for Orleans' ghost, or the ghosts of a gaggle of 18th century streetwalkers, an acrobat, a firebreather. Sitting by Seine, I listen to the sound of the water, and breathe in its smell, and imagine the clopping of horses' hooves over the bridge, and the creaking of the carriage springs and the flickering of street lamps.
The Book Smugglers: Your modern heroine, Andi Alpers, is anything but a sunny, happy teen; she grapples with depression, death, and familial tension throughout the book. What inspired you to write this character?
Jennifer: Teenagers themselves inspired Andi's character. I actually don't know that many sunny, happy teens. Adolescence is a tough and challenging time. Teenagers are leaving childhood behind forever and becoming adults and that's a huge, hard transistion. They are beginning to separate from their parents and are trying to define themselves on their own terms. Many of them are grappling with the pressures of schoolwork, and with social pressures. Some have even harder things to contend with – depression, addiction, family difficulties.
Andi has all the usual teenage stuff, plus she has suffered the loss of her younger brother, and his death has torn her family apart.
The Book Smugglers: While most of your novels, A Gathering Light included, are solidly in the historical fiction genre, Revolution, though rooted in history, has a bit of a fantastic twist. Why did you choose to make the switch from traditional historical fiction to fantasy/alternate history?
Jennifer: To the extent that the book is considered to have a fantastic twist, it's really a matter of interpretation on the part of the reader. There's an equally plausible non-fantasy explanation for what happens.
As for the use of different forms, my job is to tell a story, not to construct a book around a certain form. Any analysis of the form of the book is really an academic exercise. I simply work on the story until it feels right, and the forms fall where they may.
There's a fantastic quotation from Truman Capote that I have hanging on my wall. I looked at it often as I worked on Revolution:
Finding the right form for your story is simply to realize the most natural way of telling the story.

The test of whether or not a writer has divined the natural shape of his story is just this: After reading it, can you imagine it differently, or does it silence your imagination and seem to you absolute and final?

As an orange is final. As an orange is something nature has made just right.
The Book Smugglers: You've remarked that Revolution is the toughest novel you've written – can you elaborate as to what made the book so hard to write?
Jennifer: First and foremost, the subject matter. Louis Charles' story was – and is – emotionally wrenching, and I found it very hard to read what was done to him. And very hard to comprehend how the idealism of the French Revolution devolved into such cruelty.
Secondly, the structure of the story was challenging. Getting the balance right between Andi and Alex was tricky.
The Book Smugglers: Revolution makes many allusions to Dante's The Divine Comedy, with book divisions of "Hell," "Purgatory" and "Paradise." How did The Divine Comedy fit in your conception Revolution?
Jennifer: The Divine Comedy is one of my favorite poems. Dante is depressed, and on the verge of ending it all, and then along comes Virgil, the writer he most admires, and says, "Come on, Dante, man up. We're going on a road trip. We're going to get you out of this." I mean, imagine it…you're at your lowest point and the artist you most admire takes you by the hand and leads you through Hell, and when you come out, you can "rebehold the stars." Amazing. I wanted Andi – led into the underworld by her own Virgil – to travel on much the same journey. For better or worse, I went along with them; getting this book written was at times an emotionally crushing experience. But like Andi and Dante before her, when it was over, I could finally once again see the stars.
The Book Smugglers: A running, prevalent thread throughout Revolution is guitar music. Are you a guitar buff? Do you have any favorite songs and/or guitar artists?
Jennifer: I am not musical at all, but I do love music. Some favorite guitarists are Jonny Greenwood, Jimmy Page and Andres Segovia.
The Book Smugglers: As a writer of both adult and young adult fiction, do you find it difficult to write for these different audiences?
Jennifer: I find it difficult to write – period!
The Book Smugglers: Are you a reader of Young Adult fiction? Who are your favorite authors (of any age-audience) and/or most beloved books?
Jennifer: Yes, I am. I loved The Hunger Games trilogy by Suzanne Collins, Markus Zuzak's books. M.T. Anderson's Feed and Octavian Nothing. Meg Rosoff's How I Live Now.
Some favorite books include:
To Kill a Mockingbird, Harper Lee
The Passion, Jeannette Winterson
Ulysses, James Joyce
The Shining, Stephen King
Light in August, William Faulkner
A Woman of Substance, Barbara Taylor Bradford
Possession, A.S. Byatt
Oscar and Lucinda, Peter Carey
The Book Smugglers: We Book Smugglers are faced with constant threats and criticisms from our significant others concerning the sheer volume of books we purchase and read – hence, we have resorted to 'smuggling books' home to escape scrutinizing eyes. Have you ever had to smuggle books?
Jennifer: Have you seen my husband's wine cellar? The last book I bought was Jonathan Franzen's Freedom. It cost $28. That's a lot less than the three bottles of Bordeaux he thinks he sneaked down there last night. The man has no grounds for complaint.

Jennifer Donnelly lives near New York. Revolution, published by Bloomsbury in October 2010, is her second book for young adults. Her first book, A Gathering Light, won the Carnegie Medal and was one of the first Richard and Judy books.
You can read more about Jennifer on her website.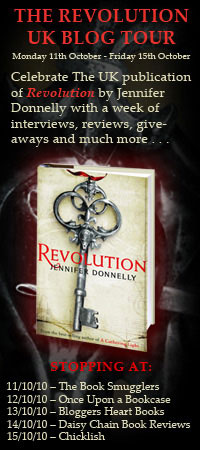 Also, the blog tour continues! Make sure you check out the next few stops on the tour to learn more about Jennifer and Revolution.
– Tuesday 12th October: Once Upon A Bookcase
– Wednesday 13th October:Bloggers Heart Books
– Thursday 14th October: Daisy Chain Book Reviews
– Friday 15th October: Chicklish
Thank you again to Jennifer for the interview!