Howdy, everyone! Today we review The Sevenfold Spell, the debut novella from Tia Nevitt, a fellow blogger (who runs the awesomely appropriate blog Debuts & Reviews).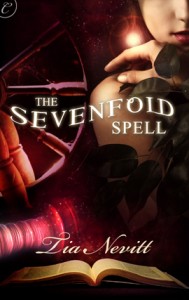 To promote The Sevenfold Spell, Tia is holding an honest to goodness pajama party. Why? Well, here's what Tia has to say:
Why a pajama party? Because I will only be available for commenting after business hours, and I thought I'd make the most of it. I hereby swear that I will be wearing a pair of pajamas when I comment. I will not, however, post pictures of myself in said pajamas.
So there you have it! First, we'll kick things off with Tia's blog post, followed by a review later today! Please give it up for the wonderful Tia Nevitt!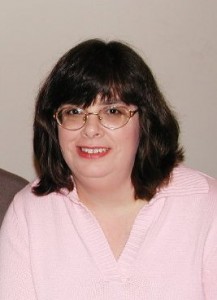 Thanks, Ana and Thea, for having me at your blog–it's a huge thrill for me to be here! For previous installments of this blog tour, and to read all the excerpts from The Sevenfold Spell in order, pop over to Jenny Schwartz's Acquiring Magic blog (you might have to scroll down) and hop along. Here is the complete schedule.
Here, I talk about a yummy subject–fairy tale princes. And I did my best to make my prince in The Sevenfold Spell–who I named Andrew–both yummy and pure.
I almost didn't include the prince in The Sevenfold Spell. His were the last scenes I wrote before I submitted it. Why did I exclude him? I didn't intentionally, he was just a remote figure who I didn't have a place for. However, as I was going over it that last time, I realized I needed a third man in Talia's life. And it didn't take a lot of thought for me to realize that it should be the prince. Thus was born Andrew. Since Aurora is supernaturally wonderful in my story, I knew I had to make Andrew that way as well. But I still wanted him to be engaging and totally not-stuffy. I hope I succeeded.
For fun, I thought I'd give my impression on the Disney princes. None of these really inspired Andrew, but perhaps all together, they collectively helped. Where names are unknown, I have defaulted to "Charming".
Charming I marries Snow White
This Charming has no speaking lines; he only sings. He is the most understated of the Disney princes, but when he bows his head before Snow White's glass coffin, it is somewhat touching. Luv the puffy sleeves.
Phillip marries Sleeping Beauty
Phillip is an action-oriented, engaging prince. However, he has only two scenes where you hear his voice: the forest scene and the scene with his father. The rest of the time, he is completely silent while the fairies do all the talking. Maybe the voice actor had another commitment.
Charming II marries Cinderella
Sorry for the blurry image. I had a devil of a time capturing this guy. He is another understated prince. At least Charming I gets to rescue his fair maiden with a kiss. This Charming does get some speaking lines. He also is rather dull and stays at home while the nameless Grand Duke goes out with the glass slipper in search of Cinderella. What was up with that?
Eric marries Ariel, the Little Mermaid
Eric is of the best of the Disney princes. Lines? Check. Action? Check. Rescues fair maiden? Check. This is the first movie where the prince equally shares the glory with the princess. He's also kinda hunky with some fair arms.
Charming III, AKA Beast marries Belle
This Charming isn't kinda hunky, he is hunky, with some impressive arms–and check out those pects! I think the artists wanted to give Belle someone who looked as good as Gaston, but without the conceit. Too bad Charming in this form gets only about 3 minutes of screen time. As the Beast, he has lines aplenty, and he fights for his fair maiden. However, the Disney writers didn't even bother to give the poor guy a name. Belle actually calls him "Beast." You would think–since she's so wonderful–she would have asked him for his name at some point.
Aladdin marries Jasmine
This is the first leading Disney dude who becomes a prince by marrying a princess. All the others already had royal lineage. I rank him right up there with Eric. Heís got lines, action and rescues galore. He even sings.
Naveen marries Tiana (The Princess and the Frog)
Naveen starts out a jerk. He totally deserves the frog gig. However, he redeems himself. He has an intriguing accent and fully shares the glory with Tiana. He's a musician, which is a plus in my eyes, and he can make a musical instrument out of a twig and a spider's web. He even learns to mince. As in chopping veggies, you know.
My final rankings:
Aladdin
Eric
Charming III/Beast
Naveen
Phillip
Charming I
Charming II
Tomorrow, I'll do a post on the unexpected benefits of writing novellas over at Rabia Gale's blog. For today's excerpt, here's the lead-up to my non-prince, Willard, the farmboy.
***
Mama purchased a fine loom. We were still struggling to learn how to weave a month later, when Widow Harla – her voice now restored – started visiting us.
Mama and Widow Harla had been bitter enemies while they both had their spinning wheels. The street where we lived – a dead-end nook called Tallow's End – was not really large enough to support the output of two spinsters. Now that they had a shared misfortune, they became bosom friends. Since the spell was heavy on their minds, they spoke of it often, and of the curse.
"I heard that one part of the spell could not be cast," Mama said, "because the seventh fairy had to weaken the evil fairyís curse with the sleeping spell."
"Yes, some people say she will be flawed because of it." Widow Harla's eyes were aglow with the possibility. "They say the magic doesnít work correctly unless all seven parts are cast as planned."
"I wonder what her flaw will be," Mama said. "Maybe sheíll have warts."
As if reminded of my own wart problem, Widow Harla looked over at me.
"It's too bad Talia is so plain," she said, as if I were not in the same room with them. "But that would be nothing if she had charm."
"It's true," Mama said with a sigh. "Men will forgive a lack of beauty if there is charm, for charm will always outlast beauty."
It was a familiar refrain but I still had hope, even if they did not. For every plain, dull girl, there is a plain, dull boy, and mine was Willard, the son of a farmer who lived just outside of town. He attended church in our parish and sold grain, fruits and vegetables at the local market. Thatís how we met.
***
Who is your favorite prince? I'd love to hear your choice! At the end of the day (just before I shut down for the night), I'll pick a random commenter for a free ecopy of The Sevenfold Spell.

Thank you, Tia! You heard the woman! Leave a comment here letting us know who your favorite prince is to win a copy of The Sevenfold Spell! The contest is open to all, and runs until midnight tonight (PST). Only one entry per person, please! Multiple entries will be automatically disqualified. Good luck!