The Black Prism is fantasy author Brent Weeks' new book (release date: tomorrow) and as part of their marketing campaign, publisher Orbit came up with an awesome idea:
Five blogs had the opportunity to send a few interview questions for Brent Weeks to answer…on camera! And if we may so ourselves, ours turned out to be a pretty groovy interview (Weeks answered a Smuggler-centric question and everything).
Check it out:
If that doesn't get you excited about The Black Prism (and convince you of Brent Weeks' general awesomeness), well, we don't know what will.
About The Book: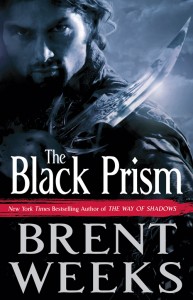 Gavin Guile is the Prism, the most powerful man in the world. He is high priest and emperor, a man whose power, wit, and charm are all that preserves a tenuous peace. But Prisms never last, and Guile knows exactly how long he has left to live: Five years to achieve five impossible goals.

But when Guile discovers he has a son, born in a far kingdom after the war that put him in power, he must decide how much he's willing to pay to protect a secret that could tear his world apart.
About The Author:
Brent Weeks was born and raised in Montana. After getting his paper keys from Hillsdale College, Brent had brief stints walking the earth like Caine from Kung Fu, tending bar, and corrupting the youth. (Not at the same time.) He started writing on bar napkins, then on lesson plans, then full time. Eventually, someone paid him for it. Brent lives in Oregon with his wife, Kristi. He doesn't own cats or wear a ponytail.
You can read about the author and his books on his website, www.brentweeks.com (yes, it's the groovy one).
In addition to providing more info about Brent Weeks, the website also includes Weeks' blog, an official forum, AND wicked cool details and extras for his books. There's an awesome quiz readers can take that ties into the Lightbringer Books – naturally, we couldn't help ourselves, so both of us took the What Color Is Your Magic Quiz…and we both got the same result (which is a little creepy, but makes perfect sense once you read the description):
We are orange magic drafters!
Take the quiz at Brent Weeks.com
You are an orange drafter
Orange luxin is slick, lubricative, and heavy. It is often used in conjunction with machines and traps. Oranges are often artists, brilliant in understanding other people's emotions and motivations. Some use this to defy or exceed expectations. Others become master manipulators.
The results from your color matching test have also shown that you are one of the elite, a superchromat. The magic you do will almost never fail. Satrapies will compete to recruit you, and you will have a wide latitude in what work you choose to do once you finish your studies. You can expect your patron to lavish praise and honors on you. As a monochrome, you will master your color, and only have to defer to bichromes and polychromes and, of course, the nobility and the satraps who support us all.
Magic in the Black Prism
When a candle burns, a physical substance (wax) is transformed into light. Chromaturgy in The Black Prism is the inverse: A drafter transforms light into a physical substance (luxin). Each different color of luxin has its own strength, weight, and even smell: blue luxin is hard, red is gooey, yellow is liquid, etc. But even as drafters change the world, the luxin changes them too, physically, mentally, and emotionally. The color change of a drafter's eyes is only the beginning…
We encourage everyone to take the quiz and let us know what your results are! And fret not – we will be reviewing The Black Prism very soon!
Thank you to Brent Weeks and Orbit for the wonderful opportunity!