"Inspirations and Influences" is a series of articles in which we invite authors to write guest posts talking about their…well, Inspirations and Influences. The cool thing is that the writers are given free reign so they can go wild and write about anything they want. It can be about their new book, series or about their career as a whole.
Today's guest is the esteemed Jonathan L. Howard, author of the delightfully comic and macabre Johannes Cabal books. Jonathan's books (Johannes Cabal The Necromancer and Johannes Cabal The Detective) chronicle the Faustian titled character, Johannes Cabal's adventures – dealings with Satan, running a honest-to-goodness carnival of souls, jumping across zeppelins and all other kinds of whatnot. Thea is a newly converted Cabalian (yes, that is what we are calling fans of the Jo-man), and when we received word that Jonathan would be willing to write us an I&I post, we were thrilled.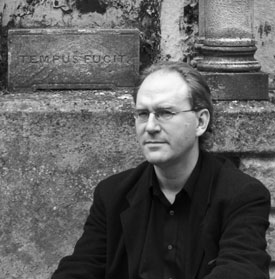 Ladies and gents, please give it up for the knowledgeable, Dr. Who-lovin' Jonathan L. Howard!

I Have a Cabinet of Curiosities. I Keep it Here… Right Between my Ears
By Jonathan L. Howard
I remember a great deal about my infancy, which is to say my life before I went to school. It astonishes me when people tell me that they cannot remember a thing before they were six or seven, when I can recall so much. I remember the late Victorian or Edwardian end of terrace house I was born in, and its long garden. It was demolished to make way for a bland pair of five storey blocks of flats, but the fact that there was room for two gives some idea of just how long that garden was. It ended with an earthen bank with some small trees and shrubs to mark the boundary. It was on that bank that I first managed to eat a whole ice lolly without dropping any. As I say, I remember a great deal about my infancy.
I remember the house, and I remember how quiet it was. My father was at work, my brother and sister at school, and my mother was busy around the place keeping it tidy, but I remember the quiet. I couldn't read, and the only books I remember were not mine. I'm not sure I even had any books. I remember the Children's Encyclopedia Britannica in twelve volumes plus index and two annual addenda for 1965 and 1966, assorted Ladybird books including one for science experiments, a larger book about technology (it was the 'sixties, the era of "the white heat of technology" when people were excited about science rather than celebrities), and a thick, battered copy of all the Grimm's Fairy Tales that I never remember having a cover. I couldn't read, but I could pore over the pictures in all of these; rockets and goblins, submarines and dragons, fractional distillation columns and lonely towers in the forest. They were all equally wonderful, all – as far as I knew – belonging to a single world.
I wanted to read. There is a photograph of me in the back garden, sitting on a sun lounger and studying the newspaper intently. It was taken without my knowledge, snapped surreptitiously by my mother, presumably because I looked so cute, sitting there, pretending to be daddy. The thing is, I remember that day, and I know I wasn't pretending to be anyone. I was trying to read by sheer force of will, staring at the words until they would give up their meaning. But they didn't. I had to wait until I went to school to learn how to perform that miracle. At least I wasn't lacking in motivation; I picked the skill up very quickly.
Television consisted of three channels, and none broadcast much during the day. At lunchtime the BBC transmitted "Watch with Mother," which I usually watched by myself. That's not to say anything against my mother; parenting then encouraged independence at a much earlier age than now, and anyway, just how many episodes of "Andy Pandy" can a woman reasonably be expected to sit through? Not that I was a fan of "Andy Pandy." I liked watching "Bill and Ben the Flowerpot Men," but I disliked "The Woodentops." Spotty Dog was forever hiding behind the fence, and it always took the other puppets forever to find him, despite the obvious forest of strings rising from behind the fence and up into the painted heavens. It was also the only place Spotty Dog ever hid, and the Woodentops' inability to remember that frustrated me greatly.
Years later I discovered that Bill and Ben were voiced by Peter Hawkins, who also voiced the Daleks and the Cybermen for "Doctor Who" in the 'sixties. Things like that make me happy.
Sometimes BBC2 would transmit "Trade Test Transmissions," just to have something to show during the day. It's unimaginable that the modern BBC, hedged around with regulations to prevent it showing anything that might be regarded as advertising, used to blithely transmit short films produced by major multinationals well into the '70s. They were interesting though, not least because they were often scientific. I learned how the stained glass windows for the Liverpool Metropolitan Cathedral (aka "Paddy's Wigwam") were manufactured. I learned about the safety protocols for storing inflammable spirit aboard tankers. I watched, fascinated, footage from the Brussels' World Fair of 1958, full of mechanical contrivances for a better world.
So, when I watched "Stingray" and "Thunderbirds" and "Doctor Who," it was difficult to say where fact stopped and fantasy started. It was all wonderful and so exciting, fairy tales and scientific romance mixing into one – rockets launching from Woomera and Tracy Island, the TSR-2 racing Fireball XL5.
But, alas, time passes. All too soon I grew up, and put such childish syntheses aside.
Bollocks I did.
When I am travelling by train, looking all moody and artistic as I watch the countryside go by, I am in all probability imagining giant robots stomping around the hill tops while Lovecraftian horrors mine up from the Earth's core. The North Sea under a stormy sky is a dramatic sight in itself, but at least part of me is watching Godzilla wading ashore beneath the lightning.
Somewhere, Rapunzel is dropping Flying Monkeys with her Barrett XM500 as they assault her tower. Somewhere, a blue goblin is comparing mobile 'phone specifications. Somewhere, Johannes Cabal, a necromancer of some little infamy, is… Oh, hold on. That's what I'm supposed to be writing at the moment.

Jonathan L. Howard is a game designer and scriptwriter who has worked in the computer games industry since the early nineties, notably co-scripting the first three Broken Sword adventure games. He lives near Bristol with his wife and daughter.
Thank you, Jonathan!
Now, for the giveaway…
The Giveaway: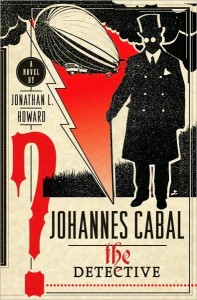 Courtesy of the publisher, Random House, we are giving away SIX copies of Johannes Cabal The Detective. The contest is open to ALL and will run until July 17 at 11:59 PM (PST). To enter, leave a comment here letting us know who your favorite necromancer or detective is. Only one entry per person please – duplicate or multiple comments (and we COUNT ISPs) will be automatically disqualified. Good luck!