Hey, hey, hey folks! It's time for another, really spiffy Flash Giveaway! This time, it's the luuuuuuuuurve edition.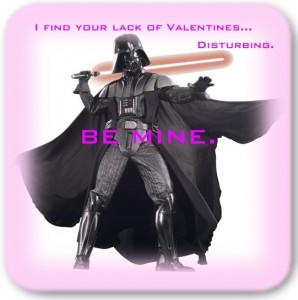 Today, we have a few prize packages up for grabs – three basic prize packages, and then ONE truly awesome Grand Prize!
In Batch 1: Historical Romance
This batch includes:
– Revenge Wears Rubies by Renee Bernard
– In Bed With the Duke by Christina Dodd
– Ladies Prefer Rogues anthology
– Promise Me Tonight by Sara Lindsey
– Most Eagerly Yours by Allison Chase
– The Irish Duke by Virginia Henley
In Batch 2: Contemporary Romance
This batch includes:
– Knock Me for a Loop by Heidi Betts
– Some Like it Kilted by Allie Mackay
– Mad, Bad and Blonde by Cathie Linz
– Divorced, Desperate and Decieved by Christie Craig
– Blonde with a Wand by Vicki Lewis Thompson
– Chick with a Charm by Vicki Lewis Thompson
– Johnny Be Good by Paige Toon
In Batch 3: Paranormal Romance
This batch includes:
– Warrior Ascended by Addison Fox
– Succubi Like it Hot by Jill Myles
– Naked Dragon by Annette Blair
– Dark Desires After Dusk by Kresley Cole
– Atlantis Redeemed by Alyssa Day
– Time for Eternity by Susan Squires
AND THE GRAND PRIZE:
As part of the marketing push behind the thirtieth book in J.D. Robb (aka Nora Roberts)'s "In Death" series, the good folks at Penguin have put together a truly AWESOME promotional package for the release of Fantasy In Death.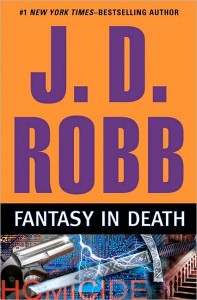 Bart Minnock, founder of the computer-gaming giant U-Play, enters his private playroom, and eagerly can't wait to lose himself in an imaginary world, to play the role of a sword-wielding warrior king, in his company's latest top-secret project, Fantastical.

The next morning, he is found in the same locked room, in a pool of blood, his head separated from his body. It is the most puzzling case Eve Dallas has ever faced, and it is not a game. . . .

NYPSD Lieutenant Eve Dallas is having as much trouble figuring out how Bart Minnock was murdered as who did the murdering. The victim's girlfriend seems sincerely grief-stricken, and his quirky-but-brilliant partners at U-Play appear equally shocked. No one seemed to have a prob lem with the enthusiastic, high-spirited millionaire. Of course, success can attract jealousy, and gaming, like any business, has its fierce rivalries and dirty tricks-as Eve's husband, Roarke, one of U- Play's competitors, knows well. But Minnock was not naive, and quite capable of fighting back in the real world as well as the virtual one.

Eve and her team are about to enter the next level of police work, in a world where fantasy is the ultimate seduction-and the price of defeat is death. . . .
You may or may not have seen others (such as KB of Babbling About Books, and More! and the folks over at Dear Author) that have been posting about these wicked cool packages – and, with full permission from the publicity group at Penguin, we've decided to give put our own package up for grabs.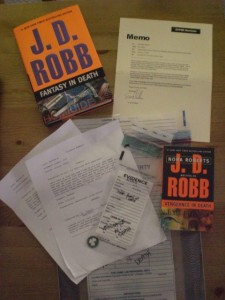 As the Grand Prize in our Valentine's Day Giveaway, we are offering up a copy of Fantasy In Death and the wicked cool Evidence Bag that contains Vengeance in Death, a departmental memo from Eve, and a little token of evidence from the Vengeance in Death case.
You can find more about Fantasy In Death and all of the great evidence bags put together by the publisher at the official In Death website, HERE.
THE RULES:
In order to enter the contest, we have a few simple rules.
RULE THE FIRST:
To enter the competition, you must leave a comment after this post, letting us know in order of preference which of the three prize packages you want (for example: 1. Historical Romance; 2. Paranormal Romance; 3. Contemporary Romance).
RULE THE SECOND:
If you want to enter yourself in the GRAND PRIZE drawing (for Fantasy in Death and the Evidence Bag containing goodies and Vengeance in Death), in your comment make sure to tell us which In Death book is your favorite! (If you do not wish to be considered in the giveaway for the other prize packages, make sure to state that in your comment too) If you do not say which In Death book is your favorite, you will NOT be eligible to win the Grand Prize.
RULE THE THIRD:
And this is an important one! ONLY ONE COMMENT PER PERSON. Any duplicate comments, clarification comments, multiple comments will be automatically disqualified.
RULE THE FOURTH:
The competition is open to residents of the United States and Canada ONLY.
Those are the rules! Make sure you adhere to them, or you might lose your chance at a truly awesome giveaway. The contest will run until Saturday February 13th at 11:59PM. Good luck!
And Happy Valentine's Day everyone!