We have a few winners to announce (and we apologise for the delay) so here it goes:
Giveaway winners
The winner of one copy of Nancy's Theory of Style by Grace Coopersmith is: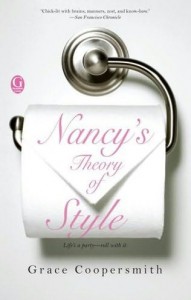 Dawn (comment #7)
The winners of TEN AUTOGRAPHED copies of both Spider's Bite and Web of Lies are:
Elie N (comment #15)
Lashawn J. (comment #93)
csaket (comment #111)
Teresa W (comment #25)
heatwave16 (comment #107)
Christine H (comment #44)
joder (comment #47)
sarac (comment #108)
celia (comment #36)
Tynga (comment #21)
And….*drum roll* The winners of the Motherload of Giveaways (holy crap y'all, 318 entries! Thank you!) are:
Batch 1:: (Dead Tossed Waves, Lonely Werewolf Girl, Horns, The Mage in Black, First Lord's Fury)
Marie (comment #100)
Batch 2:: (The Iron Hunt, A Breath of Magic, Lover Mine, Moon Sworn, Bad Moon Rising)
chey (comment #139)
Batch 3:: (The Gathering Storm, Shadowrise, The Ambassador's Mission, Tome of the Undergates, The King of the Crags)
Alex B (comment #230)
You all know the drill. Email us (contact AT thebooksmugglers DOT com) with your snail mail address and we will get your winnings out to you as soon as possible. NOTE: due to the increasing number of unclaimed prizes, winners have one week to contact us/reply to our email. After one week, we pick a new winner. Thanks again to everyone that entered, and congratulations to all of the winners!