Today we bring you another very special author spotlight on The Book Smugglers – this time with the delightful paranormal romance/urban fantasy author Lori Devoti!
Lori is the author of the Amazons series starring two different honest to goodness Amazons…in a modern day setting. The series so far has two titles to its name: Amazon Ink and Amazon Queen.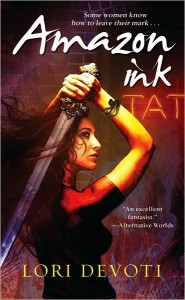 Meet Mel: Business owner. Dedicated mom. Natural-born Amazon.

It's been ten years since Melanippe Saka left the Amazon tribe in order to create a normal life for her daughter, Harmony. True, running a tattoo parlor in Madison, Wisconsin, while living with your Amazon warrior mother and priestess grandmother is not everyone's idea of normal, but Mel thinks she's succeeded at blending in as human.

Turns out she's wrong. Someone knows all about her, someone who's targeting young Amazon girls, and no way is Mel going to let Harmony become tangled in this deadly web. With her mother love in overdrive, Ms. Melanippe Saka is quite a force…even when she's facing a barrage of distractions — including a persistent detective whose interest in Mel goes beyond professional, a sexy tattoo artist with secrets of his own, and a seriously angry Amazon queen who views Mel as a prime suspect. To find answers, Mel will have to do the one thing she swore she'd never do: embrace her powers and admit that you can take the girl out of the tribe…but you can't take the tribe out of the girl.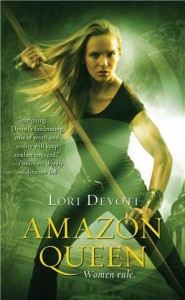 Being an Amazon ruler just became a royal pain.

Amazon queen Zery Kostovska has never questioned tribe traditions. After all, these rules have kept the tribe strong for millennia and enabled them to live undetected, even in modern-day America. Zery is tough, fair, commanding—the perfect Amazon leader.At least, she was. A new high priestess with a penchant for secrecy and technology is threatening Zery's rule. Plus, with the discovery of the Amazon sons, males with the same skills as their female counterparts, even Zery can't deny that the tribe must change. But how? Some want to cooperate with the sons. Others believe brutal new leadership is needed—and are willing to kill to make it happen.

Once, Zery's word was law. Now, she has no idea who to trust, especially with one powerful Amazon son making her question all her instincts. For Zery, tribe comes first, but the battle drawing near is unlike any she's faced before . . . and losing might cost her both the tribe and her life.

To celebrate her new release, Amazon Queen, we are having the wonderful Lori Devoti over for an interactive Q&A and a chance to win her books! We have TEN copies of Amazon Queen up for grabs. Entry is easy and simple, per usual – just leave a comment here asking Lori a question (about her series, her writing process, secret Wonder Woman obsessions, etc). The contest is open to all, and will run until Saturday, April 17th at 11:59PM (PST). Good luck, and let the questions begin.
Please and give it up for Lori Devoti!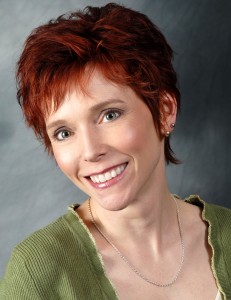 Hi, everyone! I'm excited to be here and ready to answer any questions you may have. My Amazon series (Amazon Ink, 2009 and Amazon Queen, coming April 27th) is near and dear to my heart, but don't think you have to keep your questions to them. I can talk writing, reality TV, books, kids and dogs until your ears bleed. I'm also in the middle of a kitchen remodel, the third we've done ourselves, and can whine with the best of them about the necessity of exercising after 40. Hit me!
Lori Devoti grew up in southern Missouri and attended the University of Missouri-Columbia where she earned a Bachelor of Journalism. The author of two contemporary romances and half-a-dozen paranormal romances, Lori made her fantasy debut last year with AMAZON INK.
You can read more about Lori online at her website and her blog.