Title: NUM8ERS
Author: Rachel Ward
Genre: Speculative Fiction, Young Adult
Publisher: Chicken House/Scholastic (US & UK)
Publication Date: January 2009 (UK) / February 2010 (US)
Hardcover: 336 pages (US)
Ever since she was child, Jem has kept a secret: Whenever she meets someone new, no matter who, as soon as she looks into their eyes, a number pops into her head. That number is a date: the date they will die. Burdened with such awful awareness, Jem avoids relationships. Until she meets Spider, another outsider, and takes a chance. The two plan a trip to the city. But while waiting to ride the Eye ferris wheel, Jem is terrified to see that all the other tourists in line flash the same number. Today's number. Today's date. Terrorists are going to attack London. Jem's world is about to explode!
Stand alone or series: Stand alone novel
How did I read this book: Review Copy from the publisher
Why did I read this book: The cover completely caught my eye, and despite the immense cheesiness of the blurb, I was hooked by the premise of the book. Plus, I really loved the last Chicken House title I read (the supremely excellent Raiders' Ransom by Emily Diamant), and Numbers was a similar competition-winning novella that was turned into a book. I'm a sucker for this kind of thing.
Review:
NUM8ERS is Rachel Ward's debut novel about a young girl named Jem, and a unique ability. When Jem looks into peoples' eyes, she can see their number; that is, Jem can see the date of any person's death. It's a realization that Jem has made when she was seven after discovering her own mother dead of a heroin overdose. Now, at fifteen years old, Jem has been shuffled to different foster homes, labeled as a problem child for her taciturn behavior and disinterest in school and lack of direction. After cutting class from her latest school, she comes across one of her peers – a lanky, exuberant boy named Spider. And Jem notices immediately that Spider only has a few short weeks left to live. Against her instincts and her own strict rules, Jem begins to spend time with Spider, and the two become friends quickly, bonding in their shared differences. One afternoon on an attempt to impress Jem, Spider takes her on a trip to the London Eye – but Jem soon notices something bizarre and unsettling; everyone at the Eye has the same death date. Freaked out, she drags Spider running from the site, only to see the Eye get blown up a few minutes later. The police hear reports of the two teens fleeing the scene before the blast, and a nationwide search is on for them – and both Jem and Spider fear that they will be thrown into prison forever as scapegoats for the terrorist attack. Both of them know that no one could possibly believe that a screw-up foster kid and stereotyped black, drug dealing teen could have predicted the impossible. Together, Jem and Spider make their way across the English countryside, sleeping in the cold and avoiding towns at all costs. But as the authorities close in on them – and with Spider's own death date looming – Jem must face a harsh reality.
NUM8ERS is author Rachel Ward's first novel, which made it to publication after catching the eye of a Chicken House editor at the Frome Festival. And, as a debut novel, NUM8ERS has a lot of good to recommend it, but is not without its unevenness and weaknesses. The strongest thing about Ms. Ward's debut is in the strength of her characters. As a character study, NUM8ERS soars. I absolutely freaking *loved* how the characters were DIFFERENT from the suburbanite white kids one always reads about in YA novels. Jem is screwed up. Like, really screwed up in the head. But it's incredibly believable, and compelling. If you saw your mother overdose on heroin and were shipped around from home to home, and could see the impending deaths of everyone around you once you made eye contact with them, you'd be screwed up too. Jem's not likeable, nor is she "cute" or perky or smart or anything like that – she's simply Jem. Quiet, sullen, overwhelmingly (yet understandably) negative Jem. And, in spite of her curmudgeonly exterior and at times vitriolic thoughts, she's an eminently relatable, genuine character. A lot of the time, mainstream YA novels tend to stick with characterizations that safely fall around the same median – though there are variations, most heroines fall under the "safe and normal" category, i.e. pretty white girl, decent home life (besides the odd misunderstanding with family members/daddy or mommy issues), smart in school (or talented in some related arena), etc. Jem and her friend and love interest Spider (who is black, lanky, stinky, energetic and contagiously exuberant) are so real and different. They aren't cliched – there's no "outsiders with hearts of gold beneath jagged exterior" blandness here. Both characters have their own issues, and I loved that Ms. Ward doesn't attempt to romanticize or idealize them in any way. They simply…are. The relationship between these two "misfits" is very distinct from anything I've read on the YA market at present; refreshingly so. Take for example this exchange in the classroom between Jem, Spider, and her teacher:
We put our things in our bags or stuffed them into pockets, and waited for the standard bollocking: "Unacceptable behavior…Letting yourselves down…Lack of respect…" But it didn't happen.

Instead, he waked up and down between the desks, stopping and saying something to each of us before going on to the next one. "Unemployed." "Checkout girl." "Garbageman." When he got to me, he didn't even pause. "Cleaning lady," he said and carried on walking. He worked his way back to the front, turned and faced us. "OK, how did that make you feel?"

We stared at our desks or out the window. It had made us feel exactly how he wanted us to feel. Like shit. We all knew what sort of futures were waiting for us after school, didn't need a puffed-up little tit like him to remind us.

Then Spider blurted out, "I feel fine, sir. It's just your opinion, isn't it? It don't mean shit. I can do anything I want, can't I? […] Five years' time, I'm gonna be cruising the streets in my black BMW, got some vibes on the sound system, got money in my pocket." The other boys jeered.

McNulty looked at him witheringly. "And how, Dawson, are you going to do that?"

"Bit of this, bit of that, sir. Buying and selling."

McNulty's face changed. "Theft, Dawson? Drug dealing?" he said coldly. He shook his head. "I'm almost speechless, Dawson. Breaking the law, peddling in misery. Is that all you can aspire to?"

"It's the only way any of us are going to get any cash, man. What do you drive, sir? That little red Astra in the parking lot? Teaching? Working for twenty years? I'm tellin' you, I ain't driving no Astra."

"Sit down on your chair, Dawson, and shut up. Someone else, please. Jem, what about you?"

How could I possibly know what was going to happen to me? I didn't even know where I was going to be living in a year's time. Why was this man torturing us, making us squirm like this? I took a deep breath and said, as sweet as I could manage, "Me, sir? I know what I want."

"Oh, good. Carry on."

I made myself look him right in the eye. 12252023. How old was he now? Forty-eight? Forty-nine? He'd go just around the time he retired, then. On Christmas Day, too. Life's cruel, isn't it? Christmas spoiled for his family for the rest of their lives. Serve him right, the cruel bastard.

"Sir," I said, "I want to be exactly…like…you."

He brightened for a second, a half smile forming, then realized I was taking the mick. His face shut down, and he shook his head.
Jem's voice as a narrator, and Spider's too, are the strongest parts of this book. Also, stylistically, I loved that Jem would "break the fourth wall" – that is, directly address the reader.
But characters aside, on the plotting side, things were unfortunately weaker. The main conflict in the story, revolving around Spider and Jem's fleeing from the police and taking refuge wherever they can makes NUM8ERS a thriller and a love story. While both of these genre elements are well written, it also meant there was little time (actually, no time) to explore the actually SF elements of the story. While I loved the premise and concept of seeing someone's deathdate (which totally reminds me of Shinigami eyes from the epic Death Note manga. I love Death Note. Seriously.), NUM8ERS felt significantly lacking in the development of Jem's particular "gift." In contrast to another debut YA novelist, Jen Nadol, Ms. Ward does not explore the more interesting, philosophical implications of Jem's capability – whereas in The Mark, Cassie's ability to see a person's impending death is explored to varying degrees (can you change someone's death date, the ages-old question of fate versus free will, etc).
And, most egregiously, the ending of NUM8ERS was melodramatic, rushed, and contrived. Not a fan. BUT, that said, NUM8ERS has enough to recommend it, based on its characters alone. Ms. Ward has a forthcoming sequel next year, and I'm hoping that it will improve on the regretful low-note the first book left me with.
Notable Quotes/Parts: You can read the first chapter of NUM8ERS online via its Scholastic website HERE.
Additional Thoughts: Make sure to check out the official NUM8ERS website HERE. Also, you can see the book trailer below:
Rating: 7 – Very Good. In spite of its disappointing ending and lack of SF development, NUM8ERS has a lot going for it, especially if you're looking for well-rounded characters outside the norm.

THE GIVEAWAY: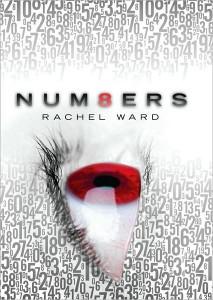 As promised, we have a giveaway! Up for grabs we have one GRAND PRIZE and two RUNNER-UP prizes!
Grand Prize: Dual Alarm Clock Radio for iPhone and iPod, and NUM8ERS book
Two Runner-up Winners: NUM8ERS book
The contest is open to addresses in the U.S. ONLY, and will run until Saturday, March 20th at 11:59 PM (PST). To enter, simply leave a comment here. Only ONE comment per person! Multiple entries will be automatically disqualified. Good luck!