Howdy folks, and Happy Monday! Today we bring you a very special author spotlight on The Book Smugglers – none other than the uber-talented Jeri Smith-Ready.
Jeri is the author of traditional fantasy (the Aspect of the Crow trilogy), young adult (upcoming title Shade), and urban fantasy – and her WVMP Radio series, Wicked Game and Bad to the Bone, are some of the most awesome, memorable vampire Urban Fantasy books out there. Check them out: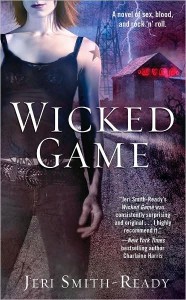 Late-night radio you can sink your teeth into

Recovering con artist Ciara Griffin is trying to live the straight life, even if it means finding a (shudder!) real job. She takes an internship at a local radio station, whose late-night time-warp format features 1940s blues, 60s psychedelia, 80s Goth, and more, all with an uncannily authentic flair. Ciara soon discovers how the DJs maintain their cred: they're vampires, stuck forever in the eras in which they were turned.

Ciara's first instinct, as always, is to cut and run. But communications giant Skywave wants to buy WMMP and turn it into just another hit-playing clone. Without the station—and the link it provides to their original Life Times—the vampires would "fade," becoming little more than mindless ghosts of the past. Suddenly a routine corporate takeover becomes a matter of life and un-death.

To boost ratings and save the lives of her strange new friends, Ciara re-brands the station as "WVMP, the Lifeblood of Rock 'n' Roll." In the ultimate con, she hides the DJs' vampire nature in plain sight, disguising the bloody truth as a marketing gimmick. WVMP becomes the hottest thing around—next to Ciara's complicated affair with grunge vamp Shane McAllister. But the "gimmick" enrages a posse of ancient and powerful vampires who aren't so eager to be brought into the light. Soon the stakes are higher—and the perils graver—than any con game Ciara's ever played…
Excerpt online HERE.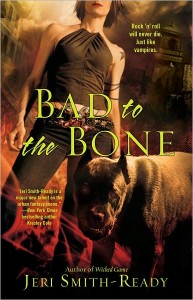 TURN ON. TUNE IN. DROP DEAD.

Welcome to WVMP, "The Lifeblood of Rock 'n' Roll," where conartist-turned-station-owner Ciara Griffin manages an on-air staffof off-the-wall DJs—including new boyfriend Shane McAllister—who really sink their teeth into the music of their "Life Time" (theera in which they became vampires). Ciara keeps the undeadrocking, the ratings rolling, and the fan base alive—withoutmissing a beat.

For Halloween, WVMP is throwing a bash. With cool tunes, hotcostumes, killer cocktails—what could go wrong? To start, areligious firebrand ranting against the evils of the occultpreempts the station's midnight broadcast. Then, when Ciaratracks down the transmission, the broadcast tower is guarded bywhat appears to be . . . a canine vampire? Behind it all is a groupof self-righteous radicals who think vampires suck (and arewilling to stake their lives on it). Ciara must protect the stationwhile struggling with her own complicated relationship, her bestfriend's romance with a fledgling vampire, and the nature of hermysterious anti-holy powers. To make it to New Year's in one piece,she'll need to learn a few new tricks. . . .
Excerpt online HERE.
Totally awesome music of WVMP Radio online HERE.

In celebration of the mass market paperback release of Bad to the Bone, we're having an awesome interactive Q&A opportunity with the esteemed Jeri Smith-Ready! Here's how it works: Jeri will be popping in all day long to answer YOUR burning questions about her WVMP Radio books. But wait, it gets even cooler – courtesy of publisher Simon & Schuster, we've got TWO sets of WVMP Radio books up for grabs (Wicked Game and Bad to the Bone). Entry is easy and simple – just leave a comment here asking Jeri a question (about her UF series, her writing process, her favorite authors, music, tv shows, etc). The contest is open to all, and will run until Saturday, February 27th at 11:59PM (PST). Good luck, and let the questions begin.
We give the floor up to Jeri Smith-Ready!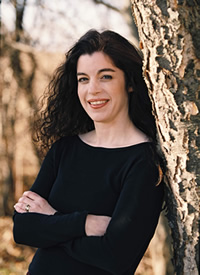 Hey, thanks so much for having me as a guest on The Book Smugglers! I write the WVMP RADIO vampire series and the upcoming SHADE ghost series for teens. I love answering readers' questions, so ask me anything. (Yes, anything. If I don't know the answer, I'll make something up–it's what I do. 😉 For example, where I got the idea for vampire DJs, what it's like to write for both adults and teens, and what I do in my nearly nonexistent spare time (right now I'm mesmerized by Olympic curling). You can even ask my characters questions, though Shane and Regina tend to keep nighttime hours. As Pat Benatar once said, hit me with your best shot!
Award-winning author Jeri Smith-Ready lives in Maryland with her husband, two cats, and the world's goofiest greyhound.
Jeri's plans to save the earth were ruined when she realized she was more of a "problem maker" than a problem solver. To stay out of trouble, she keeps her Drama Drive strictly fictional. Her friends and family appreciate that.
When not writing, Jeri she can usually be found—well, thinking about writing, or on Twitter. Like her characters, she loves music, movies, and staying up very, very late.
You can read more about Jeri online at her website, and at her blog.