Last week we were left somewhat numbed and shocked by the unexpected news that Spider-Man 4 is no more, after both Sam Raimi and Tobey Maguire left the movie and that the franchise is going to be re-booted! *gasp* *shock* *hyperventilation*. Ok, so what that Spidey 3 sucked huge donkey balls? Tobey Maguire IS Spider Man/Peter Parker and we feel not a little bit sad that he will won't be playing the superhero anymore.
SO, what better way to cheer ourselves up than to have a look at other Comic Book Superheroes/Heroes/Villains/Others that will be making their transition into the big screen this year?
Kick-Ass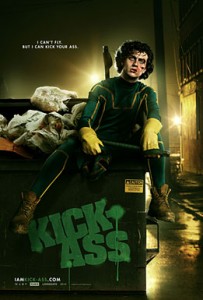 Based on the comic book Kick-Ass by Mark Millar and John Romita, Jr about a teenage boy named Dave Lizewski (Aaron Johnson) who decides to become a (powerless) super-hero . The movie co-stars Nicholas Cage as a hilarious vigilante called Big Daddy and all trailers so far have been awesome. Premieres April 16th.
Jonah-Hex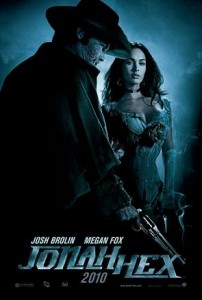 Based on a DC Comics. Ok, so this one stars Josh Brolin and John Malkovich AND it is a Western about a horribly scarred, Civil War Veteran turned bounty hunter trying to stop an evil dude from raising an army of undead Confederates using voodoo. We are SO there. EVEN with Megan Fox as part of the cast. Premieres in June.
The Losers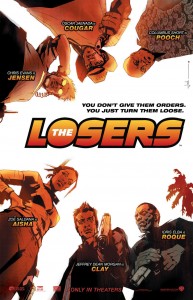 Based on a Vertigo series which ran for 32 issues from 2003 to 2006, The Losers tells the story of a CIA Special Forces Team who were betrayed by their leader, left for dead and now set for revenge. The movie stars Jeffrey Dean Morgan, Chris Evans and Zoe Saldana. We are intrigued. Tentatively scheduled for June.
Scott Pilgrim Vs. The World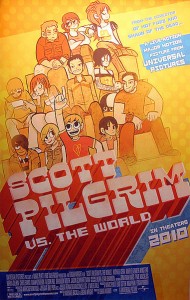 Based on the comic Scott Pilgrim it stars Michael Cera as a bass guitarrist who must fight the seven EVIL exes of his new girlfriend who is named, wait for it, Ramona Flowers. From the official website:
Scott Pilgrim has never had a problem getting a girlfriend. It's getting rid of them that proves difficult. From the girl who kicked his heart's ass — and now is back in town — to the teenage distraction he's trying to shake when Ramona rollerblades into his world, love hasn't been easy. He soon discovers, however, his new crush has the most unusual baggage of all: a nefarious league of exes control her love life and will do whatever it takes to eliminate him as a suitor.

As Scott gets closer to Ramona, he must face an increasingly vicious rogues' gallery from her past, from infamous skateboarders to vegan rock stars and fearsomely identical twins. And if he hopes to win his true love, he must vanquish them all before it really is game over.
And finally, not really a newbie, but we had to include it:
Iron Man 2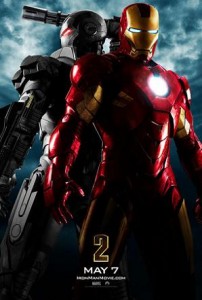 We both loved the first movie and can't wait for this sophomore effort. Not only does Robert Downey, Jr returns as Tony Stark but Don Cheadle plays what appears to be an awesome War Machine as teased in the trailer:
And hey Michey Roarke as Whiplash doesn't look too shabby either!
May 2010 can not come soon enough!