Hello! We leave week one of Smugglivus behind and prepare ourselves for week two with loads more of exciting posts – if we may say so ourselves. But first, last week's giveaway winners:
Joel Sutherland Giveaway
This is a special giveaway: the three winners get an e-copy of Frozen Blood -which by the way, was nominated last week for yet another award, The Black Quill award for Best Small Press Chill, congratulations, Joel! – plus the chance to become a character in his next book. Drum roll, please. The winners are:
Mariska (comment #29)
Veronika F (comment #44)
Sharon K (comment #14)
Congratulations! We will email you with further details!
Jackie Kessler Giveaway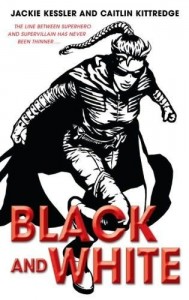 The winner of one copy of Black and White is: Danielle (comment #40)
Alma Alexander Giveaway
The winner of ONE AUTOGRAPHED copy of Spellspam is: Caitlin Usignol (comment #25)
The winner of ONE AUTOGRAPHED copy of Cybermage is: Mishel (comment #18)
Congratulations! You know the drill – send an email to contact AT the book smugglers DOT com with your snail mail address, and we'll get your winnings out to you as soon as possible! Thanks to all that entered, and if you didn't win this time, don't worry. There's plenty more where that came from!
And you can still enter the fabulous Simon and Schuster UK giveaway (they are giving away 6 upcoming titles to one lucky winner) .
This week on Smugglivus
We start the week with a post by YA writer Dan Waters later today, in which he talks about his favourite 2009 reads.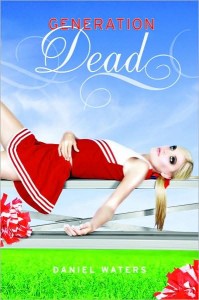 On Monday, our guest author is contemporary romance writer Julie James! She talks about the books she loved this year and in the spirit of Smugglivus, gives away copies of her two books. Her post will be followed by Thea's review of Girl in the Arena by Lise Haines.
On Tuesday, PNR writer Nalini Singh talks about her favourite reads of 2009, and about what she is working on at the moment. You will have a chance to win two of her latest books too! Later on that day, Ana reviews Fantasy novel The Red Wolf Conspiracy by Robert V.S. Redick.
Wednesday's guest is Lee Harris, Assistant Editor for Angry Robot (the new HarperCollins imprint specializing in Fantasy, SciFi, Horror, and WTF!), talking about exciting releases for 2010. His post is followed by a guest review by Harry of Temple Library Reviews of Born of Night by Sherrilyn Kenyon and will have a major swag to giveaway with Harry's post.
On Thursday, YA author Jennifer Echols lists her own 2009 faves and tells us all about her upcoming books. Her post will be followed by Thea's review of YA fantasy novel The Demon King by Cinda Williams Chima.
On Friday, historical romance writer Loretta Chase dishes all about her upcoming release, and later we post a joint review of Going Bovine by Libba Bray.
Finally (phew), on Saturday it's horror author Kaaron Warren's turn to talk about the books she read in 2009, and we will have a huge Smugglivus giveaway.
Stay tuned, Smugglivites! And as Mr Spock would say: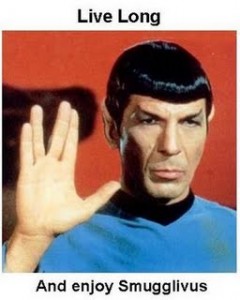 ~ Your Friendly Neighborhood Book Smugglers