Welcome to Smugglivus 2009 – Day 22!
Throughout this month, we will have daily guests – authors and bloggers alike – looking back at their favorite reads of 2009, and looking forward to events and upcoming books in 2010.
Today's Guest: The Lusty Reader of Lusty Reader! She runs a solo-blog that covers all kinds of romance (you know, the lusty kind) but also literature, Urban Fantasy, speculative fiction, and includes a lot of interesting personal touches (such as decorations, recipes, etc). We were thrilled when she agreed to come over for Smugglivus!
Please give a warm, Smugglivus welcome to the Lusty Reader!
********************
Greetings fellow Smugglivus revelers! What an honor it is to be part of this celebration, I'm so pleased to share my favorite reads of 2009 with y'all! It has been an excellent year for this lusty reader, especially for books with the lusty bits, how I do love them so.
This post almost didn't happen; by almost I mean if I hadn't stumbled across the book blogosphere earlier this year I never would have read *any of these*, this is a semi-depressing yet semi-awesome thought. In my early teens it seemed like I had read every book in the YA section of my bookstore, so when I read my first romance novel at 13 years old it opened up a whoooole nother untapped genre to slake my lust. The problem was I never knew another soul who read them, so I was stuck reading the same authors I knew for another 10 years or just randomly choosing books base don the back cover blurb, quelle horreur n'est-ce pas? I never grew as a reader, it was a very solitary hobby, so my book selections were way behind the times and unenlightened in general. It's super hard to choose a good book without the knowledge to back up your search; I think that's happened to all of us.
But thanks to many of you reading this right now, and of course Thea and Ana, and all others who deigned to chat books with me online, my reading horizons have forever been expanded.
The primary example of this is one of my top reads for 2009 from Nalini Singh's Psy/Changeling series. I can say with all confidence that left to my own devices I would *never* have read them. So sad that I would have missed out on this awesomeness! If any of you have qualms about reading fantasy books with not-totally-human protagonists you should absolutely give these a try! My ode to the first in this series needs not be repeated here, it remains one of my favorites in the series, but my second favorite was published this year so Branded By Fire absolutely counts for this list!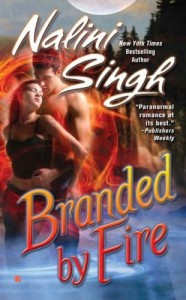 The futuristic fantasy world (set in a US similar only in terms of geography) has evolved throughout the first 6 books of the series. By the time we get to Branded by Fire five previous psy and changeling couples have found True Love and continue to work together to build a better world for the three races who inhabit it: the powerful psychic Psy, the animal shapeshifting Changelings, and humans. This book was an A+ for me due to the on-going arc of amazing world building as well as the creation of a Hero and Heroine I absolutely fell in love with. Mercy is a dominant female and sentinel for the DarkRiver leopard pack and Riley holds the same position for the SnowDancer wolves. Their interactions mirror their natures as shapeshifters as well as their human personalities, they way this all melds together is fascinating, I just adored how playful they were and smiled watching them fall in love. I also appreciated that Mercy was a captivating character without being damaged. While tragic pasts create interesting characters she came from a loving and tight-knit family which gave her an emotional core of love and strength.
The remaining top reads I want to mention bring me back to my roots of historical romance. This was my bread and butter, the absolute bulk of all my reading for so long and these three do it WELL. When you read a genre/sub-genre so often it takes a lot more effort for a book or author to stand out and Sherry Thomas definitely does! Her May 09 release Not Quite a Husband hit all my buttons, even one that usually doesn't work for me – the estranged married couple finding reconciliation.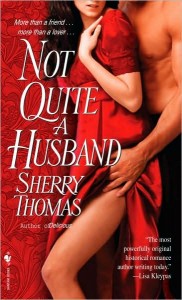 But the way Ms. Thomas handled Bryony and Leo's estrangement, the whys, the hows, and the feelings were absolutely captivating. My heart physically ached for them at times and I had a truly physical reaction to so many scenes: wincing at their awkwardness, sweaty palms when they were in danger, bittersweet tears as they began their journey to reconciliation while still both were still hurting inside so much. I felt that not only was their situation very realistic but so was historical detail of the common ways marriages were handled at the time as well as the exotic setting in India.
Another stand out in the sea of historical romance is Kate Noble, I haven't read her first book yet, but met her at the RWA convention this year (conveniently held just 2 metro stops from my house in DC!) and picked up her sophomore release Revealed.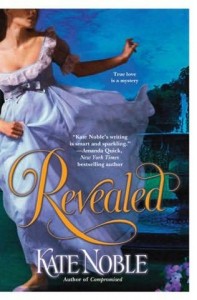 Oh my stars was this an endeavor in excellence! I love a story with a solid romance foundation but layered with intrigue and cannot *count* how many Napoleonic war spy books I have read, but the freshness of the characters in Revealed made it a top read for me. So often we read about the bluestockings, the on-the-shelf misses, the destitute urchins who get a make-over I was just dying to read about a pretty, popular, nomal-by-society's standards heroine when Phillipa Benning came along. A true diamond of the first water sailing her way through the ton she has unexpected depths. I loved that she was able to use her social skills in an interesting way – that she didn't have to be a secretly trained marksman or daughter of a politico, but was able to adapt her drawing room and Bond Street skills to be useful in the Real World also.
I read so many other wonderful books but the majority were released many many moons ago, as I mentioned I'm catching up on all that I missed in my ignorance during my secluded years of reading. So honorable mentions to the following as I only read them for the first time this year: J.D. Robb's In Death series (I'm only on book 6), His Dark Materials trilogy, half of Eloisa James' backlist, and Joanna Bourne's Spymaster books. But cheers to a wonderful 2009 and expanded reading horizons! Thank you so much for hosting me in your corner for the day and wishing you many hours of fabulous lusty reading in 2010!
********************
Thank you, Lusty Reader!
Next on Smugglivus: Author Adrian Phoenix stops by to answer YOUR burning questions…