Welcome to Smugglivus 2009 – Day 10!
Throughout this month, we will have daily guests – authors and bloggers alike – looking back at their favorite reads of 2009, and looking forward to events and upcoming books in 2010.
Today's Guest: Jennifer Echols, writer of Romantic Comedy and Romantic Drama for Simon Pulse, the YA imprint of Simon and Schuster.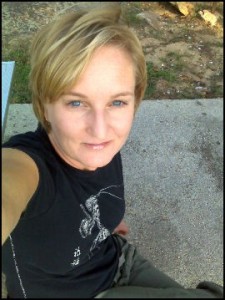 Recent Work: The comedy novel, The Ex-Games and drama novel Going Too Far – AKA, the book that blew Ana's mind away and is on her top 3 reads of 2009 – reviewed here.
Please, a warm welcome to Jennifer:
********************
The Book Smugglers asked me to post about some of my favorite books this year, and some releases I'm looking forward to in 2010. For me, a lot of these books are one and the same! The coolest thing about being a published author is that other authors ask you to read their manuscripts before publication. I've had the pleasure of reading quite a few wonderful 2010 releases in the last few months.
Erin Downing is one of my fellow Simon Pulse Romantic Comedy authors—and imho, her books are the funniest in the series. In summer 2010, her YA single title debut, Kiss It, takes a more mature turn (but don't worry—it's still hilarious).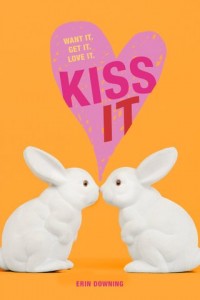 It's about a high school senior stuck in a tiny town in Minnesota during Christmas break. She is bored, she is tired of the blizzards, and she has sex on the brain. We follow her for a couple of weeks as she tries on different boyfriends, with the real prize lurking in the snowy background. This is not a moralistic tale, y'all, this is just a teenage girl's realistic journey—not into adulthood, but a little closer.
Barbara Caridad Ferrer won the RITA in 2007 for her MTV Books release Adios to My Old Life.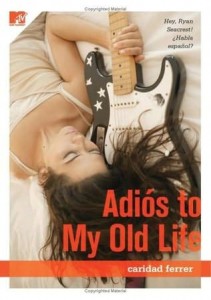 In fall 2010 we'll finally get to read When the Stars Go Blue, a retelling of Carmen set in drum corps.
Now, drum corps are the apotheosis of the marching band—they're groups of elite musicians and dancers age 14 to 21 who tour the country in fierce competition in the summer. But you do not need to be a band geek to love this book. Our heroine is tapped as the only female member of an all-male corps to dance the part of Carmen as the corps plays the music from the opera. She falls in love with a trumpet player with an exacting, overzealous father. Then she begins to see the attraction of a hot soccer player on a parallel summer tour…and if you've seen Carmen, you can predict where this is going.
Though I am a band geek and proud of it, what excited me about this book and made me read it with my jaw dropped was the unrelentingly steamy setting and the musical beauty of Barbara's language.
Last but not least, there's my critique partner, Victoria Dahl, who is in demand right now, and whose schedule makes my three deadlines this month look like my son's third grade homework load in comparison. January 2010 will bring us the last of her adult romantic comedy series set in Tumble Creek that started with Talk Me Down and Start Me Up. The third installment is Lead Me On, about a secretary with a squeaky-clean image to uphold and a questionable past to hide, who unfortunately falls for an explosives expert with an unusual tattoo.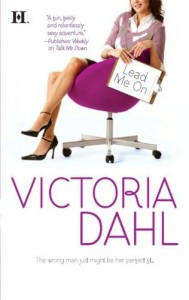 In July 2010 we're treated to a stand-alone romantic comedy, Crazy for Love, in which a sexy control freak discovers too late that his new girlfriend is a tabloid queen. Finally, my favorite-ever book of Vicki's, A Little Bit Wild, is coming in August 2010. This one's an adult historical romance about an eligible lady who has made herself a little too eligible. To save face, her family forces her to accept the advances of the bastard son of a duke and a whore. If you're a fan of Vicki's historicals…To Tempt a Scotsman to me seemed the most like the rest of this genre. A Rake's Guide to Pleasure was my second favorite of Vicki's books. It is the dirtiest thing I have ever read without a warning label, and I'm still not sure how she got away with it. Doing a one-eighty, One Week as Lovers was sweet and wistful, and now A Little Bit Wild is sexy, hilarious fun. I admire an author who changes things up every time—while writing in two genres simultaneously, no less—and I can't wait to read Vicki's new romantic comedy trilogy scheduled for 2011.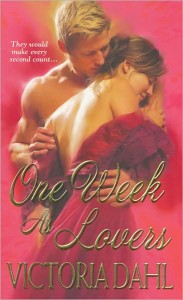 As for me…the unrelated follow-up to my YA romantic drama Going Too Far is coming from MTV Books in July 2010. In Forget You, when swim team captain Zoey wakes up from a car accident with partial amnesia, she is torn between the boy she remembers…and the one she doesn't. And in August 2010, Simon Pulse will release Endless Summer, the sequel to my YA romantic comedy The Boys Next Door, in which Adam gets hotter and Lori gets blonder.
I was really worried about writing my first sequel because sequels almost always disappoint me, but I am so proud of this book, and I don't think it will disappoint anyone.
********************
Thank you, Jennifer!
Next on Smugglivus: Loretta Chase